Females make up just 6% of practicing orthopaedic surgeons. Hispanics and Latinos make up only 2% of practicing orthopaedic surgeons. Alexis Restrepo, a fourth-year medical student, is a Latina female who's pursuing orthopaedics.
At the start of her medical education journey Restrepo – who grew up in Cape Coral, Florida – knew she wanted to work with the Spanish-speaking population, but initially wasn't certain how immersed she would be able to be within this community if she pursued a surgical subspecialty. Through mentorship, training and resources, Restrepo felt empowered to pursue orthopaedics and discovered there's a need within every specialty for more Spanish speaking physicians.
| | |
| --- | --- |
| | "I've always had a strong sense of duty to my community and wanted to assist where I could. What I've found is that there are so many opportunities to do that in every specialty of medicine. There's truly a strong need everywhere for more Spanish speaking physicians. Through my sub-internships, and even in sports medicine, there are so many patients who need, or who could benefit from having language-concordant care." – Alexis Restrepo, fourth-year medical student |
Restrepo wants medical students and future medical students to know that any medical specialty can promote cultural competence and advocate for initiatives such as the appropriate use of interpreters.
Restrepo was also recently selected as one of 32 medical students from 19 medical schools across the country to participate in the NFL's Diversity in Sports Medicine Pipeline Initiative. She completed a one-month clinical rotation with the Carolina Panthers, where she observed and participated in the care of players and worked directly with and under the supervision of the team physicians - some of whom are physicians at Atrium Health, the official health care provider of the Carolina Panthers - and the athletic trainers.
During her time at Wake Forest University School of Medicine, Restrepo has rotated in sports medicine during her orthopaedic surgery clerkship, has been involved in sports medicine-focused research looking at rehabilitation after bicep tendon surgery and has volunteered at local high school football games.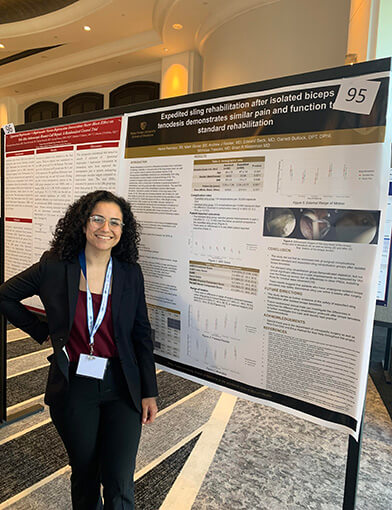 "Those who are considering Wake Forest University School of Medicine will find the support and training and resources that they need to become the physician that they want to be, which can mean a lot of various things for different people," said Restrepo. "During my time here, I've had mentors help me to discover the importance of slowly and deliberately going through concerns and fears with patients and that has been very meaningful for me and I'm incredibly grateful to be pursuing this field where I can impact and help all individuals. I hope that in the future other Spanish-speaking medical students and future physicians aren't deterred from pursuing subspecialties for fear of losing out on giving back to their community, because that's absolutely not true – it is still a super fulfilling and immersive opportunity."
Restrepo credits her mentors and support system for encouraging her and providing her with the knowledge and motivation to help navigate a specialty that is largely male-dominated.
"Having mentors that instill confidence in me has been extremely meaningful and beneficial," said Restrepo. "I'm excited and feel challenged by my sub-internships and rotations and I'm happy that I've found something so incredibly rewarding. There are times when I have doubts, or when I experience a little bit of impostor syndrome, but that's ultimately overshadowed by the joy that I get from putting a cast on a little kid or from chatting with someone as I try to find ways to connect with them as they go through some very scary and sometimes painful moments."