Purpose
The Cardiovascular Sciences Center (CVSC) provides key coordination and support services for Wake Forest University School of Medicine investigators engaged in cardiovascular science research to foster innovation and new discovery. There is a special emphasis on primary and secondary cardiovascular disease prevention and prevention of heart failure as this aligns with the Strategic Plan and heart and vascular service line priorities. The CVSC strives to foster the success of the next generation of cardiovascular science investigators involved in research and medicine and to strengthen the connection between outstanding research faculty and clinical care providers. Our commitment to multidisciplinary team research capitalizes on several existing programmatic efforts where prevention is a key concept, and we will continue to foster integration of this theme into new initiatives.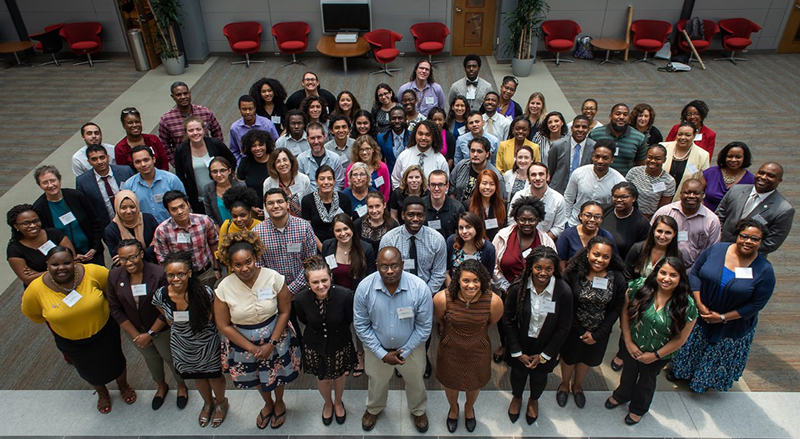 CVSC membership serves as program director, faculty and mentors in a number of research training programs focused on increasing diversity in the biomedical sciences and health professions. Pictured are PREP, IMSD and IRACDA trainees, mentors and faculty from the Mid-Atlantic programs at a meeting in 2019.
Goals and Future Directions
Communication – including communication within the Center, the rest of the Wake Forest Baptist Health, our regional patients and partners and the wider cardiovascular scientific community
Research Facilitation – including scientific, statistical, operational, financial and administrative support designed to generate new knowledge and to use this knowledge to enhance the treatment and prevention of cardiovascular disease
Early Career Development – the sustainability of our clinical and scientific cardiovascular enterprise requires a continuous pipeline of new scientists and clinician investigators committed to an academic career
All of our activities directly relate to one or more of these themes.
Key Research Attributes
There are more than 120 faculty, trainees and staff members of the Cardiovascular Sciences Center who represent more than 45 departments, centers and institutes. Members are extremely productive in terms of grant awards and publications.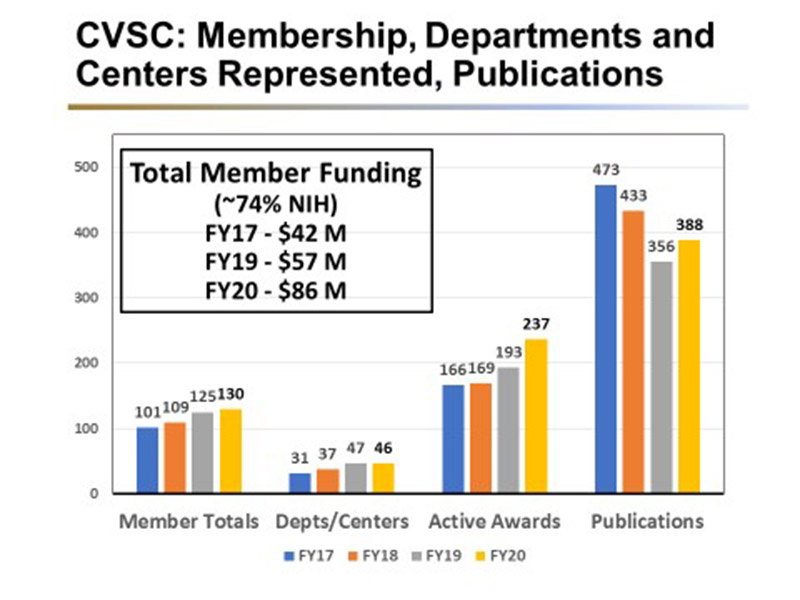 Multi-PI or programmatic-funded thematic research areas with a cardiovascular focus (e.g., P01s, center grants, donor funding, training grants and trials) illustrate a critical mass of collaboratively focused investigators with existing international reputations that parallel clinical areas of cardiovascular excellence and with diversity in their funding portfolios. Specific to the CVSC focus on heart failure and prevention, we have an emphasis on these topics in numerous existing clinical trials and population studies (MESA, ARIC, CHS, WHI, SPRINT, ACCORD, LookAHEAD, etc).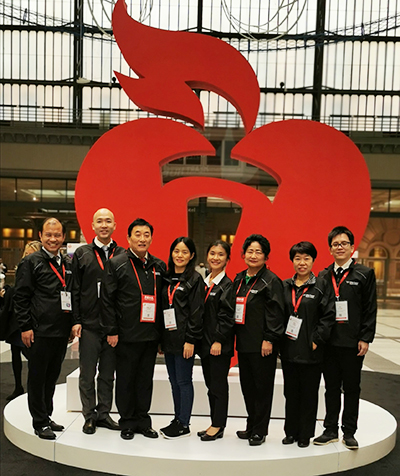 Other institutionally recognized programmatic areas include:
Cardiovascular genomics
Heart failure-cardiac structure
Lifespan
Nutrition
Lipid sciences and atherosclerosis
Population health
Stroke
Women's cardiovascular health
(Photo right: Dr. Cheng's lab group at the 2019 American Heart Association Scientific Sessions)