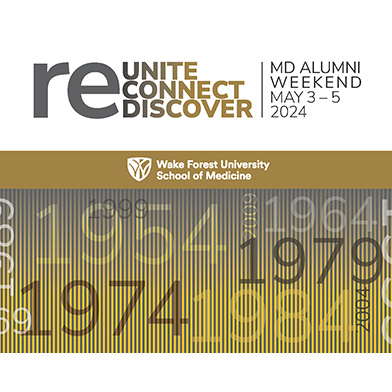 Save The Date!
MD Alumni Weekend 2024 | May 3 – 5
Celebrating graduating class years ending in a 4 or a 9.
View highlights and photos from MD Alumni Weekend 2023
---
Mission
The Office of Alumni Relations at Wake Forest University School of Medicine serves alumni from eight constituencies representing programs offered by the school of medicine and Wake Forest Baptist Medical Center.
Our goal is to help stay connected with both the school and each other:
| | |
| --- | --- |
| Graduate School | House Officer |
| MD | Medical Technology |
| Nurse Anesthesia | Nursing |
| Pastoral Care | |
Giving Back
Philanthropy
We also assist alumni who want to make philanthropic gifts to scholarship. On average, more than 90 percent of our medical students receive scholarship and loan support each year to secure their education. Yet, most students still incur educational debt. Members of recent MD classes have graduated with an average medical school debt of more than $150,000 each. The projected debt average for the MD Class of 2019 is $197,000.
Scholarship endowment makes a significant difference: Every $1,000 in scholarship support can reduce a student's potential indebtedness by two to five times that amount, depending on the student's loan package. See a complete list of endowed scholarships at the school of medicine.
Volunteer Opportunities
Of course, there are many other ways to get involved with current students in the school of medicine. We encourage alumni to consider ways they can volunteer, including:
Alumni Event Host
Alumni Ambassador
Dinner with a Doc
Student Involvement
School of medicine students volunteer with the Office of Philanthropy and Alumni Relations in a variety of ways.
Elected by their classmates, Medical Alumni Association student representatives serve on the MAA Board, provide volunteer leadership assisting departmental staff with VIP visits and other important assignments, and they recruit additional student volunteers for specific projects and opportunities. MAA student reps also share their valuable perspective regarding student/alumni engagement programming.
Medical students also provide volunteer support by helping staff alumni events, leading school tours, writing thank you notes to scholarship donors and by participating annually in the "Thank-a-thon" donor phone calls—just to name a few.