Consider a scenario.
A pregnant woman is living during a global pandemic. If she has a confirmed case, doctors would not only have to consider her health, but also the health of her baby. Among many questions they would need to answer is whether the standard treatment protocol is safe during pregnancy. Historically, doctors would turn to other cases of pregnant patients within their health system, perhaps a neighboring hospital, a journal article (if one has even been published yet) or maybe phone a colleague to seek answers to their questions. At best, they would have a regional reach to pull examples and compare notes.
It's not an ideal situation. Whether it's pregnancy, a pre-existing condition or determining the best standard of care for a patient, providers use research—health care's source of truth—to drive decision-making. But in a crisis, there is often minimal research to point the way.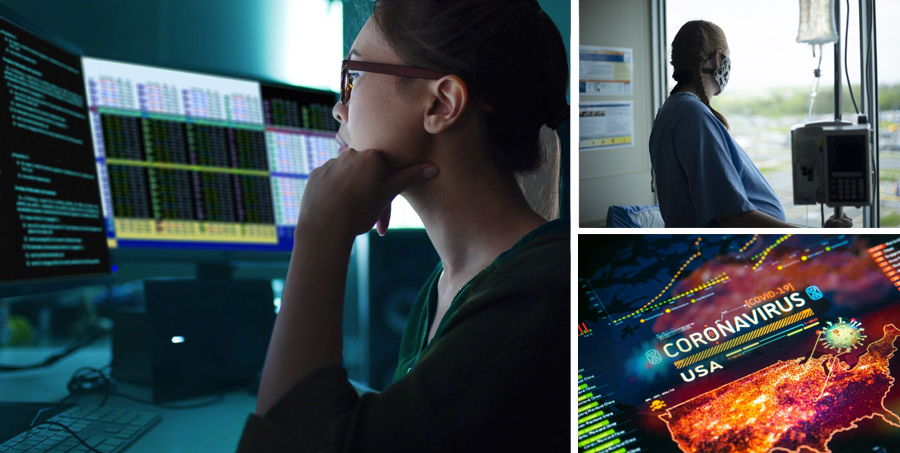 Data is King
As the COVID-19 pandemic continues, there is a lot of talk across news channels and social media about new and emerging research. But how does that research actually get done? And how quickly? Enter data research, including registry studies, data analysis and chart reviews. These studies may sound cursory and not critical, but in today's world this type of research is the foundation of many human clinical trials. These types of studies are based in evaluating electronic data rather than directly providing patient care options, and with current computing capabilities and advanced statistics, these types of studies enable us to uncover new and widely applicable findings in a relatively short time.
"We're looking for patterns, themes and trends of what's working and what's not. From there, we have more data to decide whether to study one of these possible treatments further, which leads to a more traditional trial," explains Brian Moore, director of the Human Research Protection Program at Wake Forest School of Medicine. Moore leads the Institutional Review Board (IRB) at Wake Forest, among other roles, which means he leads the team that approves all human research, including studies that simply use data.
"Protecting individuals' personal health care information and ensuring sound methodology is just as important in a registry study as it is when there is actual human contact," says Moore. Besides protecting participants data retroactively, the purpose of these studies is to proactively determine the best and safest treatments before they are administered on patients.
Decoding Data Research
There are three main types of electronic data research, with subtle differences. Here's a quick description of how each type is often defined:
Chart Reviews: A retrospective analysis of data by extracting existing information from a de-identified electronic medical record, usually pulling the data from the researcher's patient pool or a collaborating site.
Registries: Providers, nationally or internationally, feed de-identified data with specific parameters, such as COVID-19 positive patients, into a database accessible to the researcher. In this case, the researcher is not usually connected to the patient's care, but the provider is able to share the de-identified treatment and outcomes data in near real-time.
Data Analysis: Using existing whole data sets that are available to researchers and analyzing the data in a new way, based on new parameters or characteristics.
At Wake Forest School of Medicine, many of our researchers have been able to quickly pivot and shift research priorities to tackle some of COVID-19's toughest problems. Here are three examples of these types of data studies that are presently being conducted to address COVID-19:
Chris Miles, MD, medical director of Athletics for Wake Forest University and associate professor of Family and Community Medicine for Wake Forest School of Medicine, is leading a chart review study that is designed to determine how many NCAA Division 1 student athletes were diagnosed with COVID-19. By asking all NCAA Division 1 athletic departments to provide information about their athletes' infections, Miles hopes to analyze patterns of illness and provide evidence-based recommendations on when athletes can safely return to their sports.
One of our registry studies is tracking COVID-19 exposures among health care workers to provide data about how we can protect providers who perform intubations. J. Douglas Jaffe, DO, associate professor of Anesthesiology is working with a team of researchers from the United Kingdom to analyze patterns of infection and various types of personal protective equipment (PPE) to provide data about exposure risk.
Researchers at Wake Forest Baptist Comprehensive Cancer Center have joined a consortium of more than 100 cancer centers and other organizations to gather data from nearly 2,300 cancer patients with confirmed COVID-19 infections. Umit Topaloglu, PhD, associate director for Informatics at the Cancer Center can use this existing repository of cancer patients to cross-reference their health history with the current diagnosis to help identify treatments or interventions in this data analysis study.
Data-based research is especially important in niche populations, such as those who are immunocompromised, pregnant or have other conditions that place them outside the boundaries of standard of care. Joseph Andrews, assistant dean, Regulatory Affairs and Research Integrity at Wake Forest School of Medicine, explains that one of the greatest advantages of data studies is volume. "We are able to access large amounts of data both nationally and internationally, and since we're often looking at a small set of people, in many cases, having volume really helps," Andrews says. "It gives us a much better idea of what's going on in the real world."
Returning to the scenario of a pregnant woman in a global pandemic, the technology to gather large data sets has been a game changer in the COVID-19 pandemic. Her treatment can now be tailored using international trends in close to real time rather than relying on local data or a single physician's experience—recommendations that would have taken years to determine a couple of decades ago.
For example, our researchers are collaborating with other major academic medical centers across the U.S. in a multi-center COVID-19 epidemiology project studying delivering mothers and their newborns. This national registry will follow mothers and infants to track symptoms and the clinical course of the virus. Ultimately, this research will help guide newborn care, according to Jeffrey Shenberger, MD, professor of Pediatrics for Wake Forest School of Medicine and chief of Neonatology for Wake Forest Baptist Health.
Unsung Heroes
"What has been accomplished to keep COVID-19 at bay and in such a short amount of time is truly unique," says Andrews. "We're engaged in this fight and using proven ways to expedite solutions. A lot of what is being talked about in the news is intersecting here in institutions like ours. The work to determine efficacy and safety starts here."
It's a group effort, and places like Wake Forest, where collaboration is highly encouraged and much of the research support services are streamlined through a single department, the Clinical Translational Science Institute (CTSI), are quietly and efficiently working behind the frontlines to push out results as quickly as possible. Wake Forest's CTSI, one of more than 50 institutions funded by a national CTSA grant, facilitates access to resources and bridges inter-office, cross-departmental conversation internally, and through the CTSA network can strengthen collaboration across institutions—from which many of these studies are derived.
"We no longer live in a world where health care decisions need to be made in a vacuum," says Moore. As scary as the time we're living in, the tools at our disposal give us a chance that previous generations didn't have to preserve and protect countless lives."
For more information about the studies named in this article and other COVID-19 research being conducted at Wake Forest School of Medicine and Wake Forest Baptist Health, visit our web repository of COVID-19 studies.