The Doctor of Nursing Practice (DNP) degree prepares nurses for advanced leadership and clinical roles at the highest level of nursing practice. Wake Forest School of Medicine offers a two-year online post-master's program designed especially for registered nurses.
"Our program is designed to provide meaningful and innovative learning experiences for working professionals," said Kellie Griggs, DNP, MSN, RNC-OB. "A master's degree is required, however, it does not have to be a masters in Nursing. We understand professional diversity across the profession where many hold Master's degrees in business administration, health administration, innovation, education; and invite all to apply. We provide the specific content students need to obtain a DNP within our program so there are no prerequisite courses."
Although some DNP programs are geared toward specific specialties, the Wake Forest DNP program enrolls students with a variety of nursing specialty backgrounds. This gives students in the program the chance to interact with nurses from across the profession, including nurse practitioners, nursing executives, nursing leaders, nurse innovators and consultants, nursing educators, nurse anesthetists, clinical nurse specialists and nurse midwives.
"Nurses practicing at their highest level of expertise is essential for enhanced outcomes, advocacy, and innovations to deliver higher quality care to patients and the community," said Griggs. "The DNP program helps nurses lead change by providing them with a deep understanding of: (a) organizational and community systems; (b) quality and safety; (c) knowledge to navigate political advocacy; (d) understanding of legal and financial issues that impact the profession; and (e) improving health disparities.
Across the country, only a handful of DNP programs are offered by Schools of Medicine. Here are four advantages of getting a DNP from a School of Medicine:
Access to the School's Rich Resources
The DNP program at Wake Forest School of Medicine comes with an unparalleled set of resources. Students can work with the School's 1,200 faculty members, including DNP faculty with a wide range of experience in advanced clinical practice, leadership and patient safety. They also have access to Atrium Health Wake Forest Baptist, one of the nation's preeminent academic medical centers.

Students work with faculty members to complete a doctoral project, many of which are already making an impact on patient care and nursing practice. For example, two DNP students collaborated with physicians on a project that identified physical and psychosocial barriers affecting quality of life for lung cancer survivors being seen at the Atrium Health Wake Forest Baptist Cancer Survivorship Clinic. For another project, DNP students designed and tested a program aimed to reduce nursing staff turnover by providing first year nurses with an avenue for socialization and introducing them to resources and best practices.
Strong Interprofessional Connections Across Health Professions
Housing the DNP program in the School of Medicine creates many opportunities to collaborate with both physician and nursing leaders and experts. "We have connections that go far beyond nursing to translate research into practice," said Griggs. "These resources are available to help with DNP projects and support interprofessional collaboration."

This type of interprofessional collaboration helps physicians and nurses learn to effectively communicate with each other so that they can go on to lead health care systems as a team, working together to provide the highest quality health care. DNP faculty members also work closely with faculty from across the school to implement a curriculum that incorporates the very latest approaches for improving the safety and quality of patient care.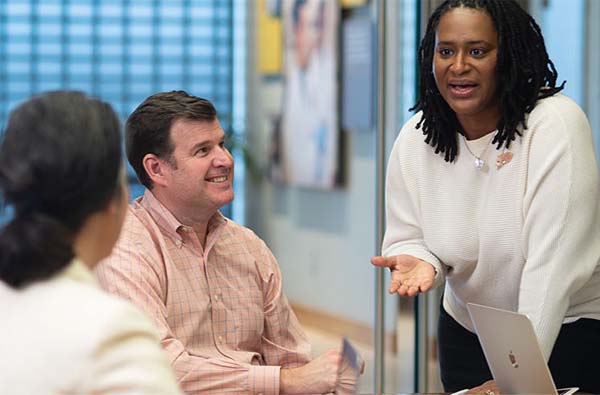 Interdisciplinary Opportunities with other Schools
Students in the DNP program are required to take a health care elective from the Wake Forest School of Law. This course helps provide the skills needed to work in an industry that is facing unprecedented change from technological innovation and new regulations while dealing with the demand for health care reform. Health care law electives include cybersecurity and privacy, health care compliance, law and public policy, telemedicine and paying for health care.

"Previous students have raved about the law elective and how it expanded their views of how important it is for nurses to understand law from a health care perspective," said Griggs. "These courses support well-rounded nursing leaders attaining the knowledge needed to advocate for and implement changes within the legal framework."
The Latest Technology
The DNP program is completely online, which gives students the access and flexibility they need to complete the program while continuing to work. State-of-the art distance learning technology allows students to interact with each other and faculty members and provides full access to all academic resources. Small online class sizes ensure that students get to know their peers while receiving a high level of faculty engagement and support. Students also have access to the latest health care software and technology, giving them the skills needed to be next-generation health care leaders.
Nurse Anesthesia DNP
In the fall of 2021, the School of Medicine enrolled the first cohort of DNP students with a focus of nurse anesthesia. The DNP-Certified Registered Nurse Anesthetist (CRNA) program will include a three-year program that incorporates all the DNP essentials with a full clinical anesthesia component for CRNA training.