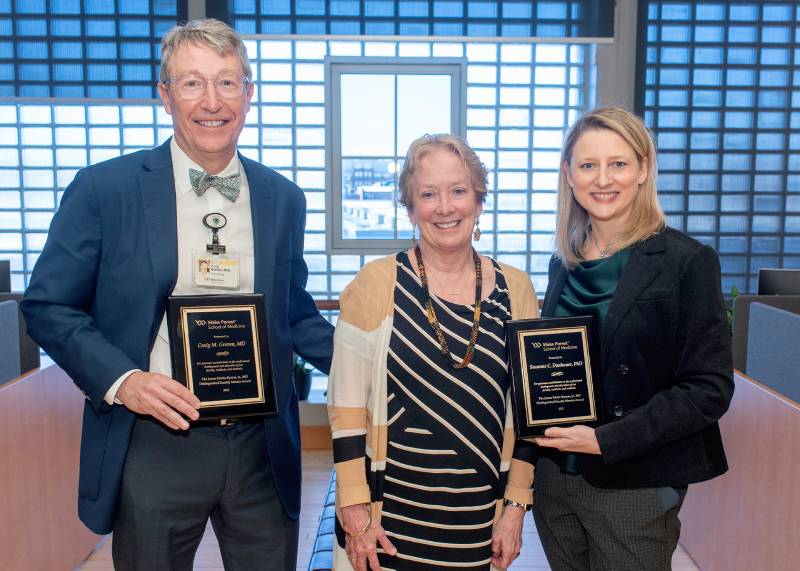 Suzanne Danhauer, PhD, Professor of Social Sciences and Health Policy, and Hematology and Oncology, and Craig Greven, MD, Chair of Ophthalmology, Senior Vice President of Clinical Operations, Richard G. Weaver Chair in Ophthalmology Professor and President of University Group Practice, have been recognized for their ongoing investment in students, residents, fellows, and faculty through the James Edwin Byrum Jr., MD, Distinguished Faculty Mentor Award from Wake Forest School of Medicine. The Byrum Award was presented to Craig and Suzanne by Julie Ann Freischlag, MD, FACS, FRCSEd(Hon), DFSVS, CEO of Atrium Health Wake Forest Baptist, Dean of the Wake Forest School of Medicine and Chief Academic Officer, Atrium Health, at the Faculty Executive Council on February 9, 2022.
Suzanne Danhauer, PhD
Suzanne is the award winner in the researcher category. She has been a faculty member since 2003 and exhibits exemplary achievement in the effective mentoring of faculty, trainees and students. She has mentored over 30 graduate and medical students, fellows, residents and junior faculty. Suzanne is a sought-after mentor by a broad spectrum of clinicians and scientists, including physicians, psychologists and other basic and clinical scientists/investigators. She is passionate about helping our faculty, trainees, students and staff develop their strengths through her mentorship and training workshops. She clearly demonstrates excellence in cultivating the personal and professional development of early-career faculty members and has served on the Wake Forest School of Medicine Faculty Development Committee and on the Career Development for Women Leaders Advisory Board.
One of Suzanne's mentees praised her for offering practical help navigating the challenges of career-building in the context of the COVID-19 pandemic. Suzanne challenged her to think more critically about career decisions and pushed her to identify ways to expand her roles at Wake Forest Baptist. Most importantly, she said Suzanne has demonstrated the power of true sponsorship, consistently identifying opportunities for her to speak, write and publish. This support has been invaluable in helping expand her reputation and reach, and has helped her make concrete steps towards promotion.
Another colleague adds that Suzanne has been an exceptional career and life mentor to so many. She has encouraged, mentored, and sponsored so many others in a multitude of different ways, serving as a role model and trusted advisor. She has inspired others to be the best version of themselves while upholding the highest principals of professionalism. She exemplifies continuous excellence in cultivating the personal and professional development of junior faculty members. With her humble attitude, Suzanne supports and mentors others without expecting anything in return, making her truly worthy of receiving this year's award.
Craig Greven, MD
Craig is the award winner in the clinician educator category. He has been a Wake Forest School of Medicine faculty member for 32 years and has been the Chair of the Department of Ophthalmology for 17 years. Craig has mentored more than 65 ophthalmology residents, 11 fellows and numerous faculty members. He has doubled the size of the faculty and has made it a priority to expand the demographics of the department. He has fostered multiple early career faculty from Assistant to Associate Professor, and several to the rank of full Professor.
One of his trainees and colleagues said Craig has been a guiding light for the department. She said that although she was the first full-time female faculty member, Craig made it clear he was developing new talent and wanted the department to grow in every direction. Craig sets a particular tone: professional, relaxed, but always puts the patient's needs and most up-to-date science first. He treats colleagues with respect and holds himself to the same standards he expects from others. He always has a kind word and stresses to all of his mentees that they should uphold the commitment of Richard Weaver, MD, Chair Emeritus of Ophthalmology, to take care of all patients the same, regardless of their background or socioeconomic status.
Another mentee and colleague adds that although he is only a few years younger than Craig, he has always considered Craig to be his mentor and role model. He says that over the past 30 years Craig has provided guidance, help and support, demonstrating that it is possible to be a good friend and respected mentor at the same time. He attributes Craig's support of faculty and residents as proof that faculty stay long and retire with the department because they are satisfied with the balance of their lives and careers under his leadership.
The Byrum Award memorializes James Edwin "Ed" Byrum Jr., MD, who passed away on August 21, 2011. During his 37-year Medical Center career, Byrum helped train more than 200 emergency medicine physicians. In 1974, he co-created and directed one of the first residency programs in Emergency Medicine.
Previous Byrum Award recipients
2020 – Andrew Koman, MD, and Stephen Kritchevsky, PhD, Receive 2020 Byrum Mentoring Award
2019 – Pamela Duncan, PhD, PT, FAPTA, FAHA, and Michael Rieker, CRNA, DNP, FAAN
2018 – Debra Diz, PhD and Patrick Reynolds, MD
2017 – Gary Poehling, MD and Charles (Cash) McCall, MD
2016 – Glenn Lesser, MD, FACP
2015 – Jeff Williamson, MD
2014 – Sonia Crandall, PhD, and Wayne Meredith, MD
2013 – Sara Jones, PhD, and Frances Walker, MD
2012 – Joseph Jorizzo, MD