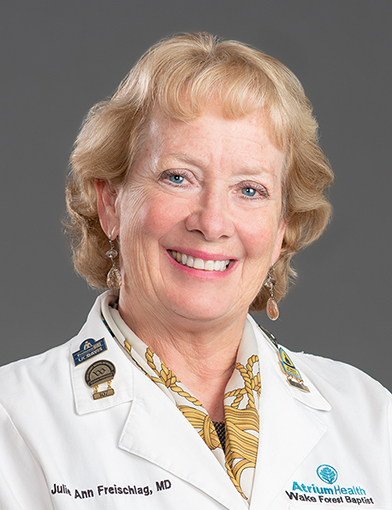 Congratulations to Julie Ann Freischlag, MD, FACS, FRCSEd(Hon), DFSVS, Chief Academic Officer of Atrium Health Enterprise, CEO of Wake Forest Baptist Health and Dean of the Wake Forest School of Medicine, who has officially started her one-year term as the 102nd president of the American College of Surgeons (ACS). She assumed office on Sunday, October 24, during a virtual convocation ceremony where she spoke about a recovery approach to the COVID-19 pandemic.
Freischlag succeeds J. Wayne Meredith, MD, FACS, MCCM, Richard T. Myers Professor and Chair of General Surgery, as ACS president. Her installation is the first time in the College's 108-year history that two surgeons from the same institution have served, back-to-back, as president.
Freischlag and Meredith were also among a group of 84 surgical leaders to be inducted into membership of the American College of Surgeons Academy of Master Surgeon Educators™ last week.
The American College of Surgeons is a scientific and educational organization of surgeons that was founded in 1913 to raise the standards of surgical practice and improve the quality of care for surgical patients. The College is dedicated to the ethical and competent practice of surgery. Its achievements have significantly influenced the course of scientific surgery in America and have established it as an important advocate for all surgical patients. The College has more than 82,000 members and is the largest organization of surgeons in the world.