The COVID-19 pandemic has made what was already a serious opioid epidemic even worse. Nearly 93,000 people in the United States died from overdoses in 2020, almost 30% more than the year before.
A unique training program known as Wake PROUD (Prevent and Reduce Opioid Use Disorder) has become one of the first medical-school-based programs in the country to include Drug Enforcement Administration X-waive (DEA-X) certification to prescribe medications used to manage opioid use disorder. The program aims to address the opioid crisis from the start by giving every Wake Forest School of Medicine graduate the tools necessary to handle the addiction and pain management issues they will face as they enter practice.
The program, which began in 2019, is part of the transition to residency course that fourth-year students complete just before they graduate and begin their residency programs. Residents and interns (first-year residents) are frequently on the front lines of managing pain and are often the ones prescribing opioids in teaching hospitals.
"Providing the training during the transition to residency provides the skills these students need to really address the opioid epidemic and challenges with pain medicine and pain treatment," said Roy Strowd, MD, MEd, MS, associate professor and assistant dean of undergraduate medical education and course director for the Transition to Residency course. "It is also a chance to arm them to be agents of change within the health system by giving them the confidence to initiate discussion around how to optimally treat pain."
Responding to student needs
Wake PROUD was developed in response to requests from the school's Spectrum of Pain and Addiction Student Group and other students, who asked for additional training in pain medicine, particularly opioid stewardship and opioid therapy management. Medical students also played a vital role in developing and fine-tuning the curriculum.
"We take great pride in the innovative initiatives of our medical student interest groups," said Angela Sharkey, MD, professor of pediatrics and senior associate dean of undergraduate medical education. "The Spectrum of Pain and Addiction Student Group saw a need and crafted a mechanism to become 'Agents of Change' through the Wake PROUD program. These Wake Forest School of Medicine graduates are now influencing prescribing practices of their fellow residents and supervising faculty within their residency training programs not only in North Carolina but across the country. Our Wake Forest alumni make us proud!"
The program is administered through a unique combination of online modules and in-person workshops that give students a chance to ask questions and listen to the experiences of clinicians. Students are divided into subspecialty areas so that they can learn how pain medicine and opioid use disorder affects their area specifically.
"This approach helps give students in any specialty the confidence to deal with a complex pain issue on their own," said Molly Jacobs, an MD student who helped develop the Wake PROUD curriculum. "It also provides them with the competency to recognize a patient who might need help with, or be at risk for, addiction. They can take the first steps to intervene and engage the resources and providers necessary to help that patient."
Making an impact
A recent study looked at the program's feasibility and impact. It found that not only did participants believe that the training was worth their time, more than 60% of the first-year residents felt as prepared or more prepared to treat opioid use disorder than their fellow residents.
"In addition, almost 20% felt more prepared than their supervising faculty, which is pretty stunning," said Paige Estave, an MD-PhD graduate student and first author of the study. "This speaks to their potential as change agents and shows that they are likely confident to talk to their supervising faculty about different options. For example, they might suggest prescribing buprenorphine for a patient struggling with opioid use disorder or trying Tylenol for pain before prescribing an opioid.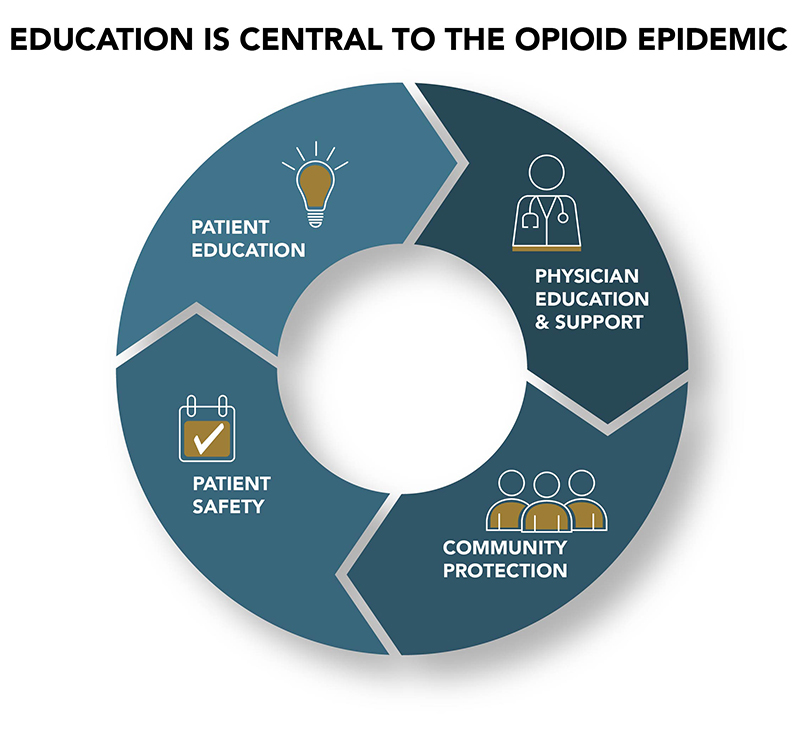 Shane Stone, MD, a Physical Medicine and Rehabilitation Resident with McGaw Health at the Shirley Ryan Ability Lab in Chicago was part of the first class to complete the Wake PROUD program in 2019 and also helped develop the program.
"The training dispelled a lot of misconceptions I had about using buprenorphine to manage opioid use disorder," said Stone. "Throughout my medical school career, I had informally consulted a faculty member to help me convince providers to start buprenorphine. After the program, I felt less dependent on her and more confident in my own ability to talk to patients and colleagues about it."
Estave points out that the program also plays an important role in decreasing the stigma around substance use by reminding students that it is a brain disease and helping them spot at-risk patients.
"Retraining every provider when decades of habits have been formed is really challenging," says Strowd. "We were very delighted to find that interns are using their knowledge to influence the residents, faculty, and others around them, because that's how we'll actually make a difference with opioid prescribing at large."
Spreading the word
Stone is helping to make a difference by teaching others what he learned through the Wake PROUD training program. He recently gave a presentation about buprenorphine to the entire Shirley Ryan Ability Lab residency program. After the presentation, some residents expressed interest in pursuing their own DEA-X certification.
"I also used the training as a springboard to learn more about medications that can be used in other forms of addiction," said Stone. "Throughout my intern year, I started patients on FDA-approved medications for other addictions and educated attending physicians on this so that they would feel comfortable doing the same."
Since the program's launch in 2019, other medical schools across the country have started similar trainings, some of which are modeled after Wake PROUD.
"Every provider will encounter a patient who is dealing with, recovering from, or denying their addiction," said Stone. "If we can make even the smallest difference in helping them on their recovery journey, we should. However, providers that don't have the knowledge and tools necessary to guide them may miss important opportunities to help."