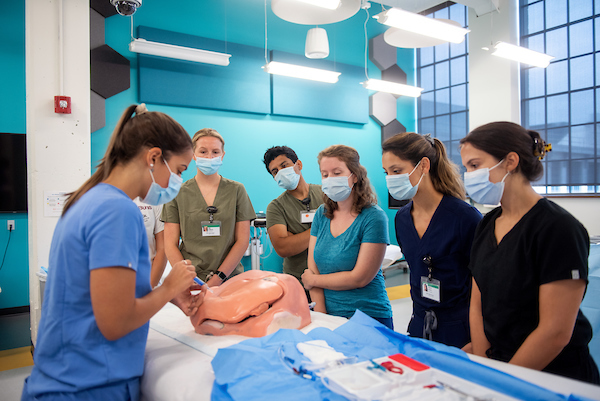 As one of the most competitive medical training programs in the nation offering MD, PA, CRNA, DNP and biomedical graduate programs, the Wake Forest School of Medicine requires extensive training programs to educate the most skilled health care professionals. The Center for Experiential and Applied Learning (CEAL) is housed within both the Bowman Gray Center for Medical Education and Atrium Health Wake Forest Baptist providing advanced medical school teaching facilities.
CEAL's spaces and resources improve clinical education for students and providers by offering shared learning laboratories, instructional equipment, high-fidelity pediatric and adult manikins, task trainers, ultrasound machines, a standardized patient program, and curriculum development services. Practical learning opportunities include anatomy labs, human patient simulation labs with low fidelity task trainers and high fidelity manikins, and multi-disciplinary training.
CEAL also advances clinical care and improves patient care outcomes for students and Atrium Health Wake Forest Baptist clinicians with ultrasound resources that are instrumental in the school's curriculum by providing opportunities to advance vascular, muscular, cardiac, musculoskeletal, OB/GYN, abdominal, and point of care scanning skills while learning human pathology. CEAL's standardized patient program provides hands-on experience for students to practice patient encounters, history taking, physical examinations, and clinical documentation with actors skilled in representing live patient simulation.
CEAL recently launched a professional development program called CEAL-Path. The goal of CEAL-Path is to aid educators in effectively hosting training that is rooted in experiential learning methodology including simulation. This training is appropriate for all educators regardless of learner type. Email CEAL to gain access to this training program or visit our website to learn more about our educational opportunities.