Wake Forest University School of Medicine and Atrium Health announced that they have received the needed accreditation approval and notification to proceed with phased plans to open an instructional site in Charlotte, for years three and four of the medical school curriculum in 2022.
The Southern Association of Colleges and Schools Commission on Colleges at their June Board meeting approved the instructional site. At its June meeting, the Liaison Committee on Medical Education reviewed the application, had no concerns and determined that Wake Forest University School of Medicine had adequate resources to support the instructional site in Charlotte.
This approval and notification marks a crucial milestone in the process toward a full four-year medical school in Charlotte targeting 2024.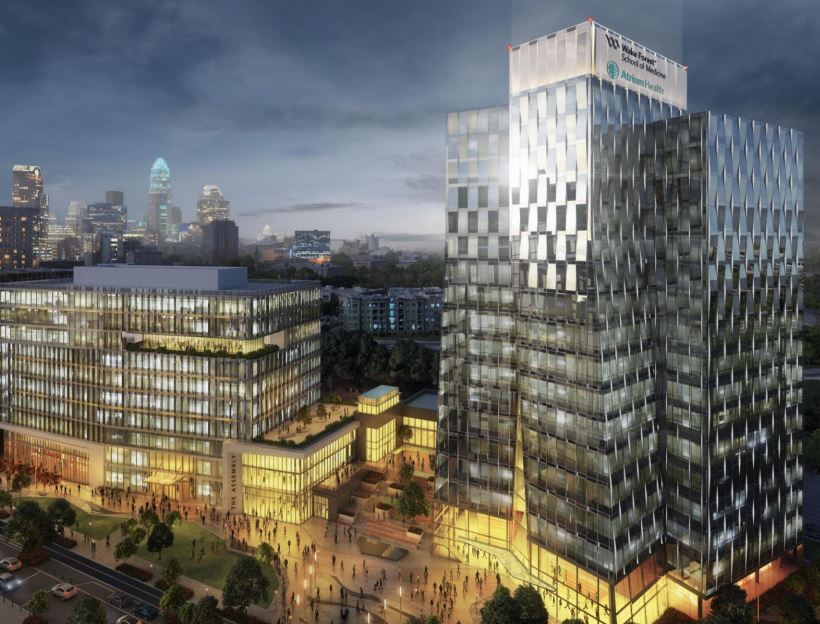 "This is such fantastic news for our students and for our School of Medicine," said
Julie Ann Freischlag, MD
, CEO of Wake Forest Baptist Health, dean of Wake Forest University School of Medicine and chief academic officer of Atrium Health. "We now have this amazing opportunity to build upon our existing, leading-edge programs at our home campus in Winston-Salem to create a next-generation, experiential learning curriculum that ensures, on Day 1, our students are equipped with the purpose-driven knowledge, skills and experience they need to become successful caregivers and leaders in providing the best care for all."
"We have a bold vision of where we want to go and the impact we want to make," said Eugene A. Woods, president and CEO of Atrium Health. "With Wake Forest University School of Medicine as our academic core at Atrium Health, we can and will re-shape the future of medicine and medical education. By creating a diverse pipeline for bright, young minds, we will graduate the next generation of outstanding clinicians who have a deep passion for improving health, elevating hope and advancing healing – for all."
"Wake Forest University, in collaboration with Atrium Health, is committed to advancing health and education in our region and widening avenues for innovation and economic growth in both Winston-Salem and Charlotte," said Wake Forest University President Susan R. Wente, PhD. "With the site for the medical school approved, we are all so excited about the opportunities ahead and the many ways our students, faculty, researchers and physicians will have a positive impact across our state."
As previously announced, leaders have selected a 20-acre site in midtown Charlotte, at the current corner of South McDowell Street and Baxter Street, adjacent to US-277, for the Wake Forest University School of Medicine – Charlotte instructional site.
Wake Forest University School of Medicine – Charlotte is expected to break ground in the first quarter of 2022, soon after completion of the zoning approval process. Atrium Health's technology offices currently on the site will be replaced with a large, mixed-use campus. It is envisioned it will become, over time, the nucleus for collaborative efforts in Charlotte that will bring about new innovations in health technology and research, much like the Innovation Quarter in Winston-Salem, where the School of Medicine's Bowman Gray Center for Medical Education is located.
Wake Forest University School of Medicine began sending some students to Atrium Health Carolinas Medical Center in March, as part of its clerkship rotations. The initial class of Wake Forest University School of Medicine – Charlotte's first-year medical students is anticipated to begin their education in 2024.
As Atrium Health's strategic combination is investing heavily in establishing a second campus of Wake Forest University School of Medicine in Charlotte, it is also continuing to invest in major infrastructure projects in the Winston-Salem region as well. Last year, Atrium Health announced $3.4 billion in planned investments, over the next 10 years, in Wake Forest Baptist Health and the communities it serves. This includes construction of a new $450 million care tower at Wake Forest Baptist Medical Center and building a new Eye Institute in Winston-Salem's Innovation Quarter.