Although many programs have been implemented to prevent and improve access to treatment for opioid addiction, not many people discuss the effects the epidemic has had on its smallest victims. Expectant mothers with opioid-related diagnoses documented at delivery increased by 131% from 2010-2017, according to the U.S. Department of Health and Human Services. The incidence of babies born with neonatal abstinence syndrome (NAS) increased by 82% nationally over the same period.

Babies are at-risk of developing NAS when exposed to certain opioids in the womb before birth. After birth, they subsequently go through withdrawal. Symptoms of NAS often include trembling, excessive or high-pitched crying, tight muscle tone, difficulty feeding, overactive reflexes and sleep issues. Although a common problem, limited research has been published on the long-term obstacles impact that opioid exposure can have on affected babies past the first few weeks of life.

That's why Jennifer Check, MD, MS, Associate Professor of Neonatology at Wake Forest University School of Medicine, the academic core of Atrium Health, is leading a study that is examining the correlation of early brain imaging with early childhood behavior and development in substance-exposed newborns. The yearlong pilot study assessed infants with no substance or opioid exposure in utero and infants who did have opioid exposure in utero to compare the neurological differences and outcomes between the two groups. The study is part of a pilot funding program launched by the School of Medicine's Wake Forest Clinical and Translational Science Institute (CTSI) to leverage the combined talents of researchers at multiple Atrium Health locations.
| | |
| --- | --- |
| | "Will these babies be at a disadvantage for school learning and need more attention to individual learning plans, or will early intervention prior to school help these individuals overcome previous deficits noted? That's what we are working to find out." - Michelle Chiu, MD |
Measuring Development
"A baby's life is certainly impacted by early childhood development, but their development begins even before birth, in utero, and when we look at some of these in utero exposures to opiates and effects they may have on the developing brain, it can correlate to what their neurodevelopment is like in early childhood and may give us some clues into later, longer-term outcomes," said Check.

The study utilizes neuroimaging, which is a functional brain MRI, of babies in the first week and at one month of age. The scans provide images of brain structure and function. A neurobehavioral assessment is completed at one month of age; then at six months, developmental testing is done to look at cognition and motor skills, whether they possess age-appropriate thinking, problem solving, and movement. Very early language development is also investigated at this milestone. Throughout the 12-month study, the child's overall behavior, interaction with surroundings, auditory and visual responses are monitored. Findings are ultimately compared between the opiate-exposed and non-exposed babies.

The neonatal brain is subject to potentially negative developmental influences from many types of sources, including exposure to opioids. Alterations in how the brain develops can have lifelong implications on behavior and neurodevelopment, which can affect how the person integrates in school and then society.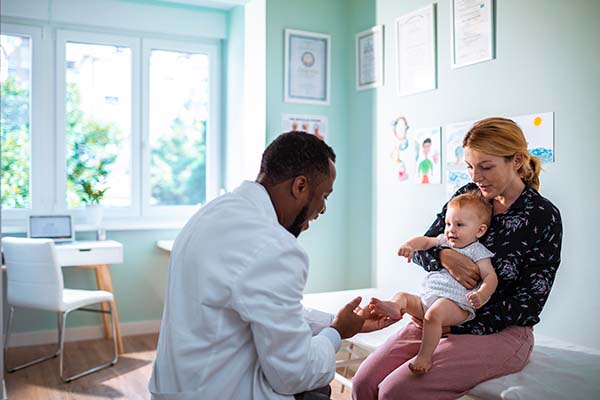 "We're hoping to offer insight and guidance to future generations on what development and behavioral outcomes may look like and what therapies and treatments can provide the most assistance," said Check. "I'm hopeful this data will also help to reveal why certain infants are at a higher risk to be impacted, compared to another infant that's impacted less, despite the same exposure."

For babies exposed to opioids, differences in brain structure and functional connectivity, as well as neurobehavioral and neurodevelopmental will be evaluated. The group will also study whether there are different outcomes for infants receiving pharmacological treatment for opioid withdrawal versus those who are treated in a family-centered care approach called Eat, Sleep, Console, which does not use medication for treatment.


How We Can Help
"The goal of this study is to bring better understanding of why babies who are exposed to opioids in utero have a pathophysiological reason as to the symptoms of NOWS and how this can further identify risk factors for patients that may impact their development in the future and integration into society," said Michelle Chiu, MD, Neonatologist at Levine Children's Hospital, part of Atrium Health, who is also working on the study. "For instance, will these babies be at a disadvantage for school learning and need more attention to individual learning plans, or will early intervention prior to school help these individuals overcome previous deficits noted? That's what we are working to find out."

This study also will offer families guidance on the developmental testing and screening their babies need. Support will be provided to navigate obstacles that may be discovered from the findings of the research. Many of these babies have difficulties in handling various noises or environmental stimuli and through this study, clinicians will work with the family on recommendations of how to soothe and how to work with them on the stimuli that's stressful for their babies. Additionally, findings from this study will provide insight on needed social support for families as they navigate potential challenges of their own within their household.
| | |
| --- | --- |
| "If we see infants who are starting to fall behind, or if there are subtle findings that we're concerned about, we can get them referred as early as possible and enrolled in therapy so that hopefully they can catch up pretty quickly." – Jennifer Check, MD | |
For the long term, this study is laying groundwork for larger studies such as the one Jeffrey Shenberger, MD, Section Head and Professor of Pediatrics – Neonatology at Wake Forest University School of Medicine, is working on with the NIH called HEALthy Brain and Child Development.

"Studies like this are helping to pave the way for more longitudinal research and are helping researchers gain experience on how to conduct the studies, prepare the families and collect data," said Shenberger, who also is working on the CTSI study. "The first few years of life are filled with vast amounts of growth and brain development and the long-term developmental effects of in utero exposure to substances are largely unknown and this research is a building block."
Larger Footprint
Study participants were enrolled throughout the Winston-Salem and Charlotte regions, which encompasses most of the western portion of North Carolina and by combining resources and researchers at Wake Forest University School of Medicine and Atrium Health, this study has a robust catchment area.

"I'm thrilled to participate in one of the first joint studies between Wake Forest University School of Medicine and Atrium Health, it will allow the sharing of intellectual curiosity between two great institutions and with the integration of these organizations, we can expect advanced hypothesis, theories and results and we will be able to offer patient's better understanding of disease processes and hopefully treatment and management plans," said Chiu. "For instance in this study, the information obtained will allow us to hopefully acknowledge the hypothesis of brain structure and how functional change correlates with opioid exposure, which then places the patient at a higher risk for neurodevelopmental and neurobehavioral abnormalities."
| | |
| --- | --- |
| | "The first few years of life are filled with vast amounts of growth and brain development and the long-term developmental effects of in utero exposure to substances are largely unknown and this research is a building block." - Jeffrey Shenberger, MD |
Outside of this study, Check also leads the Infant Follow-Up Clinic at Amos Cottage, a clinic where newborns up to children three years of age are provided additional monitoring for issues that can arise from instances such as being born prematurely, congenital heart issues or babies exposed to opioids in utero. This clinic is one of the few in North Carolina that proactively offers families the opportunity to have their children, who were exposed to opiates in utero, monitored up to three years of age and provided referrals to various therapies to get children on target if they are not meeting milestones.

"For infants who have had a challenging start prior to birth and upon entering the world, these assessments and ongoing monitoring are key to the trajectory of their immediate and extended development," said Check. "If they're starting to fall behind, or if there are subtle findings that we're concerned about, we can get them referred as early as possible and enrolled in therapy so that hopefully they can catch up pretty quickly. This experience and knowledge has prepared us for our CTSI study and provided us the ability and resources to dig in deeper and monitor the effects that opiates can have on children and work toward a way to help many families in the future."