Can having a better quality of life and living longer be as simple as keeping your blood pressure down?
Researchers at Wake Forest University School of Medicine found that by lowering blood pressure, the likelihood of heart attack, heart failure, stroke and death is reduced by 30-40%. This was the first intervention in history that also showed the ability to reduce the risk for memory loss and dementia by almost 20%. Through our partnership with the American Heart Association and the American College of Cardiology, we were able to create an entirely new set of guidelines for controlling blood pressure.
Systolic blood pressure, the top number in a blood pressure screening, measures the force the heart exerts on the walls of the arteries each time it beats. The federally funded Systolic Blood Pressure Intervention Trial (SPRINT), proved that lowering systolic blood pressure to below 130 mm Hg reduced cardiovascular events and helped save lives in people from all walks of life, and a diverse racial, ethnic and cultural background. The School of Medicine was a key player in SPRINT, serving as the National Coordinating Center.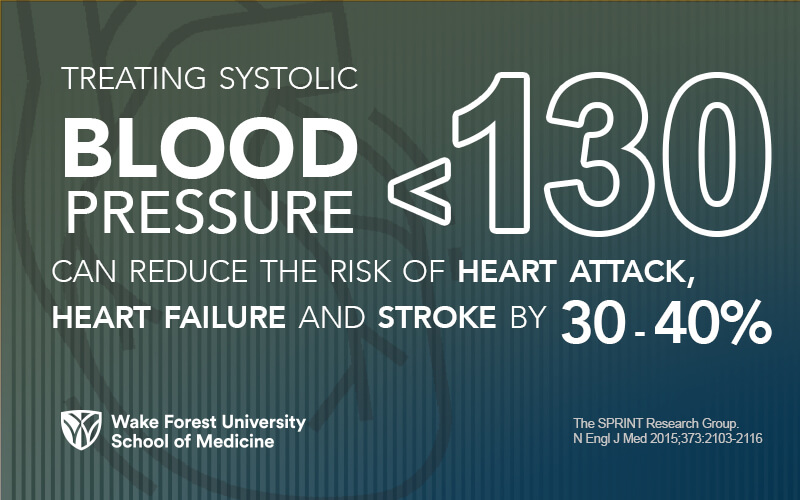 "These discoveries are a huge win for our patients, because we can dramatically reduce their risk of having the disabling complications of heart failure, heart attack and stroke that often change their life forever. It's a win for me as a physician because I want to provide that best care. And it's actually a win for everyone because those very events; heart failure, stroke, heart attack, even death and dementia; they're the things that are the most expensive forms of health care," said Jeff D. Williamson, MD, professor of gerontology and geriatric medicine.
"In my work as a cardiologist, every day I see the problems that arise when blood pressure is not well controlled. I am proud to be part of Atrium Health where we are working as a team to control blood pressure for all," said Dr. William Downey, vice-chair of quality and care transformation, Sanger Heart & Vascular Institute.
Accelerating Research to Help Patients Now
High blood pressure affects more than half of people over age 50 and more than 75% of those older than 65. Researchers were also able to demonstrate how a health care system can more quickly turn research outcomes into patient care with a new blood pressure measurement protocol that may help prevent strokes and cardiovascular events.
"Blood pressure is sometimes overlooked because it is such a routine part of every clinic visit," said Elisabeth Stambaugh, MD, chief medical officer of the Wake Forest Health Network.
By changing the frequency of how often we take blood pressure in clinics and offering treatment plans to those with high blood pressure, we can improve patients' health and quality of life and ultimately extend save their lives.
| | |
| --- | --- |
| | "We designed a way to speed the process of getting these results implemented into patient care. I'm not aware of any other health system in the United States that is actually doing a project like this." - Jeff D. Williamson, MD |
What Can I Do to Lower My Risk for High Blood Pressure?
Knowing whether or not you have high blood pressure empowers patients to make healthier choices. Some risk factors for high blood pressure – like your age, family history and ethnicity – can't be controlled. The good news is, other factors are within your control, and by taking certain healthy actions you can lower your risk for high blood pressure.
It is important to monitor your blood pressure regularly, even when it is in control for a while. Experts suggest that lifestyle choices that can increase your risk for high blood pressure:
Too Much Salt (sodium): A diet that is too high in sodium – an element in table salt – increases blood pressure.
Too Little Potassium: Not eating enough potassium also can increase blood pressure. Bananas, potatoes, beans and yogurt have high levels of potassium.
Physical Inactivity: Getting regular physical activity helps your heart and blood vessels stay strong and healthy, which may help lower your blood pressure.
Too Much Alcohol: Drinking too much alcohol can raise your blood pressure. Women should have no more than one drink a day and men should have no more than two drinks a day.
Tobacco Use: Nicotine raises blood pressure, which reduces the amount of oxygen that your blood can carry.
While some individuals may need medicine to lower their high blood pressure, others can lower their blood pressure by making lifestyle changes such as getting regular exercise, eating a healthy diet and maintaining a healthy weight, not smoking and managing stress.
Practice the Pause
Atrium Health and Wake Forest University School of Medicine are dedicated to translating scientific and medical discovery to improve care for all. "One of the many benefits of collaborating across the multiple Atrium Health regions is that more people from diverse communities will be able to rapidly experience the benefit of research discovery in their lives through clinical practices," said Williamson.
LaShanda Brown, a gerontological nurse practitioner, works directly with clinical professionals to implement the new protocol, which calls for blood pressure to be measured twice in patients with an automated cuff, with the average of the two readings taken as the final result. She said that the procedure is based on what she calls "practicing the pause."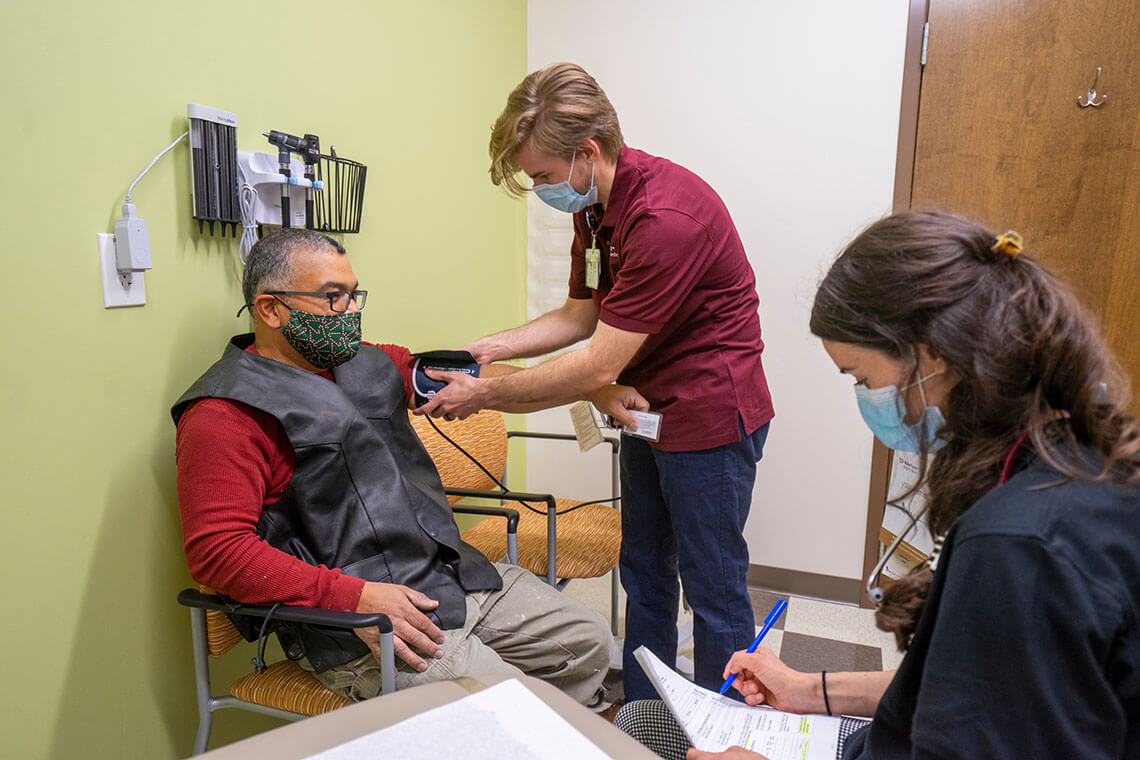 Clinics are encouraged to educate their patients, particularly about why it's important they take more time for this process. "Patient education is really important. We're working to introduce a streamlined process across multiple clinics," said Brown.
"We suggest waiting before you check a blood pressure so that you're not rushing a patient in to do a quick blood pressure assessment when they may be winded or tired, distracted or excited about their visit," said Jennifer Brady, MD, senior vice president and chief executive officer, Atrium Health Collaborative Physician Alliance.
"The benefits of optimally controlling blood pressure are proven and substantial. Helping our patients to identify high blood pressure and control it is one of the most impactful things we can do to support them achieve their health goals both today and in the future," Matthew C. Anderson, MD, Senior Vice President, Enterprise Senior Medical Director, Primary Care Service Line.
Improve your health and reduce your risk for heart and memory issues by scheduling an appointment with your primary care provider today. Visit our experts across the Piedmont Triad and greater Charlotte regions in North Carolina and the northwest, central and south regions of Georgia.