Anatomy lab, one of the defining experiences of medical school, would be impossible without "the gift of life," the gracious donation of whole body tissue.
Such tissue is provided when individuals agree to donate their body to medical science. At the School of Medicine, donations are made through the Whole Body Donation Program, which is the largest program of its kind in North Carolina.
Wayne Meredith, MD '78, professor and chair of the Department of Surgery, says such donations to the lab are indispensable.
"This lab is a unique and highly valuable resource to surgery," says Meredith. "It allows us to train faculty fellows and residents in techniques that are new or rare in a controlled and safe but anatomically realistic environment."
The value of whole body donations extends beyond the lab. In addition to supporting educational needs at the School of Medicine, such donations also help meet educational needs at Winston-Salem State University's physical therapy program and at Wake Forest University's undergraduate anatomy class in the Department of Health and Exercise Science.
Whole body donations are also vital for experienced physicians and other health care providers to develop or practice clinical skills and procedures that improve patient treatment outcomes and to answer challenging medical research questions.
Essential to Patient Care
Examples of faculty uses of whole body tissue cover the gamut of care and training.
Bodies allow new pulmonary fellows to learn intubation, chest-tube management and airway procedures used at Wake Forest Baptist. Fellows can practice direct and video laryngoscopy and become familiar with chest-tube drainage devices.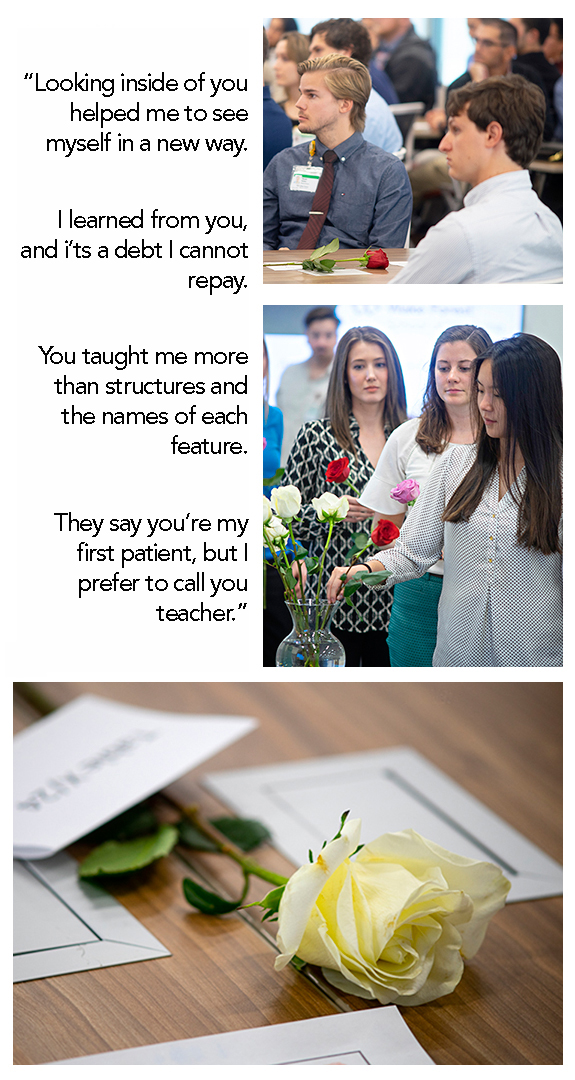 The annual Emergency Medicine Resident Airway Lab allows hands-on experience with a variety of airway management modalities, including adult and pediatric airway equipment, ventilators, adjuncts and surgical airways. The training is required by the Accreditation Council for Graduate Medical Education (ACGME).
"This annual lab sets us apart as a training program," says Nick Hartman, MD, MPH. "It allows emergency medicine residents to be significantly more experienced and confident in handling airway emergencies in the hospital."
An ob-gyn lab, led by Leslie Kammire, MD '86, is part of orientation for new residents. They learn about cervical, uterine, vulvar and skin biopsies, IUD placement, episiotomy and repair, making and closing abdomen incisions, and inserting laproports.
In orthopaedics, residents learn skills in assessing and repairing shoulder injuries using arthroscopy. "This is a proven approach for improving learning performance in the operating room," says Kevin Coates, MD, Fellow '13.
In neurosurgery and orthopaedic surgery, cadavers can help with the evaluation of a new device, the Biederman impact, which is being used in a service-line trial. It addresses early scoliosis and pediatric spine repair. "This type of new hardware has a number of advantages over current implant hardware and is likely to allow for better outcomes," says Alex Powers, MD, House Staff '08.
A pain management lab allows anesthesia trainees to demonstrate their competency in placing epidurals for spinal cord stimulation, targeted drug delivery and surgically filling an injured or collapsed vertabra.
"This lab is essential for reducing variation in training among fellows and attendings in spinal procedures that are required for managing pain," says Robert Hurley, MD, PhD. "It helps to reduce unwanted patient care outcomes and enhances treatment."
Bodies also are used in the H3A Tri-development in Anesthesia Program that helps set the Nurse Anesthesia Program apart from others. Among other skills, students learn about routine and emergency techniques for invasive airway management, and neurologic system anatomy and assessment. H3A also provides hands-on experience with advanced skills such as laryngoscopy, epidural injections and other anesthetic techniques.
A Continuing Need
With more students being admitted to the school's educational programs than ever before, the need for whole body donations is greater than ever.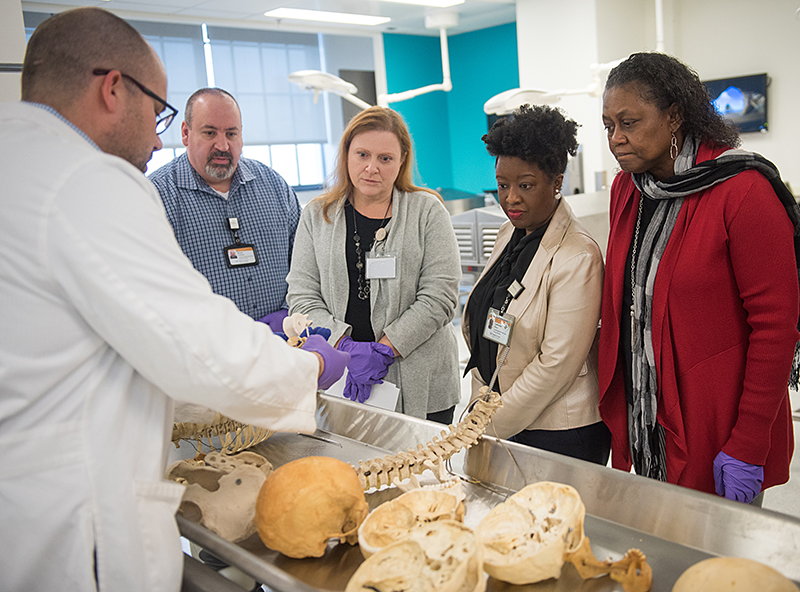 JaNae Joyner-Corcoran, PhD '07, MHA, director of health care education and innovation and executive director of the Center for Experiential and Applied Learning (CEAL) at the School of Medicine, is thankful for the 239 body donations received during the 2018-19 academic year. She notes that in future years, given the growth in the student base and various programs, more will be needed.
"Our CEAL human tissue services team, including Thomas Perrault Jr., PhD '03, Chris York and Kenneth Long, make each gift serve as many purposes as possible for training the next generation of health care providers. Additional donations would allow for more training opportunities."
The School of Medicine's Whole Body Donation Program has been authorized by the North Carolina Commission of Anatomy and State Law to receive whole bodies donated for medical education.
Learn more about participating in theWhole Body Donation Program.