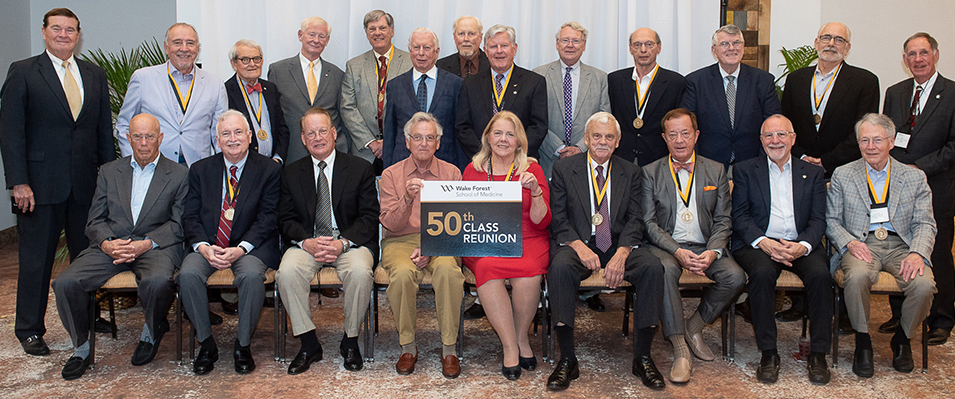 Members of the MD Class of 1969 celebrated their 50th reunion this year and established a class scholarship to support a medical student enrolled in the MD program.
---
Alumni Couple Provides Leadership Gifts
Students in two School of Medicine programs are benefiting from the generosity of one alumni couple.
John Black, MD '81, and his wife, Kathryn Frost Black, PA-C '01, established the John and Kathy Black Physician Assistant Scholarship Fund in 2012 in honor of Kathy's PA educational experience.
"We wanted to give so that others can share in the incredible careers that Wake Forest made possible for both of us," John says. "The excitement and compassion are palpable around the School of Medicine campus in the beautiful, revitalized downtown! We feel so fortunate to continue to be a part of our alma mater by helping current and future students through our scholarships."
The Blacks are now retired and living in Wilmington, North Carolina, and remain involved in the life of the medical school. John serves as a member of the Medical Alumni Association Board, and Kathy continues to work as a preceptor and mentor for PA students and alumni. They both serve as regional hosts for the Wilmington-area alumni events.
"To make this small contribution to the betterment of other people's lives has definitely made us very happy," Kathy says. "We strongly encourage other alumni to consider initiating scholarships to continue to help Wake Forest attract the best students and make their education affordable."
In addition to their own scholarship fund, John and Kathy have continued to support the Kyle Black, MD, Family Scholarship with annual and estate leadership gifts. John's father, the late Kyle Black, MD, established the Kyle E. Black, MD, Family Scholarship in 1998 in memory of his wife, Helen Apps Black. He did not attend the Wake Forest School of Medicine, but all three of their sons did, with William, MD '74, and Kyle Jr., MD '78, graduating before John.
---
Farrar Funds Scholarship as PA Program Turns 50
Marcia Farrar, PA '75, commemorated the 50th anniversary of her educational program by ensuring that future PA students will be able to follow in her career footsteps.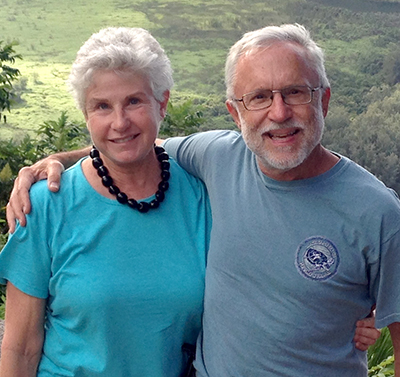 Farrar, of Moraga, California, has established the Marcia Pregnall Farrar, PA Family Scholarship through current gifts and an estate gift commitment. She intends to make annual gifts to be awarded to PA students with a preference for fellow Wake Forest University graduates.
"My family and I feel very happy about establishing an endowed scholarship for PA students," Farrar says. "It reflects our values well." Farrar serves as a regional host for San Francisco-area alumni events.
The scholarship will be a need-based award within the PA Program, which marked its 50th anniversary with a gala event on Oct. 19. The event at Winston-Salem's Benton Convention Center included tours of the PA program facilities, a reception, dinner and live music.
---
Henderson Establishes Nurse Anesthesia Scholarship
Receiving a scholarship as a Nurse Anesthesia student created an impression on Kristin Henderson, DNAP, CRNA '09, CHSE. By establishing a scholarship award of her own, she hopes to similarly inspire others.
As a student, Henderson received the Lettie Pate Whitehead Scholarship. She said she was reminded of what it meant to be a scholarship recipient during a meeting at the Office of Philanthropy and Alumni Relations.
"Reflecting on how meaningful that moment was has been such an inspiration for me to give toward student financial needs as an alumna," she said. "Because of the scholarship I received, I'm now 10 years into an amazing career, and it's time to make my own contribution to support students."
The Kristin J. Henderson, DNAP, CRNA, Innovative Education Award Fund will support students who demonstrate interest in educational or clinical innovation and national educational opportunities.
Henderson now works as assistant professor and education innovator for the Nurse Anesthesia Program and director of simulation labs at the School of Medicine's Center for Experiential and Applied Learning. She also has served as secretary of the CRNA Alumni Advisory Board.
---
Milton Raben, MD, Honored with Professorship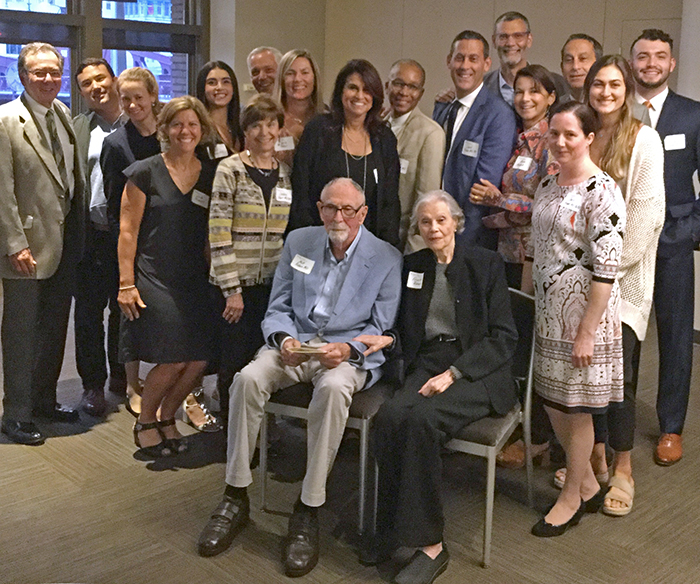 Dr. and Mrs. Raben, seated, surrounded by friends, family, former trainees and current faculty in the Department of Radiation Oncology at Wake Forest Baptist Health on Sept. 15 in Chicago.
Milton Raben, MD, a legendary faculty member and leader in radiation oncology is being honored with a professorship funded by his former residents, friends and family. The lead gift was made by his first resident, Carolyn Ferree, MD '70, House Staff '74.
Raben, now 90, is professor emeritus of radiologic sciences-radiation oncology. He served as the first chairman of the Department of Radiation Oncology and was on the School of Medicine faculty for 26 years. He is remembered within the department for placing quality of care and people first, followed by a commitment to fairness that earned him the respect of faculty, staff and patients.
His twin sons, Adam Raben, MD '89, and David Raben, MD '89, followed him into his chosen medical specialty. Adam is chair of radiation oncology at Helen F. Graham Cancer Center, part of Christiana Care Health System, in Delaware. David is professor of radiation oncology and the Marsico Family Endowed Chair in Head and Neck Cancer Research at the University of Colorado Cancer Center.
The twins were joined by their sister Elisa and their brother Jesse in honoring their father with gifts to establish the Milton Raben, MD, Radiation Oncology Fund.