Use anchor tags below to jump down the page:
---
MD
Rosenbaum Named to Admissions Role

Daryl A. Rosenbaum, MD '97, has been named associate dean for admissions and student financial aid.
Rosenbaum, associate professor of family medicine, succeeded David Grier, MD, on July 1. Grier, who had served in the role since 2012, was named associate professor at the University of Cincinnati College of Medicine and will work as a hematopathologist at Cincinnati Children's Hospital Medical Center.
Since joining the Department of Family and Community Medicine in 2005, Rosenbaum has served as sports medicine fellowship director and head primary care physician for Wake Forest athletics for eight years and as director of the Family Medicine Residency Program for the last five years. He is a native of Troy, Mich., and a resident of Mocksville, N.C.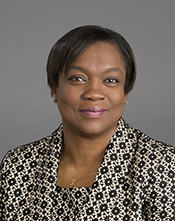 Modupeola "Dupe" Akinola, MB BS, assistant professor of neonatology, has been named assistant dean for admissions and student financial aid. She joined the School of Medicine faculty in 2008 in the Department of Pediatrics and has served as course director for the fourth-year neonatology clerkships, as well as a mentor and adviser to a diverse group of medical students through Student Affairs' "house" system, the Christian Medical and Dental Association, the Twin City Medical Society and the Wake Forest Student National Medical Association.
Spencer P. Thornton, MD '54, Nashville, Tenn., has received the inaugural American Society of Cataract and Refractive Surgery Film Festival Lifetime Achievement Award at the society's Annual Meeting on Cataract, IOL and Refractive Surgery and the American Society of Ophthalmic Administrators' Congress on Ophthalmic Practice Management in May 2019. Established in 1982, the Film Festival Awards honor the best filmmakers in ophthalmology.
William T. Carpenter Jr., MD '62, Columbia, Md., has received the Schizophrenia International Research Society's (SIRS) Lifetime Achievement Award. Carpenter is professor at the University of Maryland School of Medicine and past director (1977-2013) of the Maryland Psychiatric Research Center. The SIRS was founded in 2005 with the goal of bringing together scientists from around the world to exchange the latest advances in biological and psychosocial research in schizophrenia.
Joseph J. Mamlin, MD '62, Indianapolis, Ind., has returned to Indiana after serving 20 years in the Indiana University-Kenya partnership of Academic Model Providing Access to Healthcare (AMPATH). Mamlin served as the executive field director for AMPATH from 2000-12 and field director for clinical care since then. He is known for his early advocacy for antiretroviral medications to treat HIV-positive patients in Kenya. Since treating his first Kenyan HIV-positive patient in 2000, Mamlin and his Kenyan colleagues have provided care to more than 200,000 HIV-positive patients at Moi Teaching and Referral Hospital and a network of health facilities throughout western Kenya.
Roger E. Stevenson, MD '66, Greenwood, S.C., has been honored with the American College of Medical Genetics and Genomics (ACMG) Foundation David L. Rimoin Lifetime Achievement Award in Medical Genetics at the group's annual meeting in Seattle. Stevenson is senior clinical and research geneticist at the Greenwood (S.C.) Genetic Center, where he holds the Curry Chair in Genetic Therapeutics. The Rimoin Award is the most prestigious award given by the ACMG Foundation.
John C. Rozier Jr., MD '67, Lumberton, N.C., was presented with the Dr. D.E. Ward Jr. Provider of Excellence Award on Dec. 14, 2018, by Southeastern Health in Lumberton. The award was established in 2017 and honors the late D.E. Ward Jr., MD '45, for his 58 years of service on the Southeastern Health medical staff, his tireless devotion to providing the highest quality of care to his patients and his continuous efforts to improve Southeastern Health and the community. It is awarded annually to a provider who best embodies the attributes that Ward exhibited. Rozier practices gynecology with Southeastern Health Women's Clinic.
William T. Speck, MD '68, New York, N.Y., has been honored by the American Health Council as "America's Best Doctor" for his impressive dedication to educating rising medical students. Speck is emeritus professor of clinical pediatrics in the College of Physicians and Surgeons at Columbia University in New York City. He has held this role for over 18 years and has spent 50 years expanding his skills and knowledge in pediatrics, pediatric diabetes, check-up procedures, immunization and vaccination. Speck was chairman of the Department of Pediatrics at Case Western Reserve University for 10 years. He was CEO and president of the Columbia Presbyterian Hospital, and during his presidency, he oversaw the merger with Cornell's New York Hospital to form the New York-Presbyterian Hospital and served as the institution's first president.
C. Allen Bruce, MD '69, Tampa, Fla., retired from private allergy practice in December 2015. He then did contract work for the United States Air Force, establishing an allergy clinic at Davis-Monthau AFB in Tucson, Ariz. He is now a contracted allergist at MacDill AFB in Tampa, Fla. He and his wife, Agnes, celebrated their 50th wedding anniversary in June 2018. They have three daughters who are married with three children each. Their oldest daughter graduated from the PA Program at Wake Forest School of Medicine and works as a family practice PA in Atlanta. Their middle daughter is a breast cancer oncologist in Atlanta, and their youngest daughter is a health policy analyst for the Urban Institute in Washington, D.C. His pastimes are his grandchildren, musical activities, gardening and travel. He plans to keep working for at least five more years.
Charles E. King, MD '69, Arnold, Md., continues to practice part time in gastroenterology and continues to love playing golf, line dancing and participating in worship activities of his church and with the Rotary Club of Annapolis, Md.
John G. Kloss, MD '69, Boise, Idaho, retired June 30, 2018, from full-time practice after 38 years in Boise as an orthopaedic hand surgeon. He now has more time for grandchildren belonging to son, John (and Ellen), a research scientist at Lincoln Labs in Boston, and daughter, Jennifer Kloss Cook, MD, '01, (and Jason) now on the Family Medicine Residency of Idaho faculty. John and his wife, Lois, participated in his 50th Reunion at MD Alumni Weekend '19.
Julian Raleigh Taylor, MD '69, Ahoskie, N.C., continues to work as a family physician at the Community Health Center. In 2017, he recertified with the American Board of Family Medicine. Daughter Margaret and family have lived in Spain for the past five years. Daughter Anna Taylor Schmelzer, MD '02, and family live in Charlotte, N.C., where she practices pediatrics. Son Hinton and his family also live in Charlotte. Taylor has six grandchildren, from ages 7 to 18. He and his wife, Jerrie, a K-12 school librarian, have been married 36 years. In 2018, the library at Jerrie's independent school was named for her.
James S. Strohecker, MD '74, Columbia, S.C., has retired from practicing gastroenterology.
Stanley N. Tennant, MD '78, Greensboro, N.C., president-elect of the Wake Forest School of Medicine Medical Alumni Association, led the students in reciting the Physician's Oath at the Hooding Ceremony for the MD Class of 2019 on May 19. Tennant spoke to the incoming MD Class of 2023 during orientation activities at the medical school on July 9.
Ollie Thurston Adcock Jr., MD '79, Smithfield, Va., has retired as medical director at Riverside Medical Group in Newport News, Va., and is enjoying time with his wife, Sandra.
Al N. Hawks Jr., MD '79, High Point, N.C., retired as of June 2019 as a network physician at Wake Forest Baptist Health.
Dean L. Johnston, MD '79, Orlando, Fla., is in private practice as a plastic surgeon and has been happily married for 31 years to his wife, Kathy.
Donna Browder Moyer, MD '79, Lewisville, N.C., has been providing primary pediatric care to Davie County since August 2018. She has two grown children, Hayley and Nikolas. Emily, her third child, lives in a special home which allows for better care due to medical issues.
Terry David Odom, MD '79, Greensboro, N.C., is an ophthalmologist with Dominion Eye Center in Danville, Va. He and his wife, Susan, have three children, Dana, Kelly and Allison.
Ira Q. Smith, MD '79, Durham, N.C., has retired from practicing obstetrics-gynecology.
Adrienne M. Zazzi, MD '79, Rolling Hills, Calif., an obstetrician and gynecologist, retired in 2016.
Josh Paul Oppenheim, MD '82, Annandale, Va., is still working in the same group otolaryngology practice in Northern Virginia. He says it is odd to be the senior doctor in the group, but he still enjoys it and plans on sticking it out for a few more years. The family's first grandchild was born in July 2019.
Gwendolyn D. Hughes, MD '84, Akron, Ohio, is a critical care hospitalist at Summa Health Critical Care in Akron. She is married to Joseph Myers, MD, and has two sons.
Michael R. Canady, MD '85, Gallipolis, Ohio, CEO at Holzer Health System, has been named a fellow with the American Association for Physician Leadership (AAPL). The AAPL is a professional association focused on developing and supporting physician leadership through lifelong education, professional development, community and influence.
Lucy Younger Ledbetter, MD '87, MBA, Columbia, Tenn., president of the Wake Forest School of Medicine Medical Alumni Association, led the students in reciting the Medical Student Creed at the White Coat Ceremony for the incoming MD Class of 2023 on July 13.
Gary L. Roark, MD '89, Gloucester, Mass., and his family have lived in Africa for several years providing anesthesia services, teaching, organizing and helping to set up hospitals. The family has lived in Kenya, Malawi and Niger. Roark and his wife, Karina, have settled now on the north shore of Boston, where they call home.
Myles P. Standish, MD '89, Portland, Ore., has finished his 22nd plastic reconstructive trip to Dehradun, India, with Resurge International as team leader and anesthesiologist.
Paul Britt Starling, MD '89, Wilmington, N.C., is chairman of the Department of Anesthesia at American Anesthesiology. He and his wife, Donna, have been married for 23 years and have three children, Michael (19), Catherine (18) and Julia (14). Michael and Catherine are in college, and Julia is in high school. Starling also has one dog, one cat and 10 chickens. He loves spending summers at Wrightsville Beach, N.C.
Pamela DeLuca Sullivan, MD '89, Sudbury, Mass., is married with two children, a 19-year-old son and a 15-year-old daughter. She is practicing primary care and rheumatology with a special interest in bone health-bone densitometry.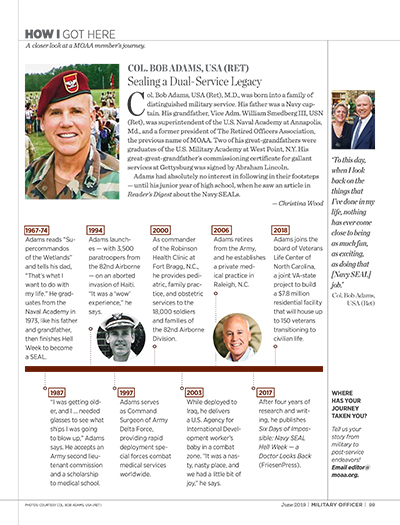 Col. Robert S. Adams, MD '91, Raleigh, N.C., was honored for his distinguished military career in the United States Navy with an article on his service in the June 2019 issue of Military Officer Magazine. He is on the Board of Directors for the new Veterans Life Center in Butner, N.C.
Neil S. Reece, MD '94, Wesley Chapel, Fla., is serving with the 6th Medical Group at MacDill AFB, where he is medical director for the U.S. Central Command Clinic and deputy SGH (chief of medical staff).
Kristin Robie, MD '94, New York, N.Y., retired in 2016 from internal medicine.
Katherine A. Poehling, MD '95, MPH, Winston-Salem, N.C., has been recruited to assume a new position at Wake Forest Baptist Health as director of pediatric population health. Poehling will help lead initiatives for Wake Forest Baptist Health to become a nationally recognized population health center and will focus her efforts on improving children's health. She is an internationally recognized researcher in the field of vaccine-preventable diseases and a talented clinician and educator.
Keith D. Gray, MD '98, Knoxville, Tenn., has been named the new chief medical officer for the University of Tennessee Medical Center. He began work in the new position in March 2019, along with serving as the medical center's senior vice president.
Angela N. Aslami, MD '99, Sharon, Mass., founded Horizons Healthcare and Wellness in May 2016.
Shamit Sarangi, MD '99, Zionsville, Ind., was named in 2018 as a "Top Doctor" for neuroradiology in Carmel, Ind.
Jennifer Kloss Cook, MD '01, Boise, Idaho, is on the faculty of the Family Medicine Residency of Idaho.
Kevin R. Kuzma, MD '04, Greensboro, N.C., an orthopaedist and hand specialist, has welcomed three children to his family: Lilian, born March 8, 2015; Caroline, born July 15, 2016; and Madeline, born May 8, 2018.
Sarah Britt Foley, MD '09, Sanford, N.C., an obstetrician and gynecologist at the Carolina Women's Health Center in Sanford, has welcomed three children to her family: Emerson, born Dec. 1, 2011; Leah, born June 24, 2015; and Henry, born July 28, 2017.
Jennifer Lynn Landers Gullo, MD '09, Elk Grove, Calif., has a new job as an emergency medicine attending at Marshall Medical Center in Placerville, Calif. She has also welcomed two children to her family: Lucas, born Sept. 8, 2014; and Madeline, born July 5, 2016.
Maxwell Kenneth Langfitt, MD '09, Winston-Salem, N.C., an orthopaedist at Wake Forest Baptist Health, and spouse Jane E. Langfitt, PA-C '07, have welcomed a child to their family: Wells, born June 25, 2016.
Candace Sprott, MD '09, MBA, Oceanside, Calif., is working as an outpatient med-peds attending and is currently expecting her third son. Her husband, Daniel, is defending freedom as a helicopter pilot for the United States Marine Corps.
Leon Michael Sujata, MD '09, Vernon Hills, Ill., a nephrologist with Nephrology Associates of Northern Illinois, married Katharine on Oct. 29, 2017, and they welcomed Oliver to their family on Aug. 6, 2018.
Eric T. Teacher, MD '09, Ladera Ranch, Calif., is practicing emergency medicine at Riverside Community Hospital and is married to Ashley.
Bryant Cameron Webb, MD '10, JD, Charlottesville, Va., professor of medicine and director of health policy and equity at the University of Virginia, was selected to speak at the University's Final Exercises in May. He addressed the graduates from the College and Graduate Schools of Arts and Sciences. Webb is a former White House fellow who worked during the terms of former President Barack Obama and President Donald Trump.
Elizabeth Routh Jalazo, MD '11, Chapel Hill, N.C., has been named a recipient of the 2019 Takeda Pharmaceuticals/American College of Medical Genetics and Genomics (ACMG) Foundation Next Generation Fellowship Award. The award was presented during the ACMG 2019 Annual Clinical Genetics meeting in Seattle, Wash. She received the Clinical Genetics and Genomics Residency Training Award.
Lucy Younger Ledbetter, MD '87, MBA
President
Stanley N. Tennant, MD '78
President-elect
Thomas B. West, MD '81
Secretary
Charles D. Harr, MD '83, MBA
Immediate Past President
Stephen L. Wallenhaupt, MD '78
MAA Annual Fund Chair
Melanie Adams, MD '89
John Alexander Black, MD '81
Rodwige J. Desnoyers, MD '94
T. Arthur Edgerton, MD '81
Douglas Allen Fein, MD '89
Michael T. Flanagan, MD '93
Johnnie Ford Jr., MD '83
Kathryn Ashton Grice, MD '85
Debra Burns Hanig, MD '83
Elizabeth McCurdy Hueman, MD '02
Janel Darey Hunter, MD '10
G. Whitfield James, MD '87
Amy Young Jordan, MD '98
Katherine C. King, MD '62
Kenneth F. Mattucci, MD '64
C. Douglas Maynard, MD '59
Wyman T. McGuirt, MD '96
James D. Sink, MD '75
Scott L. Vogler, MD '98
B. Cameron Webb, MD '13, JD
Kenneth Samuel White, MD '83
Rohan Chandana Wijewickrama, MD '05
MD Student Representatives
Kwone U. Ingram, MD Class of 2020
Aman M. Irfanullah, MD Class of 2021
Kyle P. McNamara, PhD '19, MD Class of 2021
Jeffrey C. Powell, MD Class of 2022
Meron Fessehaye, MD Class of 2023
Ex-Officio Members
Julie A. Freischlag, MD, FACS, FRCS, ED (Hon), DFSVS
Lisa M. Marshall
Beth A. Alexander
Teri C. Lemons, MAEd
Deaths through Aug. 3, 2019
Woodrow Batten, MD '44
Smithfield, N.C., Aug. 2, 2019
David I. Schrum, MD '44
Tulsa, Okla., Nov. 10, 2018
D. E. Ward Jr., MD '45
Lumberton, N.C., May 5, 2019
Robert G. Cushman, MD '46 December
Robbinsville, N.C., May 22, 2019
Ruth S. Johnson, MD '48
West Columbia, S.C., March 12, 2019
William Carey Byrd Jr., MD '50
Kerrville, Texas, June 28, 2019
David H. Fuller Jr., MD '52
Nashville, N.C., July 2, 2018
H. Worth Boyce Jr., MD '55
Odessa, Fla., June 3, 2019
C. Robert Clark, MD '55
Lookout Mountain, Tenn., July 5, 2019
Edward B. Kissam, MD '55
Jacksonville Beach, Fla., May 30, 2019
John A. Oates Jr., MD '56
Nashville, Tenn., July 30, 2019
Eugene Ray Strader, MD '56
Lexington, N.C., Aug. 3, 2019
William Raymond Cowan, MD '57
San Antonio, Texas, Dec. 5, 2018
J. Bernard Vick, MD '57
Greenville, N.C., Jan. 5, 2019
Carlton D. Everhart, MD '58
Cana, Va., June 7, 2019
Gilbert Jick Hum, MD '58
Monterey Park, Calif., July 26, 2019
Clayton Edward Jensen, MD '58
Detroit Lakes, Minn., Feb. 9, 2019
J. William Rogers, MD '58
Winston-Salem, N.C., May 27, 2019
Bee Gatling Gwynn, MD '60
Bermuda Run, N.C., April 24, 2019
Ernest Julian Henson Jr., MD '60
Cloverdale, Ore.
Timothy C. Pennell, MD '60
Winston-Salem, N.C., April 13, 2019
Francis B. Teague Jr., MD '60
Lynchburg, Va., June 27, 2019
John Herman Wolf Jr., MD '61
Reedsville, W.Va., May 14, 2019
Charles Robert Lamb Jr., MD '63
Chester, Va., Nov. 19, 2018
Lewis S. Sydenstricker, MD '63
Monument, Colo., April 28, 2019
W. Ken Striker, MD '65
Chattanooga, Tenn., June 5, 2019
James D. Yopp Jr., MD '66
Winston-Salem, N.C., Feb. 28, 2019
Donald Bernard Dewar, MD '69
St. Augustine, Fla., March 23, 2019
Betsy A. Parsley, MD '69
Winston-Salem, N.C., March 30, 2019
Charles T. Ellithorpe, MD '70
Davidson, N.C., Oct. 20, 2018
Richard H. Stewart, MD '70
Mount Vernon, Wash., Feb. 26, 2019
Richard Hopper Robertson, MD '74
Florence, S.C., Dec. 23, 2018
J. Peterson Rowlett III, MD '75
New Bern, N.C., May 27, 2019
Rhonda C. Quick, MD '93
Tucson, Ariz., March 17, 2019
---
Nurse Anesthesia
University Honors Ouellette with Honorary Degree

Sandra Marie Ouellette, CRNA '69, M Ed, FAAN, was presented with an honorary Doctor of Science degree from Wake Forest University during commencement exercises May 20, becoming the first nurse to receive the honor from the university.
Ouellette has remained involved with the Nurse Anesthesia Program continuously since her graduation. As program director, she oversaw many major changes and periods of growth.
She has served in every elected position of the American Association of Nurse Anesthetists (AANA) and has received every award of distinction given by the AANA, including the Agatha Hodgins and Helen Lamb awards. She also was a charter member of the International Federation of Nurse Anesthetists, which she served as president for six years.
She continues to teach and has established philanthropic endowments to support scholarships and international learning experiences for students in the program.
Program Maintains National Ranking
The Nurse Anesthesia Program maintained its prestigious national ranking of 10th in U.S. News & World Report's Graduate School Rankings for 2020.
The program, led by Director Michael Rieker, DNP, CRNA, was founded in 1942 as the first of its kind in the state. It accepts 24 students each year, provides a rigorous curriculum, advanced training and opportunities for global health studies.
Alumni Association Celebrates 50th Anniversary at Biennial Meeting
The Nurse Anesthesia Program held its biennial alumni meeting March 2, welcoming back alumni from throughout the program's history.
Besides the usual networking and educational opportunities, the meeting included a celebration of the 50th anniversary of the program's alumni association, which was started 25 years into the program's history.
Sandra Patseavouras, CRNA '65, the first chair of the alumni association, attended, and Sharon
Pearce, CRNA '92, MSN, donated a shadowbox of Patseavouras' original scrub cap and graduation pins, which the program now has on display.
Patseavouras, Sandra Marie Ouellette, CRNA '69, M Ed, FAAN, and Elizabeth Randleman, CRNA '65, also were inducted as inaugural members of the Copper Kettle Society, commemorating 50 years of membership in the Wake Forest Nurse Anesthesia Alumni Association.