Alumni Gather in Charlotte for Conversation with the Deans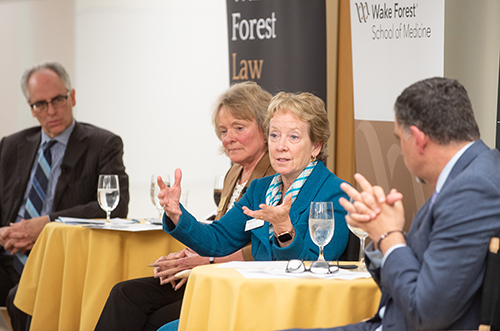 Alumni and the deans from the Wake Forest schools of Medicine, Business and Law gathered in Charlotte on March 21 for a Conversation with the Deans, moderated by Wake Forest University Provost Rogan Kersh, PhD.
The panel discussion and reception were held in uptown Charlotte at Wake Forest University Charlotte Center. School of Medicine Dean Julie Ann Freischlag, MD, FACS, FRCS, ED (Hon), DFSVS, was joined by Charles L. Iacovou, PhD, dean of the School of Business, and Suzanne Reynolds, JD, then dean of the School of Law.
Kersh led a discussion focused on changes in health care and how each of the schools has responded by changing curricula and preparing students. The program also highlighted the interconnectedness among the three schools and opportunities for additional collaboration across Wake Forest.
---
Public Health Sciences Celebrates 30th Anniversary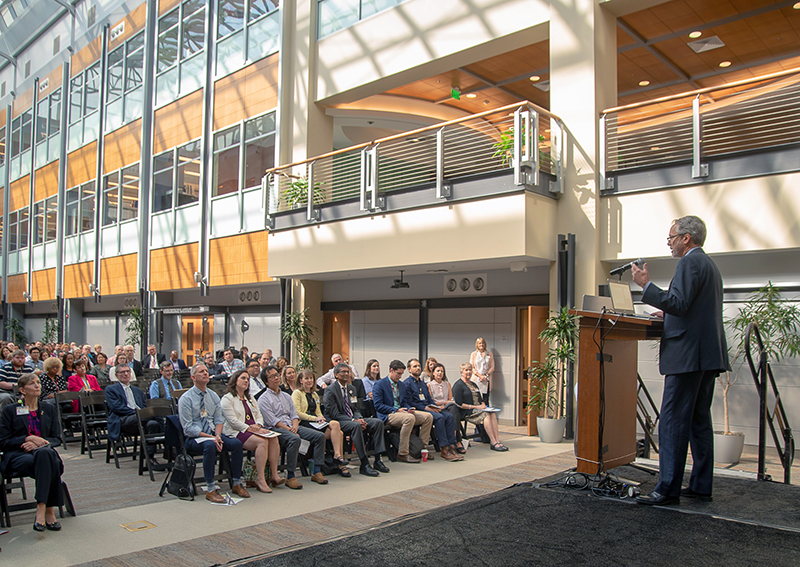 The School of Medicine's Division of Public Health Sciences (PHS) celebrated its 30th anniversary with a gala event at Wake Forest Biotech Place on Sept. 19.
PHS is a group of public health-oriented faculty and staff who develop better strategies for maintaining the health of the entire community. The event included a Scientific Symposium highlighting the division's current work and a panel discussion featuring:
Donna Arnett, PhD, professor and dean at the University of Kentucky College of Public Health
Colin B. Begg, PhD, attending biostatistician and chair of the Department of Epidemiology and Biostatistics at Memorial Sloan Kettering Cancer Center
Geni Eng, DrPH, professor in the Department of Health Behavior at the UNC Chapel Hill Gillings School of Global Public Health
Andrea Z. LaCroix, PhD, professor and chief of the Division of Epidemiology in the Department of Family Medicine and Public Health at the University of California San Diego School of Medicine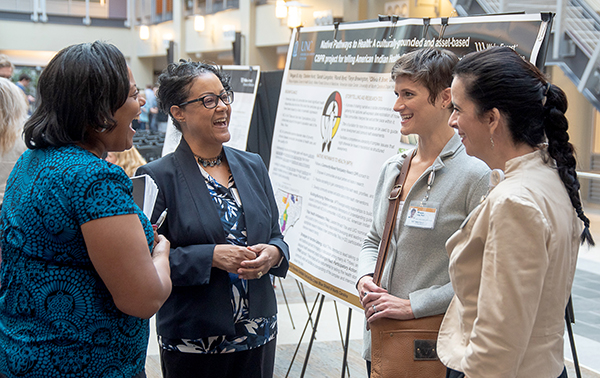 "Success of a division like Public Health Sciences is driven by great people," said Lynne Wagenknecht, DrPH, professor and director of PHS. "We have a group of great faculty and staff who have been here for 20 and 30 years. Today, PHS is as vibrant as it's ever been. We are nationally recognized and poised to do even greater things in the future while continuing to collaborate across the institution."
---
Alumni Volunteers Needed
Volunteer opportunities that connect School of Medicine alumni and students through the HOST (Help Our Students Travel), Mentor and Preceptor programs are now available.
HOST: The program needs MD alumni to host fourth-year medical students when they interview for residency positions, typically November through January. The program often produces meaningful connections between alumni and students, who benefit from considerable savings by not incurring lodging and other related expenses.
To learn how you can help ease the financial burden of current fourth-year medical students by becoming a host, visit School.WakeHealth.edu/Alumni, click on "HOST and Mentor," then follow the directions to set up your account.
Mentor: Each of our lives is shaped by the people who help us along the way. All School of Medicine alumni are invited to volunteer to be a mentor and become a part of a student's professional and personal journey to success. Together, each mentor and mentee determine the expectations and commitment for the mentoring relationship. Alumni also are welcome to also sign up as mentees.
To become a mentor and help fill these important volunteer positions, visit School.WakeHealth.edu/Alumni, click on "HOST and Mentor," then follow the directions to set up your account.
Preceptor: Precepting or teaching School of Medicine students is a mutually beneficial educational experience. The information and clinical experiences you share with students are invaluable, and the fresh information and insights from current Wake Forest students provide a wealth of new knowledge for preceptors.
If you are interested in teaching the next generation of health care providers in any program (MD, Nurse Anesthesia, PA or Doctor of Nursing Practice), contact the Alumni Relations office at alumni@wakehealth.edu.
---
Alumni Welcome Newest Residents to Town
Following Match Day each March, the Alumni Relations office notifies MD alumni around the country of fourth-year students who have matched with nearby residency programs, encouraging alumni to personally welcome the school's newest graduates later that summer.
Two alumni—Charles H. McLeskey, MD '72, in Salt Lake City, and Alfred L. Baker, MD '66, in Chicago—have made this an annual tradition. Each year, McLeskey invites a group to his home for dinner, while Baker asks the students to join him for breakfast at a local restaurant.
Through these relationships, McLeskey and Baker serve as a local resource for these new graduates in their cities, advising on anything from more professional topics related to their residencies to the best restaurants for celebrating an anniversary dinner.
To learn more or to volunteer to welcome new alumni to your city, contact Alumni Relations at alumni@wakehealth.edu.
---
Upcoming Events
| 2019 | | |
| --- | --- | --- |
| Saturday, December 7 | Alumni Dinner | New York City |
| 2020 | | |
| --- | --- | --- |
| Friday, March 6 | DEAC Clinic Spring Fundraiser | Winston-Salem |
| Friday, March 20 | Match Day: MD Class of 2020 | Winston-Salem |
| Friday, April 3 | Alumni Dinner | Chicago |
| May 1-3 | MD Alumni Weekend | Winston-Salem |
| Saturday, May 16 | MS/PhD Hooding Ceremony | Winston-Salem |
| Sunday, May 17 | PA Hooding Ceremony | Winston-Salem |
| Sunday, May 17 | MD Hooding Ceremony | Winston-Salem |
| Monday, May 18 | Wake Forest University Commencement | Winston-Salem |
| Monday, May 18 | MAA Welcome Reception | Winston-Salem |
| Friday, June 26 | PA White Coat Ceremony | Winston-Salem |
| Saturday, July 11 | MD White Coat Ceremony | Winston-Salem |
| Tuesday, August 18 | PA Alumni Luncheon | Myrtle Beach |
| Sunday, August 23 | CRNA/DNP Hooding Ceremony/Graduation | Winston-Salem |