As kids across the country head back to school and fall activities, parents may be concerned about keeping children safe while they play football or other sports. Football is one of the most popular youth sports out there with three and a half million kids playing each year – but it also comes with about 50,000 annual concussions. This risk has made football one of the most concerning activities a child can participate in for parents.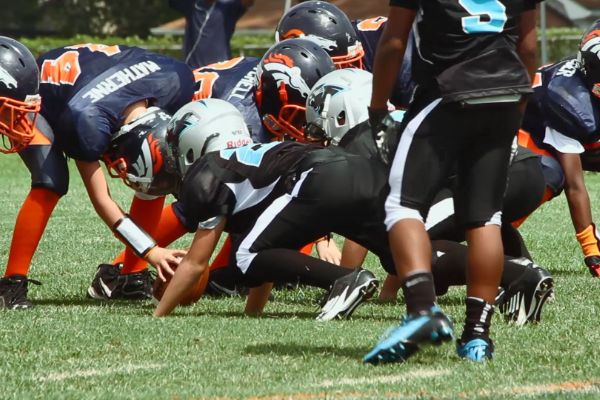 Wake Forest University School of Medicine researchers set out to improve the safety of youth football and found that head impacts can be drastically reduced by changing practice drills. The results from this first-of-its-kind study have provided league officials, coaches and other health professionals across the country with new techniques and guidelines on ways to avoid head injuries and concussions, and improve youth sports safety. Since then, our researchers have applied these outcomes to study head injuries in other sports, helmeted and non-helmeted, as well as in boys and girls.
These studies also highlighted the importance of athletic trainers at school-aged sports practices and events. Atrium Health responded to this need by increasing its coverage for student athletes and provides athletic training services to nearly 100 schools across North Carolina, making it the largest in North Carolina and one of the largest programs in the country.
What are the signs of a concussion and when should my child see a doctor?
While athletic trainers and other health care experts are trained to recognize a concussion, it's important for parents to know the signs and symptoms.

The most common symptoms of concussion are:
Temporary loss of consciousness
Headache
Confusion
Dizziness
Nausea
Vomiting
Slurred speech
Delayed response to questions
Appearing dazed and not remembering the event that caused the possible concussion





In some instances, these symptoms can go away in as little as 15 minutes. But that doesn't mean that a concussion has run its course. Concussion symptoms continue to affect 30% of people three months after injury and adolescents face an even higher risk of delayed recovery. Additional symptoms may not occur until hours or even days after the trauma. The presence of any of these symptoms should prompt a visit to a health care provider, especially if they become worse:
Fatigue
Problems with thinking, concentration and memory
Sensitivity to light and noise
Difficulties with sleep
Emotional issues such as mood swings, irritability, anxiety and depression
"The key thing is making the diagnosis early," said David Popoli, MD, assistant professor of pediatric orthopaedics and rehabilitation. "The longer something goes undiagnosed the trickier it becomes to manage the different elements of concussion. A lot of treatment is tailoring it to what people are experiencing. There's really not a one-size-fits-all solution."

But all concussion treatment regimens share one element: rest, which allows the brain to heal. This generally includes avoiding physical exertion, especially manual labor and sports, and mental activities such as reading, watching TV and using a computer until the symptoms subside, followed by a gradual return to normal activities.
| | |
| --- | --- |
| | "Our research team will help find a better way to answer the first question every teen with a concussion has: 'When will I feel better?'" - Scott Otallah, MD, assistant professor of neurology |
How long does it take to recover from a concussion?
Going back to school, work or the playing field prematurely is inviting trouble since the primary risk factor for concussion is a previous concussion.

"There's no time frame during which you should expect a complete recovery," Popoli said. "The vast majority of patients will resolve their symptoms within a month. At the bare minimum, you're looking at five days."

Recently, the National Institute of Neurological Disorders and Stroke awarded a $10 million grant to the Four Corners Youth Consortium, a group of academic medical centers, including Wake Forest University School of Medicine, that are studying concussions in school-aged children.

"We have an incredible multi-disciplinary team that will help the consortium find a better way to answer the first question every teen with a concussion has: 'When will I feel better?'," said Scott Otallah, MD, assistant professor of neurology. "We are proud to be the site leaders for this study that will include contributions from sports medicine physicians, neurologists, biomedical engineers, neuropsychologists and neuro-radiologists and builds on our strong tradition of concussion research."

Wake Forest University School of Medicine principal investigators include Otallah, Popoli and Chris Miles, MD, associate professor of family and community medicine. The five-year CARE4Kids study will enroll more than 1,300 children nationwide, and an estimated 240 children, ages 11 to 18, will participate in the study locally.
---
To learn more about the study, contact care4kids@wakehealth.edu or call 336-716-3391. If you suspect your child has had a concussion or a sports-related injury, our experts across the Wake Forest Baptist and greater Charlotte regions are available for same-day or next-day appointments.