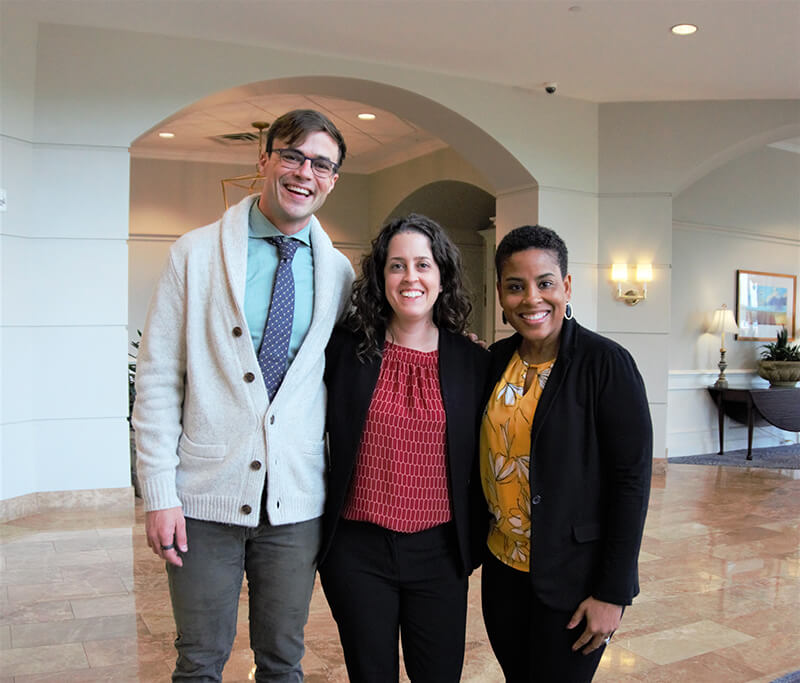 On October 14-16, the Center for Healthcare Innovation, with support from the Department of Internal Medicine, held its inaugural LAUNCH 2022 event which awarded Jaime Hughes, PhD, Assistant Professor of Implementation Science; Amber Brooks, MD, Associate Professor of Anesthesiology at Wake Forest University School of Medicine and Jason Fanning, Assistant Professor of Exercise Science at Wake Forest University as the winner for their project "Advancing the Development of a Patient-Reported Platform for Multiple Health Behavior Change" (PATINA).
The PATINA team was one of 19 projects initially submitted to the Center for Healthcare Innovation. From those, six teams were chosen as semi-finalists before moving into the weekend. On Friday evening, the three finalists were announced before ultimately announcing the PATINA team as winners on Sunday morning. Jaime and her team will receive a $55,000 award as well as one year of mentorship support from the Center for Healthcare Innovation before being graduated from the program.
The winners were chosen using an expert panel of judges across the Atrium Health enterprise in both the Charlotte and Winston-Salem regions across several departments. Those judges used a standardized scoring tool measuring the projects level of innovation/novelty, feasibility, scalability and its alignment with the IMPACT 2025 strategic plan.
While leveraging the ever-increasing use and promise of remote monitoring, wearable technologies and digital health programs, Jaime, Amber and Jason aim to deliver tailored, accessible health promotion interventions to diverse patient populations. PATINA will pay extra attention to the psychological, physiological, social and environmental contexts in which behaviors occur and leverage the already-existing Ecological Momentary Assessment platform built by the Center for Healthcare Innovation to capture real-time health behaviors. Ultimately, this will guide clinical interactions and decision-making, and inform tailored digital health interventions for home delivery.
LAUNCH 2022 took place at the Ballantyne Hotel in Charlotte, North Carolina. Details to come on the LAUNCH 2023 event.