Radiology impacts nearly every field of medicine. To better prepare medical students for their future careers, the Radiology Scholar Certificate Program (RSCP) at Wake Forest University School of Medicine is designed to address deficits in radiology education and offer medical school students' exposure to the radiology field during their preclinical years.

The RSCP is the first student-led program of its kind and was established in 2019 by Wake Forest medical students. All first-year medical students are able to participate and are mentored by fourth-year students, radiology residents and faculty.
The program consists of online interactive case modules that are designed to complement the medical school preclinical curriculum. Structured shadowing experiences are offered, as well as hands-on workshops that teach skills such as ultrasound guided procedures and imaging interpretation. Additional workshops are available throughout the year to provide students with an option to tailor their experiences to a specific interest. Students participating in RSCP also complete a capstone project at the end of the year under the guidance of a radiology resident mentor.
"I joined the Radiology Scholars Certificate Program (RSCP) because I saw how vital radiology is in medicine and how understanding the basics of imaging would help me in my medical career. The RSCP workshops were fun and allowed me to apply what I was learning in class through exposure to various cases and practicing ultrasound for guided procedures. The program fueled my desire to learn more about radiology." – Kate Szczesniak, medical student and former RSCP participant
Students involved in the RSCP will be educated and introduced to ways to improve familiarity, proficiency and confidence when interpreting and ordering radiological studies. Participation in the RSCP will also result in enhanced student preparation for National Medical Board and curriculum examinations and clinical clerkships. Being actively involved in programs such as the RSCP also works to distinguish students' achievements and skills in radiology to program directors which can increase competitiveness during the residency Match.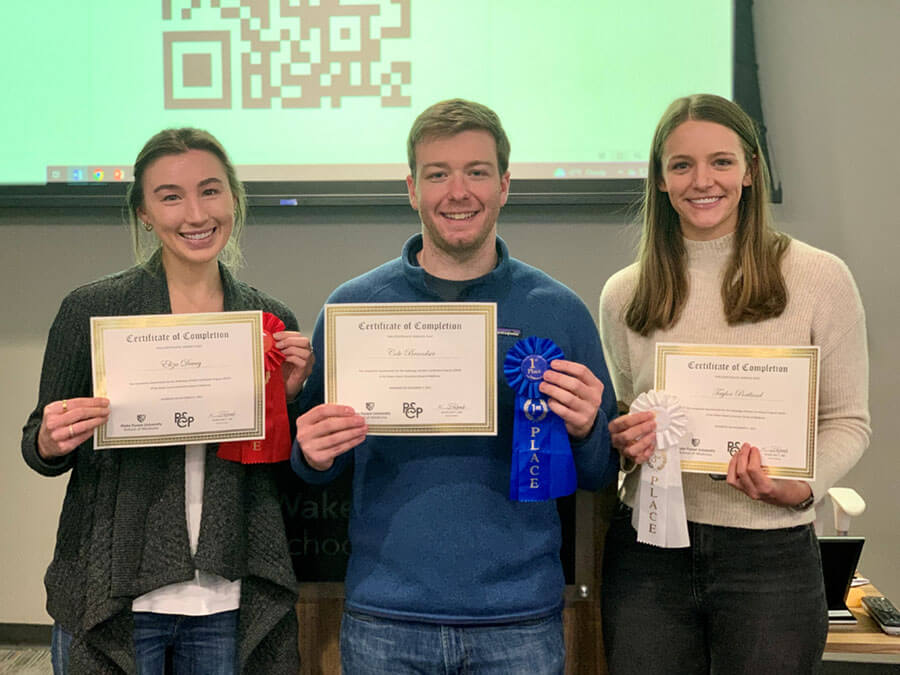 Certificate programs at Wake Forest University School of Medicine allow students to personalize their educational experience, develop special interests and demonstrate outstanding motivation to residency selection committees.