Simulations provide a safe way for health care trainees to hone critical skills. From mock operating rooms to advanced ultrasound training, simulations give students and clinicians a chance to practice procedures and prepare for emergencies before encountering them in the real world. Wake Forest School of Medicine recently gained recognition for its use of these powerful training tools with two new accreditations.
The School established its Center for Experiential and Applied Learning (CEAL) in 2017 to facilitate hands-on training for learners at a range of career stages across multiple facilities. After less than four years, the Center is proud to be awarded full accreditation from the Society for Simulation in Healthcare (SSH) and be recognized as a Comprehensive Accredited Education institute by the American College of Surgeons (ACS).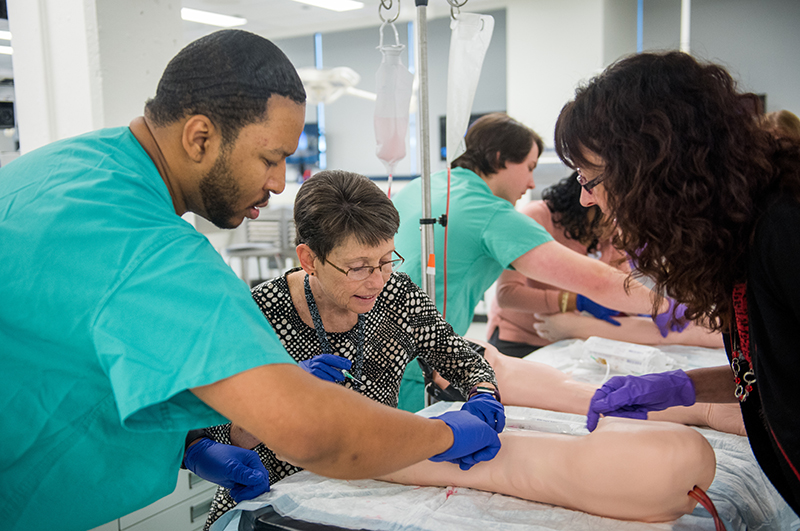 Building Expertise Through Experience
A hub for all experiential training for both the School of Medicine and Wake Forest Baptist Health, CEAL offers physical and virtual training opportunities for students, as well as residents, faculty, nurses, advanced practice providers, community schools, and even K-12 and undergraduate students through its health care workforce pipeline initiatives. In recent years, CEAL expanded its services to affiliated network hospitals, ensuring clinicians across the entire Wake Forest Baptist Health community are proficient in the latest techniques and processes.
"CEAL is a differentiator for our institution because we work alongside subject matter experts from departments to solve their training needs," says JaNae Joyner, PhD, MHA executive director of CEAL. "This could be training on patient safety, a new medical device, mock codes or ultrasound-guided IV, for example. We also offer procedural training for residents, standardized patient encounters to help students learn bedside manner and anatomic dissection to learn anatomy."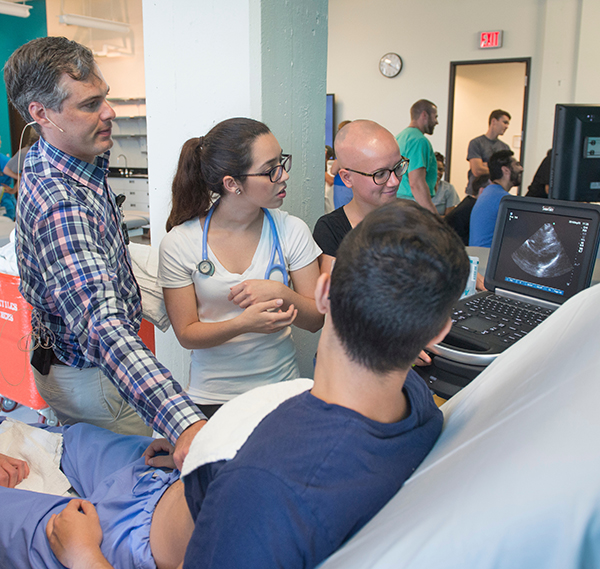 CEAL's ultrasound courses attract participants from around the world, who come to learn specialized techniques for neurovascular, neuromuscular, obstetrics and gynecology, critical care and point-of-care ultrasound. This program builds on the 40-year history of ultrasound at Wake Forest School of Medicine. CEAL was also instrumental in training staff on new protocols and equipment in preparation for the opening of the Wake Forest Baptist's new Birth Center in 2019.
Best Practices Get the Best Results
When it launched in 2017, CEAL merged two previous centers, one at the School of Medicine and one at Wake Forest Baptist. Since then, the program has harmonized training initiatives across the institution, inventoried and improved equipment and established processes to ensure consistency and quality across events. These efforts are part of a strategic framework for success Joyner calls Return on Learning (ROL).
"The ROL initiative will not only help us evaluate our programs but also demonstrate the impact of training on patient outcomes," says Joyner. "In creating this infrastructure, we used best practice guidelines from the two accrediting bodies—SSH and ACS—and were peer reviewed by both to demonstrate we meet their standards for education and simulation. The infrastructure created and the recognition by the accreditation bodies demonstrates that we are a best practice Center for training health care professionals to take care of patients in our community."
A Seat at the Table
More than simply checking a box, SSH and ACS accreditations represent a new role for the School of Medicine on the national stage. With this recognition comes the opportunity to join a community of leading institutions shaping simulation in health care for the benefit of trainees and patients.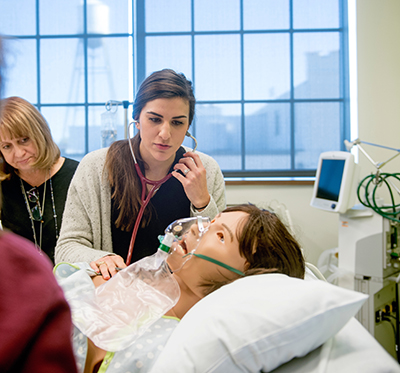 "As a result of the being part of the AEI consortium, CEAL will get to collaborate, network and share best practices with Centers that are at the forefront of simulation based surgical education and training," says Joyner. For example, a committee of the AEI consortium is currently building a virtual webinar series and virtual ground rounds to help generate and disseminate best practices. "We would not have a seat at the table to participate in such groups if we had not achieved this AEI designation status."
Each accreditation application required more than 200 pages of materials and included virtual site visits. In addition to Joyner, a diverse team of CEAL-affiliated staff and faculty including Justin Traunero, MD, Clancy Clark, MD, Dorothy Parnian, MS, Maria Crawford and Louise Nixon dedicated their time and expertise to documenting CEAL activities and demonstrating compliance with standards.
As CEAL continues to grow its capabilities in Winston-Salem, NC they will also be part of developing experiential learning on our future campus in Charlotte, NC, where we anticipate adding virtual and augmented reality models of learning—further demonstrating our commitment to training providers to meet the health care needs of the future.
Editor's Note: Photos with multiple people were taken in a pre-COVID environment.