After studying abroad in Costa Rica as an undergraduate, Jonathan Dowell knew he wanted to work with Spanish-speaking patients as part of his medical career.
"When I returned to the United States, I started volunteering at free clinics and saw that sometimes more than half of the patients in these clinics didn't speak English and needed interpreters," says Dowell. "I found working with Spanish-speaking patients and the underserved Latinx community very rewarding but wasn't sure how to keep up my Spanish skills during medical school."
After being accepted at the Wake Forest School of Medicine, Dowell was excited to hear about the Medical Applied Education in Spanish through Training, Research, and Overlearning (MAESTRO) program that had just been launched at the school. The four-year program was developed to train providers with the cultural humility and communication skills to care effectively for Spanish-speaking patients. Anyone who is a high-intermediate, advanced or native Spanish speaker is encouraged to apply to the program.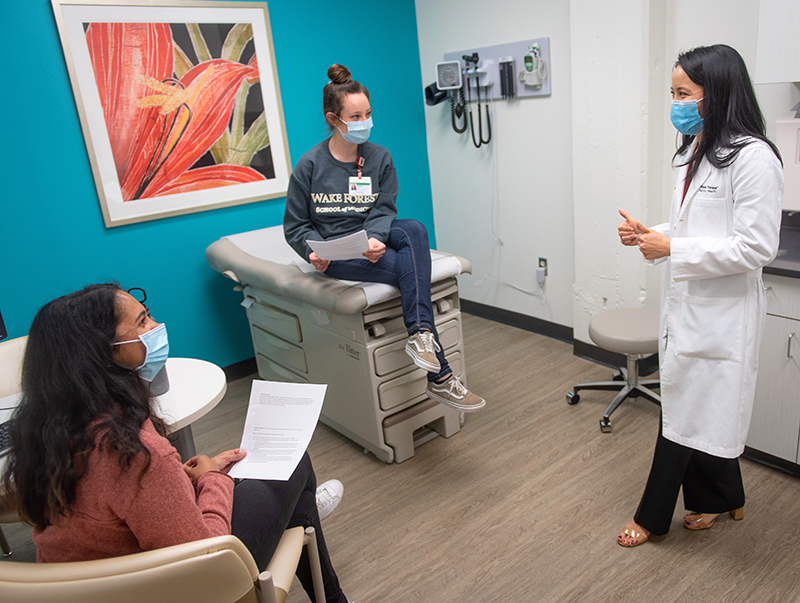 MAESTRO Program Director Tiffany M. Shin, MD, says the program is critical for addressing health disparities for Spanish-speaking patients. There are about 57 million Hispanic people in the U.S. and about 40 percent have limited English proficiency. Research shows that when Hispanic patients are hospitalized, having limited English proficiency is associated with an increased risk of medical error. On the flip side, "there is also research showing that when the doctor and the patient speak the same language — when there's language concordance — it can greatly improve outcomes and key measures of health for linguistic minorities," Shin says.
A Unique Parallel Program
MAESTRO was developed to run concurrently with the traditional medical school curriculum, following students' 18 months of preclinical coursework and the clinical work that comes after that.
"It is one of only a few schools of medicine in the U.S. with a four-year longitudinal curriculum. Having a curriculum that follows students throughout medical school helps ensure there isn't any loss of language skills or knowledge."

Tiffany M. Shin, MD
MAESTRO Program Director
As a student, Dowell appreciates the fact that the MAESTRO program tracks closely with the main medical school curriculum. "As we were learning to take patient histories or perform physical exams, those of us in the MAESTRO program learned the Spanish skills that went along with that," he explains. "Then, as we learned how to speak with patients about things like substance abuse and mental health or how to take medications, shortly thereafter we had a MAESTRO session with activities and lectures focused on learning these skills in Spanish."
Building Expertise in Language and Culture
The MAESTRO program also draws from a unique interdisciplinary collaboration with the Spanish language department at Wake Forest University. "Students receive not only clinical expertise from medical faculty who care for Spanish-speaking patients, but also the language and linguistic expertise from a Spanish language professor who can provide specific guidance with grammar or help with individual studies," says Shin.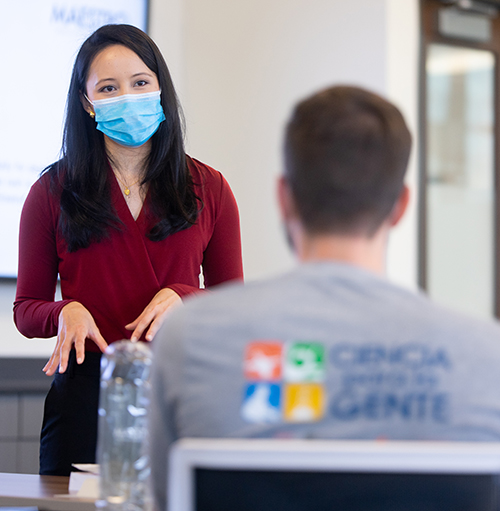 This collaboration helps the students develop their Spanish grammar and vocabulary while also learning how to communicate in ways that will be relevant to patients from a cultural standpoint. "The cultural portion is integral to the entire curriculum," says Shin. "As we're talking about different clinical communication skills like taking a family history or talking about medicines, we incorporate different cultural aspects and elements."
Putting Learning into Practice
The program requires students to complete community service hours, which provides real-life opportunities to practice what they are learning. Dowell fulfilled his hours by volunteering at the school's Delivering Equal Access to Care (DEAC) Clinic as an interpreter and as part of the healthcare team taking care of Spanish-speaking patients. He also helped with interpretation and patient intake at the Wake Forest Baptist Mobile Health Clinic.
"Prior to entering the MAESTRO program, I don't think I fully understood how much of a difference it makes for patients in the Latinx and Hispanic communities to have providers who speak Spanish," says Dowell. "Even though I was aware of this on some level, actually seeing it with my own eyes and experiencing it firsthand has been eye opening."
Breaking through Barriers
Dowell credits the MAESTRO program with helping to prepare him for the Clinician Cultural and Linguistic Assessment (CCLA) certification exam, which allows him to see Spanish-speaking patients during his clinical rotations without the use of an interpreter.
"A big part of good medicine is building relationships with patients and establishing trust so that patients are willing to share their concerns and come back for the screenings they need," says Dowell. "I've seen firsthand that patients tend to have a better experience and trust clinicians more if they're able to speak with them in their native language."
Dowell sees the MAESTRO program as a great opportunity for students interested in working with Latinx patients and those who want to build relationships with these patients in the future. "It can be challenging for medical students to practice and learn medical language skills on top of the medical school curriculum," he says. "But the potential rewards are worth it."