In the midst of COVID-19, the need for strong leaders and the increasing complexity of health care systems are more apparent than ever. A particular sticking point in the health care conversation has been the search for more efficient delivery of clinical research solutions.
At Wake Forest School of Medicine, we're already educating an array of health care providers to become leaders in their field, and we have a depth of extramurally funded research that is addressing some of our country's most pressing diseases.
However, the health care needs of the 21st century will take more than training individuals to be top-notch clinical providers and scientists. In 2020, we initiated two new online master's degrees—Healthcare Leadership and Clinical Research Management—in response to the multifaceted issues facing our country's health care systems.
Although the idea for these programs germinated before the pandemic, the call for leaders across all layers of health care is louder than ever.
Recognizing the Call
In 2018, Todd Johnson, vice president for entrepreneurial initiatives at Wake Forest University, was tasked with identifying new program opportunities for Wake Forest.
"I spoke with a number of physician friends who went through professional degree programs as they sought to take on more leadership roles in their organizations," Johnson explains. "They consistently said that the degree programs they pursued either weren't health care-specific enough or lacking in leadership-focused training."
Johnson believed there was an opportunity here for Wake Forest, and began researching various degree programs across the country, including MBAs with concentrations in health care, MHAs and other business-centric programs that overlapped with health care.
"Clearly there's a need to develop future health care leaders, and to prepare them for the specific challenges they will have to face, such as disparities in health care, the opioid epidemic and escalating health care cost," Johnson says.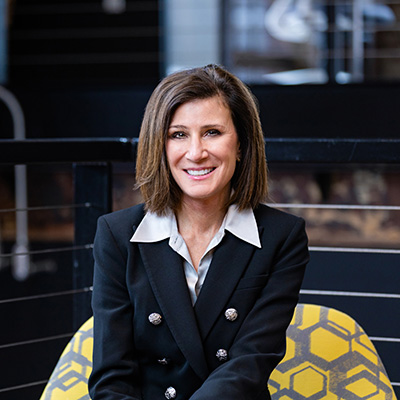 At the same time, Jennifer Byrne, a leader in clinical research and the founder of two clinical trial-related companies—a non-profit, Greater Gift, and a next generation clinical research organization, Javara Inc.—approached Johnson. Byrne expressed concern about the substantial growth she was seeing in clinical research and the tremendous need for more trained clinical research professionals—the individuals who facilitate the execution and administration of the clinical trials process.
"Over my career, I have consistently heard from peers that they 'just fell into' the field of clinical research as there are not a lot of higher education degrees offered for these types of professionals," Byrne explains. "Wake Forest is committed to expanding access to clinical research for patients and growing this region as a hub for biomedical innovation, so why not also mold the job force to meet the clinical research needs of the future?"
It was clear to Johnson through these conversations that opportunity existed to better prepare health care professionals for various roles, but he needed to figure out where these programs fit within the University. Looking at peer institutions, these types of programs were offered through a range of schools and departments such as professional, public health, online learning or graduate schools.
When the idea hit the ears of Wake Forest School of Medicine leaders, their interest was piqued.
A Natural Fit
"We're not just a university, and we're not just a health system," explains Terri Yates, vice president and associate dean for Medical Education Administration at Wake Forest School of Medicine. "This characteristic of our school can offer a unique lens to future health care leaders."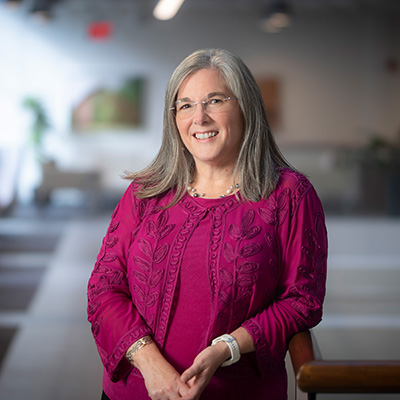 What Yates is describing is how the School of Medicine bridges the University and Wake Forest Baptist Health, a health care system. Together these entities create an academic learning health system, where research, education and clinical care work synergistically.
The School already offers a slew of biomedical graduate programs, as a joint effort with the Graduate School of Arts and Sciences. With the added buy-in from Dwayne Godwin, dean of the Graduate School, Biomedical Programs, these programs could seamlessly integrate into the existing graduate offerings and maximize learning opportunities from expertise across the University.
Furthermore, Wake Forest Baptist recently announced a partnership with Atrium Health, the largest health care system in the southeast. This relationship will place the School at the center of both health systems and greatly expands its footprint, including new opportunities to implement innovative education and a wider network of patient populations that may be interested in participating in clinical research.
"We are bringing together the people who design clinical trials and the people who implement the design under one system," Yates says. "With the Atrium partnership, there are so many avenues for trials and our capabilities will attract more outside organizations who want to partner on research. Plus, we'll need forward-thinking leaders to run a system this big."
Developing individuals to support these growing health care needs—for our own institution and health systems in general—and doing it in an environment that is living out that mission every day—made the School of Medicine a natural fit for these new programs.
Master's in Healthcare Leadership
As Johnson, Yates and others at the School of Medicine considered starting a degree for health care leaders, they quickly agreed that to address the constantly evolving issues of the 21st century, they needed to focus on developing people not process. Leadership development became the centerpiece of the Master's in Healthcare Leadership degree.
"Systems are merging, hospitals are closing, and we constantly face challenges managing the payer-mix. It takes a leader who is bold and nimble, who can adapt to both now and ahead to be successful in this market," Yates says.
With coursework touching on population health, information technology, finance, marketing, preventive care, regulation, quality assurance, performance management and sustainability, it is leadership development for individuals with health care experience that threads the whole program together. Although not the only health care leadership program in the U.S., the emphasis on personal leadership growth is one of the things that sets this program apart from MBA, MHA and other similar degrees. On top of that, it is one of the few programs like this based out of a school of medicine.
As a result, many of the courses are taught by active health care leaders and experts. The program director, Bret Nicks, MD, MHA, for example, was the chief medical officer of Wake Forest Baptist Health-Davie, a community hospital in our network, when COVID-19 hit. He lives and breathes the leadership principles he's built into this program.
As such, the new degree is specifically designed for experienced health care professionals who want to shape the future of health in this nation by focusing on the business principles most relevant to this industry and the personal and intrapersonal qualities required to lead well in it.
Master's in Clinical Research Management
Clinical research managers are often trained on-the-job. This experience is invaluable, but as the world needs more and better research, can that process keep up with demand?
The Master's in Clinical Research Management degree program exposes individuals to foundational concepts of clinical research, as well as business, ethical and legal perspectives of clinical trials. On-the-job training can be a limiting and time-consuming process. With a CRM degree, clinical research professionals can launch themselves more quickly and effectively into advanced positions in their careers.
"Our society doesn't think about the rigor required to bring new treatments and interventions to market," Yates says. "As a nation, we take for granted the academic diligence coupled with clinical expertise that it takes to give us confidence in the treatments we receive."
This program exposes degree-seekers to both sides of that equation. Because the degree is taught by faculty who have both past and present experience working in academic research, patient-facing environments or the research industry, they can offer students real-world experience and a window into current issues and trends. For example, the program director, Ralph D'Agostino, Jr., PhD, also serves as the director of the Biostatistics Core for the Wake Forest Baptist's Comprehensive Cancer Center, which means translating science to clinical application is part of his day job.
Our students will glean the 'on-the-job' experience of their faculty and mentors in the program in addition to their own experiences, which will equip them to lead more holistically and to more effectively transform their organizations to meet future needs.
Improving Health for All
In addition to the deep well of expertise that bubbles up from the programs' placement within the School of Medicine, both programs are curated by advisory boards comprised of both academic and industry leaders. For example, Byrne now sits on the Clinical Research Management board, bringing her 30+ years of experience into the program's curriculum and future pathways.
"A key to advancing global health is getting researchers and health care professionals on the same page. The advisory board has brought together a group that in times past might be viewed as rivals, but together we can be partners for change in the industry, and most importantly, for the patient," says Byrne.
Byrne is talking about tearing down the silos that have historically shaped health care and research and building a team-approach across academia, health systems and the research industry that will catapult our ability to innovate.
"This mindset is how academic medical centers are going to grow in the twenty-first century," Yates says. "We recognize that we're not only developing individuals for our own institution but sending them out into the world, which increases opportunity for collaboration and innovation and furthers our mission to improve health—for all," Yates explains.
The health crisis at-hand is a good reminder that our capacity to effect health and wellness is only as good as the people working in it. At Wake Forest, we want to do everything possible to build a brighter future for health care and the people touched by it.
Editor's Note: Photos with multiple people were taken in a pre-COVID environment.