According to a study published in JAMA, patients treated at major teaching hospitals have up to 20% higher odds of survival than those treated at non-teaching hospitals. Major teaching hospitals form the hub of academic medical centers, which give patients access to highly specialized services and advanced technology for diagnostics and treatment. This is particularly meaningful for our region, which is home to a high proportion of residents over age 65, who generally require more specialized care than younger patients.
"Academic medical centers have the resources and expertise to innovate and adapt the latest medical discoveries and technologies into clinical practice," said Don McClain, MD, PhD, director of the Wake Forest School of Medicine Clinical and Translational Science Institute. "Such centers infuse their academic arm into clinical care, bring more opportunities to participate in clinical trials, and allow patients to benefit from tomorrow's clinical advances today."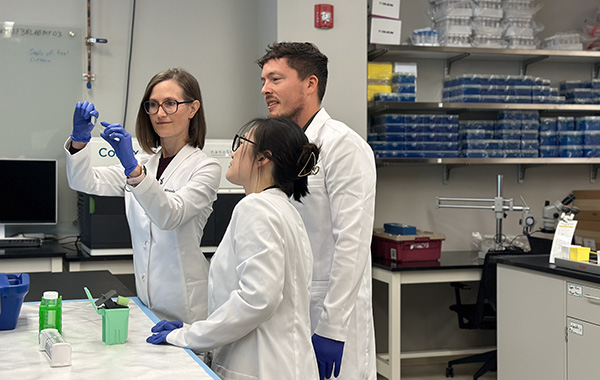 Cutting-edge care
Atrium Health Wake Forest Baptist is pushing the academic medical center model even further and creating a one of a kind academic learning health system. Our academic learning health system will take our research, education and treatment into the future, setting us apart from traditional models and highlighting our ability to revolutionize health care, both in our community and beyond. We will intentionally translate innovative research into clinical practice, embed our academic expertise into health system science, engage basic science into population health and then disseminate successful practices externally to advance health nationally and internationally.
As an academic learning health system, Atrium Health Wake Forest Baptist and Wake Forest School of Medicine are uniquely positioned at the forefront of this new era of health care. Through a strategic combination with Atrium Health and the addition of a second School of Medicine campus in Charlotte, this designation is more than a name—it's an opportunity for exponential growth. The increased health system footprint increases the opportunity for uniting community-focused care with leading-edge medical research and training, providing world-class care, innovation and education close to home.
"Academic medical centers have the resources and expertise to innovate and adapt the latest medical discoveries and technologies into clinical practice," - Don McClain, MD, PhD
What does it mean to be an academic learning health system?
An academic learning health system is grounded in the idea that combining care, research and medical education creates synergies that lead to better health, accelerates innovations and provides a richer learning experience to cultivate tomorrow's health care leaders.
"The picture of an academic learning health system would not be two silos – academics and a health system – but one construct where the core heartbeat is your academic enterprise, and we interact in a way that creates this perpetual circle of engagement where the insight gained is used for research and is more immediately applied in the health system," says Terry Hales, MBA, executive vice chief academic officer for administration.
Our academic learning health system capitalizes on the full breadth of our research programs, including basic and laboratory science and integrates our education and training mission and our commitment to improve the health and vitality of the communities we serve.
Powering a cycle of innovation
Academic learning health systems translate good ideas into better medical practice by fueling a cycle of continuous improvement. This process can be divided into three steps, with crucial roles for patients, clinicians, researchers and students in each phase.
The first step—inspiration—is all about ideas. Delving into the intricate machinery of our cells, laboratory scientists work to trace the root causes of disease and identify possible solutions. Other informatics researchers work to improve how we gather and analyze medical diagnoses and treatment strategies through technology and innovation. In the clinic, health professionals are constantly learning from patients and seeking ways to achieve better health outcomes and improve the patient experience.


The second step—investigation—is where we further develop and test promising ideas. Researchers and clinicians work together to create new treatments, technologies and practices to advance care. These solutions are then put to the test through clinical trials or research studies that determine how well they work and how they can best benefit patients.


In the third step—implementation—we translate the latest research insights into our daily practice. This step brings evidence-based advances to patients across our entire care network and integrates cutting-edge techniques into our medical teaching. By leveraging our reputation and innovation relationships, we are often able to share key discoveries nationally and internationally and improve health care beyond our system and into communities. Based on feedback from the implementation stage, we generate new ideas for improvement—and the cycle starts again.

Accelerating innovation
With more than $307 million in total annual extramural research funding in 2020, Wake Forest School of Medicine is committed to addressing the most challenging health care needs through research. Our academic learning health system leverages the strengths of our researchers and clinicians to expand knowledge and rapidly integrate medical advances into clinical practice and into community programs to eliminate health care disparities. Innovations originating at academic learning health systems ultimately benefit patients around the world, with the potential to save millions of lives.
"Being an academic learning health system means that all of our team members are encouraged to think creatively and advance rigorous science, and translate research findings into improved care for our patients and our communities," said Kristie Foley, PhD, associate dean of research and chair of the Implementation Science department. "This creates a fertile environment for innovation and allows us to attract the best and brightest clinicians and scientists."
Traditionally, medical discoveries could often take quite a long time for implementation into medical practice. In 2017, we were the first medical school nationally to create a department dedicated to accelerating the adoption of evidence-based practices into real-world settings. We also made investments to establish research centers in Biomedical Informatics, Healthcare Innovation, and Precision Medicine. These new resources enable us to reduce the gap from research to implementation of medical and public health practice and policy. We are also investing in our communities to improve social determinants of health and working closely with community leaders to co-design programs that take a holistic approach to improving health and well-being.
"Being an academic learning health system creates a fertile environment for innovation and allows us to attract the best and brightest clinicians and scientists." - Kristie Foley, PhD
Transforming medical education
By 2033, the United States is projected to see a shortage of up to 139,000 physicians. This gap is expected to be especially stark in rural communities. While our expert clinicians provide crucial services to patients, they are also helping to address this pressing nationwide challenge by training future care providers.
Wake Forest School of Medicine, nationally ranked in several programs by US News & World Report, offers MD, physician assistant, nurse anesthesia, doctor of nursing practice, residency, fellowship and graduate degree programs. Our combination with Atrium Health enables us to matriculate additional medical students and create a new regional corridor for health technology, education and innovation.
"By working diligently to educate and train a diverse group of future health care leaders at the two campuses of the Wake Forest School of Medicine, we are aggressively addressing the anticipated physician shortage," said Angela Sharkey, MD, senior associate dean for Wake Forest School of Medicine undergraduate medical education. "Our academic learning health system is also designing and testing innovative educational strategies, emphasizing the development of critical thinking skills, and leveraging tools such as advanced simulation models. Employing strategies such as these allows our learners to develop knowledge and skills that mimic real scenarios and better prepares our students to be valued, integral members of the care and innovation team."
Our academic learning health system builds new medical knowledge, techniques and clinical evidence directly into the clinical education pipeline. For example, research shows that language-discordant encounters, where the patient and the clinician do not speak the same language, result in worse health outcomes, reduced access to health information and decreased satisfaction with care. To address this, we created the Medical Applied Education in Spanish through Training, Research and Overlearning (MAESTRO) program, which teaches our medical students the cultural awareness and Spanish communication skills needed to care for our Hispanic patients.
In addition, students take a leadership role in the DEAC (Delivering Equal Access to Care) clinic, a free medical clinic that provides high-quality care, screening and education services to underserved communities in and around Winston-Salem. These programs allow us to not only train students on the newest procedures and advancements in medicine, but also educate our students on social inequities faced in the communities they serve. As a result, our graduates leave school ready to hit the ground running to serve their communities however they are needed.
"To achieve the goals of the learning health system, we need to effectively engage members of our community in two-way conversations about their health needs," said Sharkey. "We see this as an urgent need to achieve our goal of bringing the latest clinical advances to everyone in our communities. Experience has shown that people prefer to receive care from those they can identify with, so we are dedicated to including underrepresented students at our School of Medicine to help people can find a health care provider of their choice."
Join our journey
By cultivating excellence at the nexus of patient care, medical research and education, we are creating an environment that benefits individual patients and families while advancing health care for the nation and the world. Being an academic learning health system makes us a leader in research, education, innovation and patient care. Welcome to the future.