Imaginative. Compassionate. And a continuous learner.
These are the attributes Paul Yelton, MS, program director of technology for the Center for Healthcare Innovation, uses to describe himself. Yelton's primary responsibility involves managing the software engineering team that develops digital solutions applied to various projects that improve patient care, ease provider burden and allow more efficient hospital operations.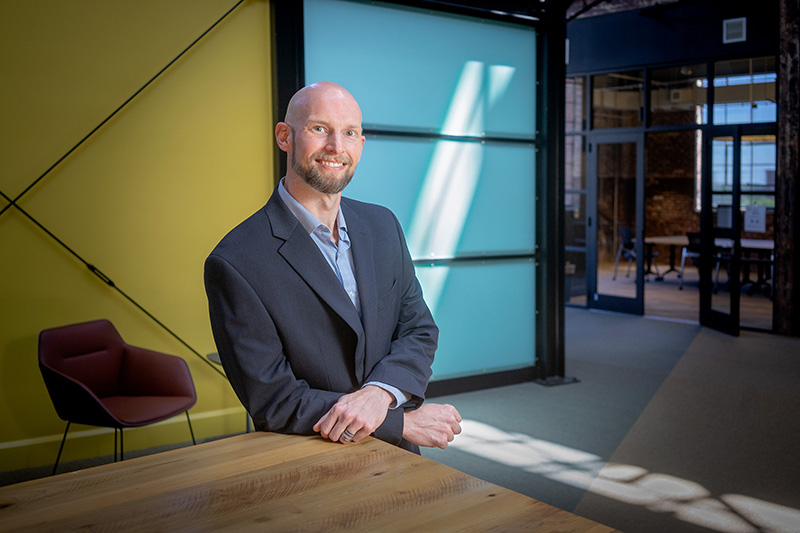 In his role, Yelton spends most of his time providing strategic direction on how digital tools can aid in the center's projects. However, that is putting it simply; these projects could be anything from programming home management tools so that older adults can be independent longer to providing researchers tools to collect data and create clinical workflows that allow patients all over the country to benefit from this research. Yelton's work also involves collaboration on projects with external companies around the United States, companies such as Verily, Google's life sciences company. Nevertheless, his work is much more than building "apps" just used by the bedside. Yelton's work creates digital solutions with an understanding of the patient experience and marries that with products that can scale to a local and national level, and he still finds time to program for seven hours a day to help the center deliver on its ever-growing portfolio of projects. Hear what Eric Kirkendall, MD, deputy director of the Center for Healthcare Innovation has to say about the work that Yelton provides to the team.
"It's extremely difficult to succinctly describe Paul's skillset and contributions to the Center for Healthcare Innovation and the organization. People who initially meet him think of him as a computer programmer, but his real value extends well beyond his technical skills. Paul has an almost unmatched innovative mindset and really drives our thinking forward. Cross those attributes with his work ethic, his ability to connect and communicate with people, and his information technology acumen, and you can easily see why those who work with him find him so valuable."
But don't just take our word for it. Get to know Yelton, in his own words.
What are some of your hobbies or interests outside of work?
Having recently relocated from the Northern Kentucky/Cincinnati, Ohio area, my wife and I are taking advantage of the numerous hiking trails and areas that North Carolina offers. Additionally, I enjoy woodworking and dedicate some time to building various furniture projects for our home.
What is your professional experience, and how did you get into the field?
In undergrad, I was actually on the pre-med track and have always enjoyed helping people. I took a computer science course initially as an elective and fell in love with programming. I switched majors to computer science and subsequently received a master's degree from Northern Kentucky University. I knew I always wanted to get back to health care, and using my computer science skills would allow me to help patients through technology. I have worked in multiple industries, including financial technology, real estate, pharmaceutical/clinical trials laboratory, and eventually hospital/health care. This cross-view of multiple industries allows me to bring the best of those ideas to health care to transform the way we deliver care to our patients. After spending 10 years at Cincinnati Children's Hospital, my current manager recruited me to Wake Forest School of Medicine to help build out the Center for Healthcare Innovation, applying many of our learnings from our time together at Cincinnati Children's Hospital.
What inspires or motivates you?
I think seeing the large opportunities to integrate technology into health care better is a big motivator for me. After working in multiple other industries, I am amazed by how many opportunities there are to bring technology to health care. I hope to bridge that gap with my experience and with our Center for Healthcare Innovation.
What made you want to be involved with digital innovations in the health care space?
Health care is such a ripe and growing area for infusion of digital software and other tools to improve patient care, ease provider burden, and allow more efficient hospital operations. For example, we get to build apps for the electronic medical record system that enable doctors and nurses to more easily understand their patients and provide more targeted care. Additionally, the patient experience is critical, and understanding how we can stay more engaged with the patient besides just once a year, can be accomplished through digital solutions, which is exciting work.
Why do you enjoy working for Wake Forest School of Medicine?
Wake Forest School of Medicine is an incredibly collaborative organization, and it is refreshing having all of these brilliant individuals coming together to solve these complex problems. I have been highly impressed with all of the amazing research that occurs at our organization. It has been a great experience transitioning into the Wake Health ecosystem.
If you had to describe yourself in 5 adjectives or less, what would you pick?
Imaginative, compassionate, and a continuous learner.
In the computer science field, programming languages/frameworks/techniques are evolving every 12-18 months, so it is essential to keep a pulse on the trends and understand how the new techniques could be applied to projects at the Center for Healthcare Innovation. In addition, I believe that having emotional intelligence and compassion towards others helps develop meaningful collaborations and relationships to help further the overall mission of our organization. And it is important to use creativity and imagination when thinking about solutions for improving health care, as that is how we can genuinely connect with our patients and providers for making it the best possible experience.