Compassionate, Creative, Dedicated, Thoughtful, Passionate
These are the words that Tiffany Shin, M.D., founder and director of the MAESTRO Program (Medical Applied Education in Spanish through Training, Resources, and Overlearning) and Assistant Professor of Pediatrics, uses to describe herself. Energized by teaching and providing bilingual care for her patients, Shin uses her knowledge and experience to prepare students on how to address health inequities and become well-rounded healthcare professionals.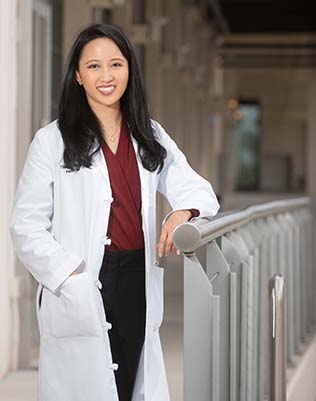 After studying abroad in Central America as an undergraduate and training in a longitudinal medical Spanish program during medical school, Shin knew she wanted to make an impact on the Spanish-speaking population. To help decrease barriers for this community, Shin created the MAESTRO Program, which offers medical students formal opportunities to learn medical terminology in Spanish and gain skills to become bilingual clinicians to improve care of patients.
As a bilingual pediatrician, Shin is passionate about the opportunities to address health inequities from different approaches— in the clinic, in the classroom, through community engagement and through her work with the National Association of Medical Spanish and beyond. Get to know her in her own words.
What inspires or motivates you?
My parents are a big source of inspiration for me, as they have dedicated much of their lives to education and investing in others. From a young age, I have been motivated by a desire to make a positive impact and do what I can to help those suffering from illness, poverty and injustice. Every day my patients and their families inspire me – particularly by their stories of courage and resilience. Likewise I am inspired by the vision and potential for the students I teach to move forward and do great things.
Tell us about your background. What's your experience and how did you get into the field?
I earned a bachelor's degree in Biology at Covenant College in Lookout Mountain, Georgia, followed by a M.D. at the University of North Carolina School of Medicine (UNC), which is where I also completed my pediatric residency training.
I studied abroad in Costa Rica during college and traveled to different areas in Central America, spending time with indigenous populations and other marginalized groups as part of my studies. During medical school, I trained in a longitudinal medical Spanish program, which fueled my passion to care for Spanish-speaking populations. Throughout medical school and residency training, I had the opportunity to work at various clinical sites in Central America. After residency, while my husband finished his residency training, I worked for three years at a private pediatric practice in Raleigh, N.C., while serving as adjunct faculty at UNC.
I have always loved teaching and find it stimulating to work with learners. I was excited to join Wake Forest University School of Medicine where I could spend more time with learners and provide bilingual care to Spanish-speaking patients. Soon after joining, it quickly became apparent to me that students wanted formal opportunities to learn medical Spanish and gain skills to become bilingual clinicians to improve their care of patients. One conversation quickly led to many others, and subsequently the MAESTRO Program was born. The MAESTRO Program is a four-year, longitudinal medical Spanish certificate program aimed to equip students with the communication skills and cultural humility necessary to care effectively for Spanish-speaking patients.
What do you do at work on a daily basis?
I provide bilingual pediatric care at the Downtown Health Plaza Pediatric Clinic – a clinic that serves a historically under-resourced community and where more than two-thirds of our patients and families prefer care in Spanish. In addition to seeing patients, I have the privilege of teaching third-year medical students outpatient pediatric medicine during their pediatric clerkship. My days are also spent directing the MAESTRO Program, which includes instructing and mentoring students, starting from their first year of medical school and continuing through the end of their fourth year.
I enjoy wearing these different hats and I love the complementary nature of these roles. Caring for patients as a bilingual pediatrician informs and invigorates my work as a medical educator, and vice versa. I like teaching students the skills that I apply in clinic – particularly to improve the care and health of Spanish-speaking patients.
What made you want to get into education?
Throughout my medical training, I always enjoyed teaching students and other learners. Immediately after residency, I took the opportunity to continue to teach students as adjunct faculty at my alma mater while working in a busy private practice. While I am thankful for the difference I can make as a bilingual pediatrician in my practice, I am thrilled to see our students' impact multiply as they use their medical Spanish skills in their clinical rotations, residency and beyond. Many students have already demonstrated leadership, advocacy and scholarship in improving the care of patients who do not speak English.
What makes opportunities at Wake unique?
The school of medicine is a leader in providing innovative programs in medical education, such as the MAESTRO Program, that prepare students to address health inequities and become well-rounded healthcare professionals. These programs shape our students to be the future generation of leaders and advocates in healthcare to improve the health and well-being of all individuals and populations.
What skills should someone pursuing a career in healthcare have?
Being committed to a learner and growth mindset is key as a healthcare professional. It keeps you sharp and strong, yet humble. It is also so important to be both truthful and caring – to always put the well-being of the patient first. Working in healthcare requires resilience, adaptability and integrity. Last but certainly not least, developing strong communication skills is essential to caring for patients well. Whether you become a surgeon, radiologist or primary care physician, words matter. Words can make all the difference in a patient's journey of health or illness.
What advice do you have for future students?
Remember your 'why' throughout your training and career. It can be easy to get distracted or lose your focus and direction. Remembering your purpose and original intent for entering into a career in medicine will help guide you amidst difficult or stressful circumstances. Remember your "why" as you make big and small decisions, and as you lead and inspire others.
How can students find mentors?
Get involved in extracurricular activities or research within the school of medicine. Talk with faculty who share similar interests and passions and they can often help you get started or point you in the right direction. The school of medicine also has wonderful mentoring programs to help students get connected.
What are some of your hobbies or interests outside of work?
I love being on the water – beach, ocean, lake, river or anywhere near it. I recently learned to water ski and I cannot get enough of slalom skiing.