Kind, Focused, Sincere, Diligent, Innovative
These are the words that Metin N. Gurcan, PhD, director of the Center for Biomedical Informatics (WFBMI) and professor of General Internal Medicine, uses to describe himself. Through a multidisciplinary approach, he supports healthcare progression across the local and national footprint by advancing and promoting informatics research, practice and education. Gurcan also directs the Clinical Image Analysis (CIA) Lab and is a member of the National Institutes of Health's (NIH) Clinical Translational Imaging Science study section.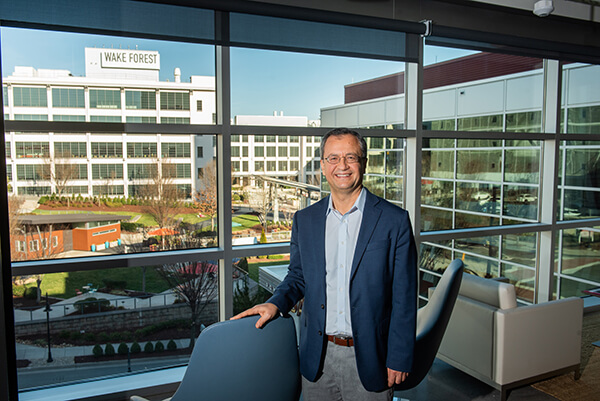 Gurcan always wanted to be a scientist – as a child his father even referred to him as "professor." Now, as a professor and scientist with more than 200 peer-reviewed publications and book chapters and an inventor with six patents for inventions in medical image analysis, he strives to educate and mentor the next generation. Get to know him in his own words:
What inspires or motivates you?
There is much suffering in the world because of illnesses, and I believe we can use the power of science and technology to develop solutions to end or alleviate part of that suffering. I am very passionate about developing technologies to prevent, detect and diagnose diseases better.
Tell us about your background. What's your experience and how did you get into the field?
My early interest in science led me to attend a STEM high school and then pursue a degree in engineering. During my doctoral studies, I realized the potential of artificial intelligence (AI) for medicine and pursued a research project for the early detection of breast cancer from mammograms. After receiving this degree, I completed postdoctoral training in computer-aided diagnosis at the University of Michigan; then worked at a high-tech startup company as a product director where I learned how different technologies turn into FDA-approved products.
The CIA lab is focused on designing, developing, and implementing AI solutions for medical imaging. It has been supported by grants from multiple national institutes, including: the National Cancer Institute, National Heart, Lung, and Blood Institute, National Institute of Biomedical Imaging and Bioengineering along with the U.S. Department of Defense.
Most recently, I became the founding director of the Center for Biomedical Informatics at Wake Forest University School of Medicine. Our center has grown exponentially in the past five years and it's fascinating to have the opportunity to work with many passionate faculty, staff and trainees who work diligently to harness the power of informatics to improve the health and well-being of people.
Data has become abundant: we have electronic health records, medical images, recordings from wearable devices, etc. How do we interpret these complex data? With biomedical informatics methods and tools, we can visualize, transform, and analyze data to generate new knowledge. Biomedical informatics also provides the processes to incorporate knowledge into clinical workflows and make intelligent decisions to improve health.
A learning health system requires capturing and organizing data, interpreting them to turn into knowledge and finally translating it to clinical use. Biomedical Informatics plays a crucial role at each step.
What do you do at work on a daily basis?
I start my day with a single question: what can I do today to make a difference for our patients and patients all over the world? This sets the tone for my daily agenda. My workdays are filled with a variety of new and existing projects. We have exciting but ambitious plans for the center and the biomedical informatics program of our Clinical and Translational Science award from NIH.
A big part of my day is dedicated to executing these plans. As a scientist, I spend my time exploring innovative ideas with colleagues, which may lead to a publication, poster, or even a large-scale event such as a seminar or workshop.
I'm incredibly excited about training the next generation of scientists and spend as much time as I can mentoring our junior faculty, postdoctoral researchers, doctoral students and students at every level. The success of my mentees and trainees is more rewarding than that of my own.
What makes opportunities at Wake unique?
We have a strong culture of cordiality and collaboration at the school of medicine and this atmosphere encourages quality research while enjoying our daily interactions with fellow scientists and staff. Our researchers are incredibly successful, but remain humble. The strategic combination with Atrium Health enables us to serve an even larger patient population with more resources. This fantastic opportunity comes with a great responsibility to serve our patients with the best care, knowledge and technologies.
What skills should someone pursuing a career in healthcare have?
Care and dedication. My mom was an operating room nurse in a little town with limited hospital staff, and I grew up watching how much she cared about her patients and how dedicated she was to them. Many of her patients would recognize her outside the hospital and thank her for the excellent care she provided. That made me immensely proud of her and realize what healthcare is about. I also see the same qualities in my wife, a nurse who works 12-hour shifts.
Although I develop medical technologies and don't interact with patients on a daily basis, I always remind my research team that we have a unique opportunity to impact the lives of millions of patients with our technologies. We need to show the same care and dedication to our work as healthcare workers do who interact with patients every day.
What advice do you have for future students and researchers?
Our students always hear me reminding them: work hard, learn a lot and have fun. If you can't find a balance between these three parts, you can't be successful, knowledgeable and happy. Being highly knowledgeable in your field is a must, but you must always be curious and never stop learning. Be generous in sharing your knowledge and experience, your own knowledge increases as you share.
How can students and researchers find mentors?
First, students and researchers need to have a good understanding of what their goals are. Then, mentees can search for people who have expertise, experience, and achievements in an area they want to grow.
For instance, if they're getting ready to apply for their first NIH grant application and need some mentorship, they need to find people who have successfully received NIH grants. For this purpose, NIH has a web page (Reporter) that lists all the grant awardees. Students can search for applications similar to their field of research and even narrow the results to those awardees in your institution, but mentors do not need to be physically close to you. You can approach those people and ask if they would be willing to share their experiences.
That's exactly what I did when I first started my academic career, and I was amazed at how many people were willing to mentor me. At the school of medicine, we have several processes for our researchers to seek mentorship guidance. I highly recommend CTSI's Research Studio for new faculty. This mechanism can help identify potential collaborators and mentors. CTSI has a speed networking event that can be used to identify some potential mentors depending on the mentees' goals. Department chairs and other professors in the department can also help find the right mentors.
What are some of your hobbies or interests outside of work?
I enjoy cooking, walking, yoga, and reading – particularly cooking. I spend quite a bit of time finding the best ingredients, regularly visiting several farmers' markets (great ones in Winston-Salem!) and specialty food stores. I read cookbooks and watch cooking shows but rarely follow their recipes since I get inspired by the ideas, but usually come up with my own recipes.
I agree with my lovely mother-in-law who says, "Families who cook together, stay together." I've always encouraged our daughter to experiment with cooking and to try different foods. She's on her way to becoming an excellent cook herself. My desire to discover, innovate and pass my knowledge and passion to the next generation continues even with my hobbies – mostly with delicious results!