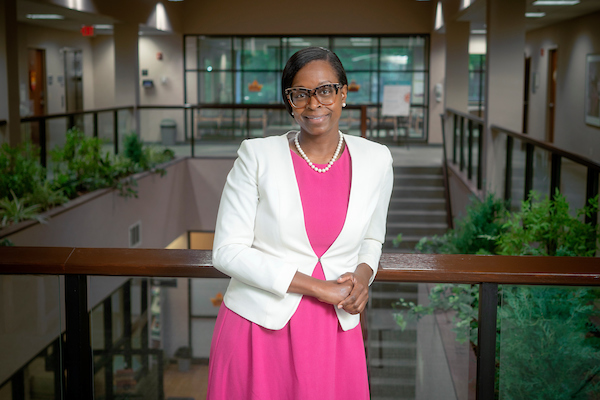 Candace Parker-Autry, MD, assistant professor of Urology, grew up in Washington, DC, and was very close with her grandmother, the matriarch of the family who was one of the first black entrepreneurs. As she grew older, Parker-Autry noticed the significant disability that her grandmother developed seemingly alongside with self-isolation due to urinary incontinence. As a physician, dedicated to elevating the health of women, Parker-Autry was inspired by her grandmother's experiences to find ways to improve the daily life and function for women impacted by incontinence, the involuntary loss of urine or bowels. She has focused her clinical practice and research endeavors on investigating prevention and exercise interventions, as well as developing expertise in surgical treatments.

Parker-Autry decided to leave the rush of city life behind for a quieter college experience, receiving her BS from North Carolina Wesleyan College in Rocky Mount, followed by her MD from Wake Forest School of Medicine. She did her residency in Obstetrics and Gynecology at the Hospital of the University of Pennsylvania in Philadelphia, and her fellowship in Female Pelvic Medicine and Reconstruction Surgery at the University of Alabama at Birmingham, where she developed her love of Alabama football (Roll Tide!).

During her fellowship, Parker-Autry garnered the requisite training and passion for geriatric medicine and was drawn to Wake Forest School of Medicine because of its world-renowned Sticht Center for Healthy Aging and Alzheimer's Prevention. Since her faculty appointment started in 2013, she was awarded the Research and Career Development award through our Claude D. Pepper Center on Aging early in her tenure. Her work laid the foundation for her first successful NIH R03, a Grant for Early Medical/Surgical Specialists' Transitioning to Aging Research (GEMSSTAR). She has also been recognized by the American Geriatric Society as an Emerging Leader in Aging through their Silverstein Memorial Award.

Early in her career, Parker-Autry realized that older women with urinary incontinence respond differently to non-surgical and surgical treatments, and often had refractory incontinence symptoms after otherwise successful treatments. Her primary hypothesis is that urinary incontinence changes with aging beyond 70 years, to be more intimately associated with other functional impairments and thus is likely a geriatric incontinence syndrome. Her research portfolio has energized multiple publications and a new effort to explore geriatric incontinence in the opening of the Geriatric Incontinence Clinic, part of the Department of Urology.

As a faculty member and educator, she has fellows and residents that she works with in a clinical setting and teaches them nonsurgical and surgical interventions. She also serves as a clinical teacher of medical students and a mentor to undergraduate and graduate students on their way to medical school. She is the former chair of the Women in Medicine and Science group's research and education committee, the current chair for Women's Health Research Day, and is an active member of the Sticht Center for Healthy Aging and Alzheimer's Prevention, the Comprehensive Cancer Center, and the Maya Angelou Center for Health Equity. Her extramural service includes her current position as vice chair of the Twin City Medical Society, as well as their service and outreach chair.
Providing care at an academic learning health system allows Parker-Autry to be on the forefront of clinical care for women with pelvic floor disorders, engage in the education of our future surgeons and physicians, and allow for the development of this unique niche of research in geriatric incontinence. In contrast to how she grew up in bustling Washington, DC, Parker-Autry enjoys the pace of living and working in Winston-Salem, allowing her to be a busy clinician and surgeon but still be involved in the daily lives of her children, husband, and community. When she's not helping others improve their quality of life by staying active, she is also living life to her fullest. She and her family play sports, enjoy hiking, and are avid travelers to places where only their feet can take them.