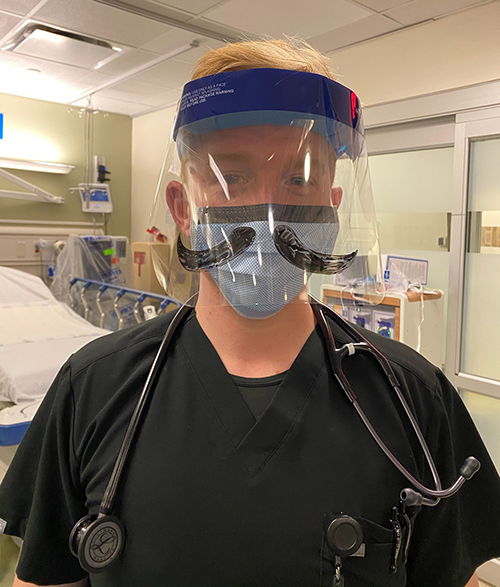 Intubated, alone and at peace. A woman battling COVID-19 at New York's Mount Sinai Brooklyn ICU was able to connect with her family in Puerto Rico through the screen of an iPad one last time before she passed away. The woman had come to the hospital with genuine fear in her eyes. She was repeatedly moved from the ICU to various rooms throughout the hospital as she appeared to get better, then would suddenly take a turn for the worse. After weeks of deteriorating health, it became clear she was not going to make it. Her family, a thousand miles away and unable to travel due to the virus, thoughtfully took their phone to the patient's favorite beach. With the serene sound of waves crashing along the shore and palm leaves swaying against a backdrop of blue sky, the woman quietly slipped away. With tears welling up in his eyes, Matt Russell, PA-C, held the iPad.
Finding Home in New York City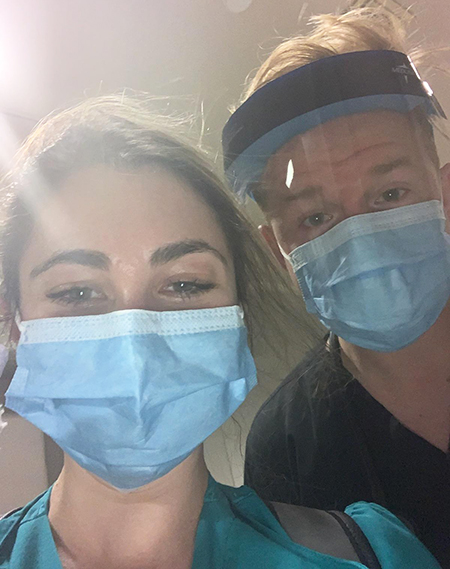 When the pandemic hit the US in early 2020, Russell had been a PA for just over two years. After graduating from Wake PA in 2017, Russell knew he wanted to work in a big city. He cast a wide net, and New York called to him. Once settled in his Manhattan apartment by December 2017, he was confident he had made a good choice. The vibrant city offered numerous opportunities for PAs, and Russell found a rhythm between work life and nightlife that suited him. His job is at The Mount Sinai Hospital, which is located along the northeastern border of Central Park. This area brings a wide array of patients, from upper Manhattan, Spanish Harlem and East Harlem, as well as people coming in from the South Bronx via train. Though he was unaware at the time, this variety of clientele armed Russell with experiences that would later prove critical to his efforts during the pandemic.
A Sense of Foreboding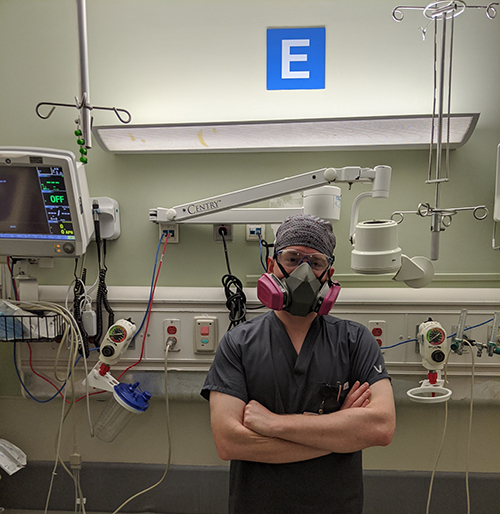 Russell and his co-workers began hearing about the novel coronavirus in late December 2019. There was a constant murmur of speculation throughout January 2020, and hospital administrators started putting together tentative plans. As late as February, Russell remembers these plans were still tentative. Once the virus was detected in Washington State, however, plans shifted to live. An initial protocol was laid out for hospital staff. Russell and his colleagues were trained on PPE, and there were daily briefings about the progress of the virus. There was a sense of urgency, though no cases had been detected in New York.
At the end of February, a sinking feeling hit the pit of Russell's stomach as the first case in NYC was detected in the emergency department of Russell's hospital. Suddenly, everything became very real. This once-foreign virus was here, and everyone began bracing for impact. The first day Russell's hospital began offering testing to the public there was a three-hour wait, and five people tested positive. A few days later, with hundreds of positive cases confirmed, the city went into lockdown.
Eerie and Unsettling
For the first time since settling into Manhattan's lifestyle, Russell could hear his own footsteps as he walked to work. Heading to the hospital on foot, Russell looked forward to feeling the energy and typical hustle and bustle of big-city life. With the shutdown, Russell's mile-long walk felt "extremely eerie and surreal, like being in an apocalyptic movie." There were no cars driving on busy streets and no other people on the sidewalks. He often made the trek to the hospital without seeing another human along the way.
Being an essential worker with a rigorous schedule, Russell had little time to go food shopping, and when he did, he faced long lines and mostly empty shelves. He was forced to purchase what was available, beans and pasta. He recalls the first few weeks of lockdown as a very difficult time.
Uncertainty at Work
While the city streets offered none of the typical NYC vibrancy, Russell found a contrasting frenetic energy in the ER. Entering the hospital to start a new shift, he never knew what to expect. Procedures changed daily. The hospital decided to build a wall between the COVID patients and non-COVID patients, but quickly realized there were too many COVID patients so the wall came down. He heard stories of other areas in the city hit hard with cases, resulting in specific COVID clusters. It became increasingly scary hearing these reports while simultaneously dealing with wavering protocols as everyone worked to battle the virus.
Small Acts of Compassion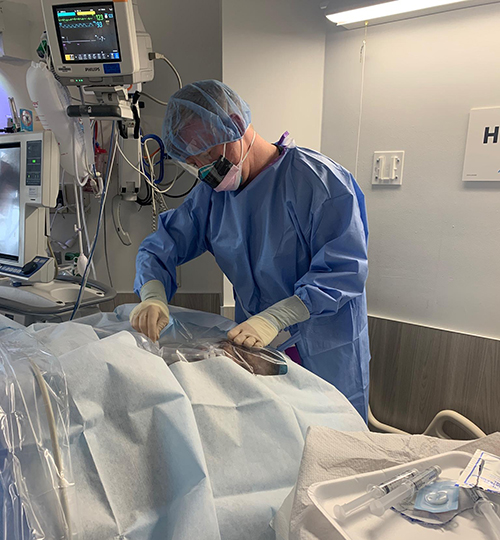 Intubation, along with prescribing hydroxychloroquine to COVID-19 patients, were part of the standard treatment protocol in the early months of the pandemic. People were frequently being intubated, with many not making it off the ventilator. In March, Russell was helping to treat an elderly man with COVID, when his oxygen/saturation rate dropped very low, suggesting the need for intubation. Russell reassured the man's wife it was still early to tell his prognosis. She requested to speak with her husband one last time before he was put on the ventilator. Using her cell phone and Russell's, the patient and his wife were able to say their goodbyes. This intimate moment shared between husband and wife was a very profound experience for Russell. Miraculously, the patient ended up surviving.
A Tiny Hospital Hit Hard
May brought a new opportunity for Russell, as he voluntarily redeployed to the ICU at Mount Sinai Brooklyn. This small community hospital, located an hour and a half away from Russell's apartment, has just over 200 total beds with 14 of them in ICU. The hospital operates in an urban and underserved community. By the time Russell came to this location, the staff was hanging on by a thread. More than 20 patients were dying per day. Doctors and nurses were falling ill. They were fighting an uphill battle with the virus winning.
Russell's two-week rotation turned into two months. He wanted to continue his important work in this location because he was learning a lot and providing a new level of care to his patients. In many cases, the patients didn't understand much about medicine or the severity of COVID, in part due to language barriers. Russell worked tirelessly to ease fears, educate patients and families, hone new skills as a PA, and step into a leadership role. He worked in palliative care, critical care medicine and hospital medicine, and he was able to do the full spectrum of inpatient care. It felt good to utilize those skills, especially in a community so hard-hit by the pandemic.
Finding the Silver Lining: Unity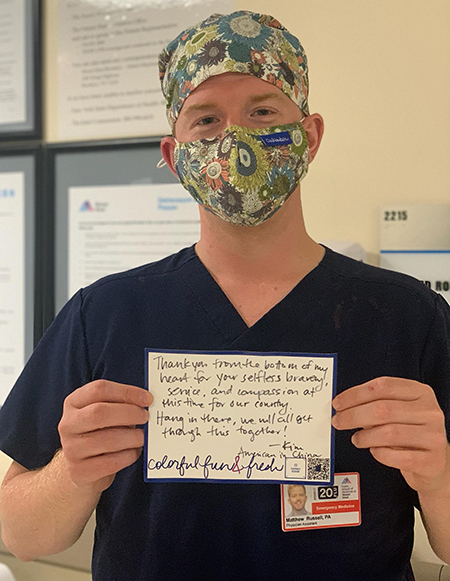 Russell managed to find something positive from among the challenges of 2020; New Yorkers rallying together as one community. He saw this throughout the city as people assisted neighbors in need and provided support for the frontline and essential workers.
Russell also felt this throughout the medical community. Internal differences faded away, replaced by a sense of "hospital vs. COVID." Departments were offering assistance and advice to other departments. Physicians were checking in on PAs and vice versa, as everyone went into survival mode. They had each other's backs. Russell felt incredibly supported. Classmates from PA school whom he had not heard from in a few years sent caring messages to let him know the world was thinking of him, supporting him and thanking him for his tireless efforts. On tough days, this encouragement is what helped him get through.
Enduring Together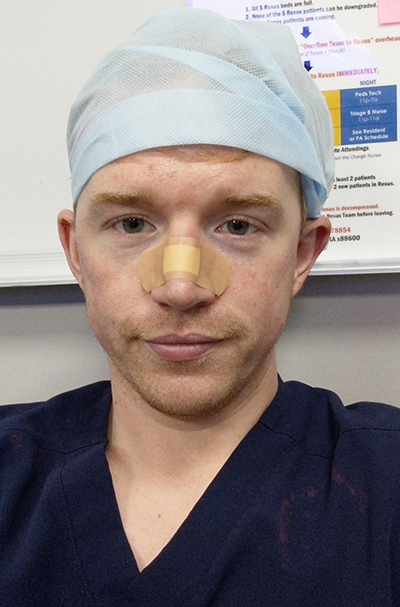 In the early days, it was impossible for Russell not to bring home some of the weight of the pandemic after a long shift. There were so many sad things happening all at once; seeing people his age dying and seeing so much suffering, while feeling defenseless against the virus. He welcomed coming home to a quiet apartment where he could relax, meditate and relish the sounds of a quiet city in quarantine.
One of the qualities that initially drew him to the big city was the large network of early-career PAs. This community fostered numerous friendships upon his arrival to the city. Russell works with an incredible group of PAs, and though they were tight prior to 2020, the pandemic further cemented these relationships. Just as it felt within the hospital, his team of friends was fighting a battle, together, against COVID-19.
A New Wave of Hope
As much as he wishes this were the end of the story, Russell is again aware of an uptick in the number of cases in NYC. There is the same sense of foreboding; something big feels like it is looming over the city. After so much hard work throughout the spring and early summer, he periodically feels disheartened. It is not only daunting to think about a second or third wave, it's also emotionally and physically draining for frontline workers.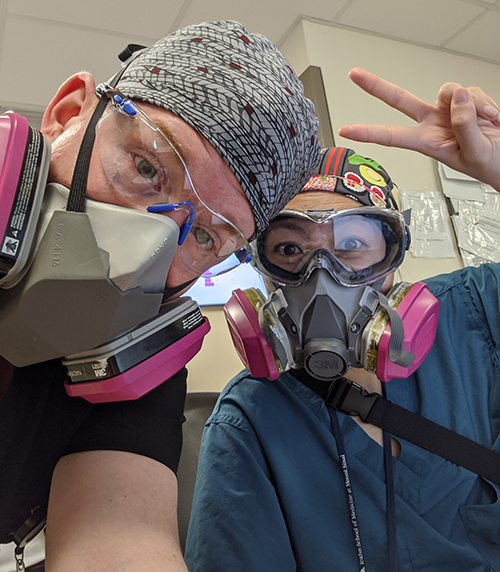 To combat the virus, we can't be selfish. Russell states, "The most important part is to have mutual respect. The mask isn't to protect yourself, it's to protect others. That's the most important message." Russell has tested negative for the virus numerous times. Many of his friends, including his girlfriend who is an ICU nurse, have not been so lucky. Some of them still have lingering effects, such as not being able to run without shortness of breath and lack of a sense of smell. Though these seem relatively tame, there are many questions about other long-term effects of the virus.
If, or when, the next wave hits, Russell is more confident in the treatment protocols. The medical community is undoubtedly better prepared because of the experiences gained through the initial onslaught of the virus. Through collective strategy and shared goals, Russell holds to hope and remains ready.