Ethan Stonerook, PA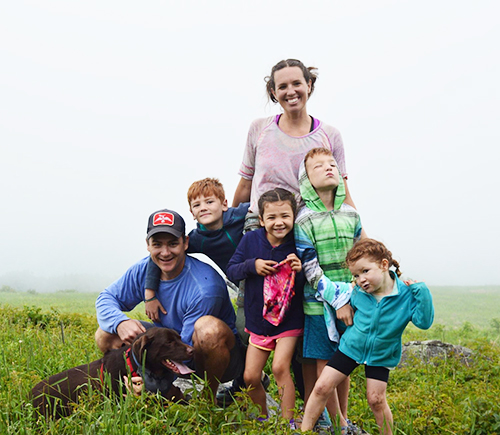 Assistant Professor of PA Studies Ethan Stonerook grew up under the shadow of the space shuttle on the east coast of Florida, where he spent most days fishing, spearfishing and surfing. (He still looks back on the day he left the coast, pursuing broader horizons, with great homesickness!) He completed his undergraduate and graduate degrees in ecology at the University of Florida (Go Gators!), where he met and married Val, and planned on working in academia and outreach as a fish farming specialist.
Toward the end of his master's degree, spinning his wheels to find a job in the mid-recession economy, Ethan took a job coordinating radiation oncology at the VA and realized that he enjoyed talking to patients more than sturgeon. He applied to a dozen PA schools across the country, but on his interview day at Wake he became enamored with the concept of inquiry-based learning (and secretly dreamed of being an IBL instructor one day). Ethan and Val, now with one child, moved onto a lovely street in Ardmore three weeks after he finished school at UF and fell in love with their neighbors, Winston-Salem and the Wake PA program.
After graduating from Wake in 2012, Ethan, Val and two children moved back to Gainesville to be close to dear friends and family. Now finished with school, Ethan took a job at the University of Florida in the leukemia and bone marrow transplant program, where he had rotated as a student at Wake. It was his favorite job he has ever had (until now), working in a setting with great continuity with very sick patients and alongside PAs and MDs who were both excellent at their vocations as well as being (for the most part) very funny folks.
In the summer of 2018, Ethan and Val, now with four children in tow, decided to move back to Winston-Salem. Ethan took a job in stem cell transplant and cellular therapy at Wake Forest Baptist Health. In these last two years, still dreaming of being on faculty at Wake PA, Ethan has facilitated medical humanities sessions, given lectures, led small groups and precepted Wake students. He is also a creative writer and sits on the steering committee for the Wake Forest Humanities Institute's Narrative Medicine: Story, Health, and Healing Initiative. He and Val enjoy hiking, camping and being with people.
Whether it is his wife and kids, working alongside Ecuadorian fish farmers, sitting knee to knee with patients facing difficult decisions, or in rigorous conversation with a rotating second-year PA student, it is always people and their stories that excite Ethan. He is thrilled to finally be alongside the staff, students and faculty of the Wake PA program.
---
Toni Jackson, MMS, PA-C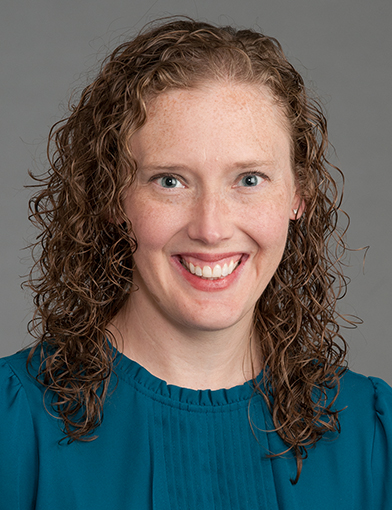 The Department of PA Studies at Wake Forest School of Medicine is excited to welcome its newest faculty member, Toni (Moran) Jackson ('08), MMS, PA-C.
Jackson received a Bachelor of Science Degree in Biology from Olivet Nazarene University in 2006, prior to attending the Wake Forest School of Medicine. Following graduation from the Department of PA Studies, Jackson worked clinically in primary care for eight years and served as a family medicine preceptor for Wake Forest PA students. In 2016, Jackson transitioned to PA education as an assistant professor at High Point University Department of PA Studies. While teaching at HPU, she served as course director for the history and physical exam course series and the healthcare provider communication skills course, as well as working as an instructor in the clinical medicine course, taught via PBL and simulation.
Jackson has presented at two Physician Assistant Education Association (PAEA) National Forums and has served as a peer reviewer for JAAPA, NCAPA and PAEA publications and presentations. She currently practices clinically in ophthalmology. Jackson resides in Clemmons with her husband, Shannon, daughters Audrey and Alice, and standard poodle, Baron. She enjoys home renovation, design, swimming and gardening.
"As a PA educator, my primary goal is to prepare resilient PAs through a student-led journey with a strong academic foundation to be leaders in the practice of medicine. My experiences as a student in the Wake Forest University PA Program and skills gained as a clinically practicing PA, and a clinical preceptor helped in the initial development of my teaching philosophy, which I have successfully applied and refined during the past four years in PA education. I am thrilled to continue my career as a PA educator at Wake Forest School of Medicine!"
---
Amy Simpson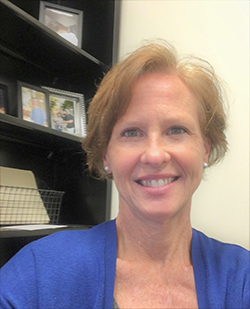 Two weeks before we all began working and learning remotely, Amy Simpson joined the PA Studies staff as registrar. This position involves management of student records, grades and transcripts and supporting faculty.
Amy has a background in business and has worked in accounting, sales and management. For the past ten years, she has taught business in community college and is no stranger to online learning. This helped when she found herself learning a new job in an online environment.
She credits the great support and guidance from the faculty and staff for helping her. "Starting in a new position during a pandemic could have been a fiasco," she said, "but the entire department has been so helpful and willing to answer my many, many questions."
Amy loves being outside, running, yoga, reading and gardening. She is "Mimz" to three grandchildren and relishes time spent reading and playing with them. She believes we should all be lifelong learners and is excited to support the students in the PA Studies program.