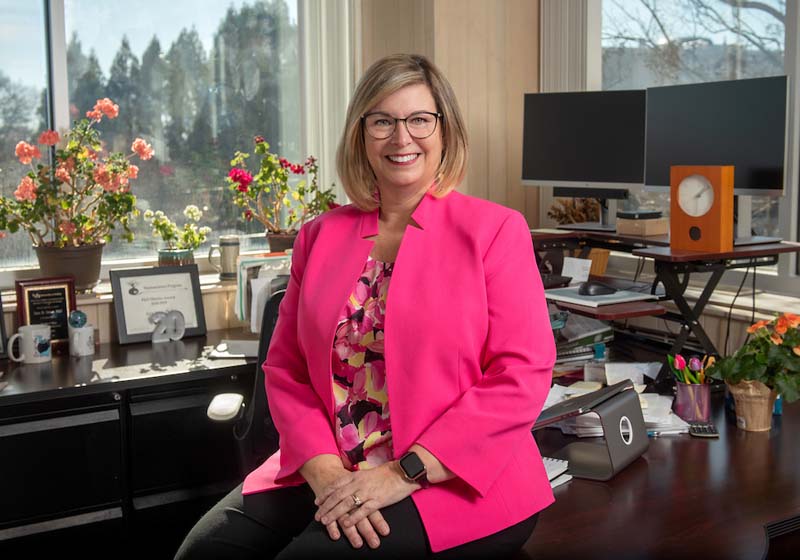 Sara R. Jones, PhD, associate dean for Basic Science Research, professor and chair of Physiology and Pharmacology, and co-director of the Wake Forest Translational Alcohol Research Center, says her interest in studying substance use started with her dad and their dinner table discussions when she was growing up. He was a college psychologist who received many emergency calls for students suffering from substance use and addiction, and he was dedicated to trying to understand the underlying causes of substance use. Sharing his insights with his daughter helped spark her interest in neuroscience, and she has made seminal discoveries about brain mechanisms of substance use and addiction.
Jones received her bachelor's degree in biology and psychology from the University of Georgia. After an internship with a clinical psychologist, she realized it was too painful for her to work with patients directly with limited resources for helping them. Instead, she realized she wanted to delve inside the brain and attack the problem from within, noting in her graduate school application that her goal was to cure substance use.
After receiving her PhD in neurobiology from the University of North Carolina at Chapel Hill and completing her postdoctoral fellowship at Duke University, Jones was recruited to Wake Forest School of Medicine in 2000 and has remained in Winston-Salem ever since. Her lab uses voltammetry and other methods to make real-time recordings of fluctuations in the neurotransmitters, dopamine and serotonin, in the brain over time and determine how drugs and alcohol lead to compulsive use and addiction. Her research interests include alcohol, cocaine, heroin, fentanyl and methamphetamine as well as new avenues for treatment of pain and obesity. She says the Department of Physiology and Pharmacology is a hidden gem because they focus on basic research discoveries, but they are a powerhouse in substance use research and funding, noting that the partnership with Atrium Health will broaden their capabilities and help them apply their research to a larger community who are seeking clinical treatment for addiction. They are also broadening their work with the school's Division of Public Health Sciences and the Maya Angelou Center for Health Equity to extend opportunities to underserved groups and make more connections for care and treatment.
Jones credits her dad's acumen at counseling for another trait she employs in her role as a faculty leader, helping others achieve greater personal and professional development throughout their career. To help graduate students with their high-demand workload, her lab established social groups and ambassadors to help write grants and navigate submission deadlines. Inspired by generous mentoring and sponsorship from her own leaders, her style is to listen carefully and find creative ways to say "yes," so that innovative ideas can be implemented. For faculty, she highly recommends the Mentor Academy, a six-month program run by the Clinical and Translational Sciences Institute, that provides training and support in both research- and career-related mentoring, acknowledging that it was a game-changer for her own career development.
This collaborative spirit and supportive culture are why Jones has stayed at the Wake Forest School of Medicine. She hopes it will continue to translate into more teamwork between research scientists, clinical care providers and mental health professionals, with a goal of improving patient care and promoting greater health in our communities through discovery and sharing. She also appreciates the growth of downtown Winston-Salem's vibrant, science-infused Innovation Quarter and how it has become a hub for like-minded people to promote positive change.
While the full impact of COVID-19 on society's increased need for social and mental health support remains to be seen, Jones is encouraged that changing perceptions and community discussion have helped remove some of the stigma of substance use and mental illness that have hindered the expansion of research and treatment options. When she takes a break from her ongoing work to cure substance use disorders, she and her husband adopt dachshunds in need of rescue and she plays the trumpet in the Triad Area Medical Orchestra, comprised primarily of Wake Forest faculty, students and doctors.