Competitive, Energetic, Positive, Different, Optimistic
These are the words that Ashish K. Khanna, M.D., Associate Professor of Anesthesiology and Vice Chair of Research with the Department of Anesthesiology at Wake Forest University School of Medicine, uses to describe himself. Khanna is a firm believer that clinical research cannot thrive without clinical work and he meticulously balances the two. His research focuses on improved outcomes of patients in the intensive care unit (ICU) and operating room along with the effect that improved blood flow and pressure dynamics can have on patients and how different monitoring strategies can detect and predict early changes in vital signs to prevent organ system injury.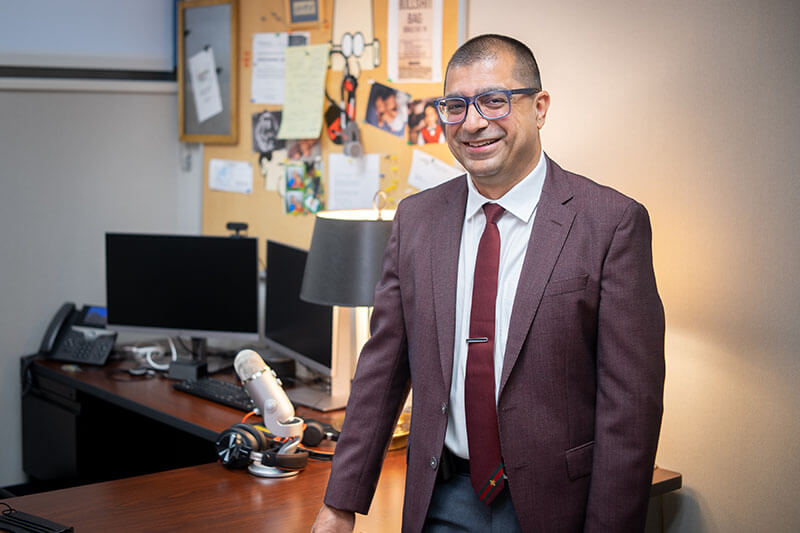 He is director for the Perioperative Outcomes and Informatics Collaborative, a multidisciplinary center housed within the Atrium Health enterprise that focuses on research for clinical trials across specialties in the critical care and perioperative care continuum. His mission is to create a common ground for research, analytics and improved results to increase patient-centric outcomes for those undergoing surgery or recovering from critical illness. Khanna also is vice-chair of research for the Department of Anesthesiology, where he supervises the research infrastructure of the department. He practices Anesthesiology in the operating room and Critical Care Medicine in the ICU across the Atrium Health Wake Forest Baptist system.

Khanna, a native of India, moved to the United States in 2010 to complete his residency in Anesthesiology and a fellowship in Critical Care Medicine at the Cleveland Clinic Foundation. Khanna credits his parents – his dad, a vascular surgeon, actually introduced vascular surgery to India in the late 1970's and his late mother who was a research scientist – to much of his success and for encouraging a strong academic background early on in his life. Get to know him in his own words.
Tell us about your background. What's your experience and how did you get into the field?
I always had a great love for writing and science and I guess that's what first started me off in this direction. In fact, even during my anesthesia residency training in India I worked on some important studies and published some strong work. I was fortunate that at the Cleveland Clinic, I was able to channel these ambitions in the right direction at the start of my career and while there I worked with their Department of Outcomes Research, the world's largest clinical research organization, where I trained in clinical trials methodology and was asked to lead some pivotal work in perioperative patient outcomes.
How does your research improve clinical care?
The amazing clinical work in the operating room and the ICU is the biggest driver of clinical research and in turn developments and outcomes of clinical research improve clinical care. My research focuses on outcomes of patients in the ICU and operating room, the effect that improved blood flow and pressure can have on patients and the different monitoring strategies that can detect and predict early changes in vital signs to prevent organ system injury.
One advancement we have made is how we monitor inpatients within the hospital. Traditionally, at most other hospitals, when patients recover from complex surgery on the general hospital floor, they are checked on and monitored intermittently about every four to six hours. However, at Wake Forest Baptist we have a unique ecosystem where we monitor our patients continuously using advanced monitoring that captures vital signs about every 15 seconds. This enormous amount of high frequency data generated with wireless wearable monitoring is helping us innovate and conduct research to further improve patient outcomes across our enterprise.
What's your current research focus?
My current research is focused on monitoring and prediction of post-operative respiratory and cardiac vital signs using wearable wireless technology and their correlation with critical events on the regular nursing floor, use of datasets for perioperative and critical care outcomes research including the use of artificial intelligence (AI) techniques to predict patient outcomes, effect of changes in hemodynamics in critically ill patients in the ICU and the operating room and the use of novel vasopressors (a drug that makes blood vessels constrict or become narrow in people with low blood pressure) in shock states in the ICU.
Additionally, I'm working on building the world's largest dataset of its kind that would be focused on modeling advanced AI techniques that would allow us to predict in real-time the patients at-risk for suffering critical events on our inpatient wards. Supported by a KL2 grant, I just finished a large cluster randomized trial that compared this advanced high-frequency monitoring with traditional intermittent monitoring, the results of which could set the stage for a lot of work worldwide.
I have a special love for all things AI and data registries. Much of my research is focused on large ICU datasets and examines several types of outcomes. I even have my own podcast "BrainX Talks" where I speak with leaders in this space.
Similarly, we are doing pivotal research with devices that predict blood pressure changes ahead of time using advanced machine learning technology in the operating room and the ICU. I continue to work on vasopressors in the ICU and focus on pathways that help us understand why certain patients respond better to an intervention with a certain type of vasopressor.
What skills should someone have that's pursuing a career in research or healthcare?
Perseverance and dedication are the most important skills that will take you far in healthcare research. This is because research, at least initially, can be thankless and rather tedious. A lot of junior folks can get disheartened and leave. Research can be complicated, and a lot of brilliant ideas never get necessary support and a lot of supported trials don't always deliver on outcomes. It's also important to have the ability to question yourself and push to continuously improve and be creative with research methodology.
And finally, be ready to be a true life-long learner. For example, I just finished a master's program in Translational and Health System Science at Wake Forest University Graduate School of Arts & Sciences. I believe that every researcher should continuously learn via formal education in research and from his or her peer groups and team members all the time.
How does the combined structure of Wake Forest University School of Medicine and Atrium Health support your research efforts?
My work is focused on clinical trials and large datasets, which continuously need huge numbers of patients with a high degree of sickness and acuity of illness. Now that these two entities have formed a union, a large joint clinical enterprise has been created and will result in one of the largest health care systems in the country, which will offer an opportunity to simultaneously recruit for the same clinical trials at several different hospital sites, all under the same umbrella.
The possibilities of what we can do are endless, and I am already in nearly daily conversations with several brilliant colleagues in Charlotte who speak my language of research, analytics and innovation. Exciting times!
What's the most exciting research you've worked on?
I led 84 global ICU sites and completed the Angiotensin II in High Output Shock trial (ATHOS3) which was subsequently published as a first author publication in the prestigious New England Journal of Medicine in 2017. The results of this work also resulted in the United States Food and Drug Administration approving Angiotensin II for clinical use for critically ill patients with shock. This was three years of blood, sweat, tears and many nights, weekends and holidays working with my research team and ICU colleagues as we completed this work.
Today, I see this drug being used all over the country and recently in Europe in septic and non-septic high-output shock and feel that our work with ATHOS3 became a part of life-saving medication history. I'm also continuing to work on the renin angiotensin pathway, which is closely relayed to Angiotensin II, and have found some phenomenal expertise here at Wake Forest to help with those experiments.
What advice would you give someone who is just starting their research or medical career?
One of my mentors once said, "It takes two good papers to be an expert in an area." It's important to try to find a niche for yourself whether in research or clinical medicine, by doing this you will go far. Always have that one thing extra you bring to work every day as a skill set that sets you apart.
How can students and researchers find mentors?
Gravitate toward people you want to be like when you "grow up." Attend academic meetings and seek out leaders in the field. Do not be shy asking for help, advice and input. Look outside of your institution; the world does not end where you work, in fact there are many advantages of mentorship and a support network outside of where you work. When you do find a few individuals that would be potential mentors, please deliver as a mentee, and be prepared to go that extra mile for your mentor.
What are some of your hobbies or interests outside of work?
I love playing tennis, (play indoors on clay and on hard courts), experimenting with different cuisines and new places to eat, traveling (though that ends up being for work mostly) and trying my best to be a good parent to three boys (struggle at most times!).