Persistent, Patient, Empathetic, Reliable and Attentive
These are the words that Hossam A. Shaltout, RPh, PhD, FAHA, Associate Professor of Hypertension and Obstetrics and Gynecology, and director of the Clinical Non-Invasive Hemodynamics Core, uses to describe himself. The majority of his day is spent managing a $10 million multi-site grant from the National Institute of Aging (NIA) to study the role of the cardiovascular system and cerebral circulation in Alzheimer's disease.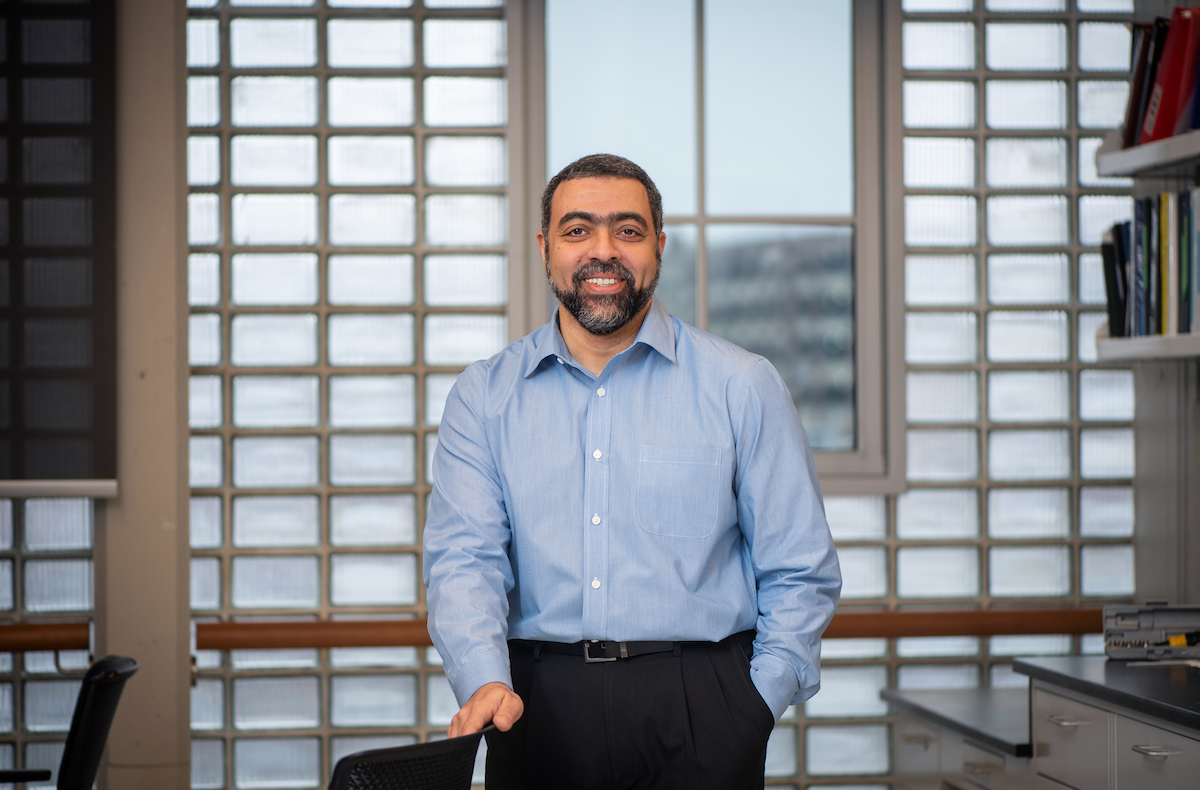 Shaltout's journey in medicine began when he received his pharmacy degree from Alexandria University's School of Pharmacy in Egypt more than 28 years ago, eventually culminating in his arrival at the Wake Forest School of Medicine. His influence as a researcher and teacher extends across many areas, including the Hypertension and Vascular Research Center, Cardiovascular Sciences Center, aging and Alzheimer's, obstetrics and gynecology, substance use and addiction and even the pharmacy.
His passion for mixing clinical experience with research and education shines a light on how an academic learning health system improves care. Get to know him in his own words.
What inspires or motivates you?
My faith inspires me to perform any task I am doing to the best of my abilities and motivates me to always think of how I can help humanity and never give up or spare any effort towards perfection. This affects all of my actions including how I approach teaching, research, and how I deal with my teammates. Also, my wife of 25 years, Salwa, inspires me to continue doing this work. She is a pharmacist and researcher, so she understands the stress of the job and the time commitment needed, and she made great sacrifices and changes in her career to help support our family and my career. As a pharmacologist, I am always thinking of how we can find new treatments for diseases, and it helps to have a spouse who is a pharmacist and medicinal chemist to have these long discussions with and bounce ideas off each other.
Tell us about your background. What's your experience and how did you get into the field?
After receiving my pharmacy degree, and at the age of 21, I was in charge of the second largest sterile product and eye drop production facility in Egypt for 18 months, then I worked as a medical liaison for Novartis for a year. Then I was appointed as an instructor at Alexandria University's School of Pharmacy, where I taught labs and pre-lectures and worked on my Master's degree.
In 2000, I received a full scholarship to get my PhD so I moved from Egypt to the United States and joined the Department of Pharmacology and Toxicology at East Carolina University's School of Medicine. My research work was focused on the interaction between the immune system and the cardiovascular system. I was always fascinated with the autonomic nervous system and how the brain regulates key involuntary functions of the body, including the activity of the heart, blood vessels, stomach, etc., and how this affects the cardiovascular system. After getting my PhD, I joined the Hypertension and Vascular Research Center at Wake Forest School of Medicine in 2005 as a postdoctoral fellow, where I continued to study the role of the autonomic nervous system in health and disease conditions over the past 16 years. I also studied extensively the renin-angiotensin system which has been shown recently to play a great role in COVID-19 infections.
What do you do at work on a daily basis?
My day usually involves both teaching and research activities. This includes in-person or virtual meetings to discuss research studies and collaborations or deliver lectures to undergraduate and graduate students. It also includes managing the day-to-day operation of the Clinical Non-Invasive Hemodynamics Core. Currently my research responsibilities take up a great portion of my time.
I recently received a $10 million grant from the NIA as co-principal investigator to study the role of the cardiovascular system and cerebral circulation in Alzheimer's disease in five clinical sites across the United States. Getting this study started at these sites occupies a major part of my day. Additionally, I am co-investigator on multiple funded studies which requires data analysis, writing abstracts and manuscripts, and presentations at scientific meetings. I serve on multiple committees at Wake Forest Baptist related to education, diversity, and leadership, in addition to multiple national scientific committees. I am also a part-time pharmacist so some evenings and weekends I staff in the inpatient pharmacy at Atrium Health Wake Forest Baptist Medical Center, which allows me to keep my clinical knowledge current and participate in providing health care service. This also provides an opportunity to take part in the educational process for new pharmacy residents and students, which is a very rewarding experience.
What made you want to teach?
During my years in pharmacy school, I was always among the top five students in the class. I always enjoyed teaching my classmates and they commented that I have a talent for simplifying the concepts and delivering the information in a way that is easy to recall. When I started teaching at Alexandria University's School of Pharmacy, the class was about 500 students. I taught them the practical labs in small groups and I interacted with the students all the time. I made sure within the first part of the semester to know everyone's names, strengths and weaknesses and tried to tailor my teaching style to help them understand the materials. It always felt good to see them succeed as students and become good pharmacists.
What makes teaching at Wake unique?
Being an academic medical center, Wake Forest School of Medicine provides an exceptionally unique environment for education. The students are taught by a group of practitioners and researchers who are dedicated to teaching this new generation of physicians how to become good doctors. The exposure to research helps because they are better able to critically evaluate new evidence and provide the best patient care with the latest knowledge.
What skills should someone pursuing a career in healthcare have?
To be a successful healthcare provider, you will need to have empathy, good communication skills, patience, good stress management and teamwork skills.
What advice do you have for future students?
My advice to future physicians and health care providers in general is to be honest with yourself about the reason you want to be in this profession. To be successful, you should make it all about your patients. You will meet all sorts of people at very stressful and emotional times in their lives – try to be the support that they need. The amount of trust placed in your decisions is humbling, so do your best to be worthy of that trust. Work hard and set high personal and academic standards for yourself, and live up to them.
What are some of your hobbies or interests outside of work?
I enjoy gardening, long walks, and reading, but what I love the most is spending any free time I have with my wife and two kids - Yassmin, 23, who is a first year student at Alabama College of Osteopathic Medicine, and Omar, 20, who is a junior at Wake Forest University. I look forward to being able to travel internationally to visit our extended families in Egypt who we have not been able to visit since the start of the COVID-19 pandemic.