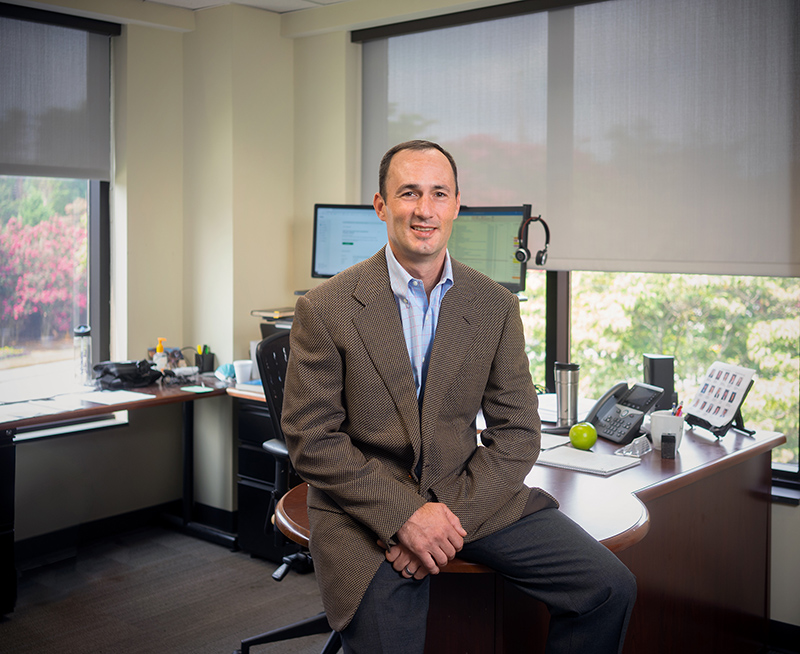 Chad Miller, MD, MS, likes to work hard, even when he is away from his official job. At Atrium Health Wake Forest Baptist, he serves as the Atrium Health Enterprise Service Line Leader for Emergency Medicine – Clinical, and is Chair and Professor of Emergency Medicine, and Co-Director of the Critical Illness, Injury and Recovery Research Center (CIIRRC) at the Wake Forest School of Medicine, providing care for patients in the emergency department while teaching students and guiding residents on their path to becoming the next generation of leaders. At home, he lives on 60 acres of farmland and cares for beef cattle, horses, and chickens, while raising four active kids with his wife.
Miller brought his hard-work ethic and agricultural background with him from northeast Ohio, where he was raised and went on to receive his medical degree from Northeastern Ohio University College of Medicine. He was drawn to emergency medicine to help people in their acute times of need and illness, and he enjoys the fast-paced energy. When he was a resident at Ohio State University Medical Center, he was mentored by Jim Hoekstra, MD. When Hoekstra took a position as chair at Wake Forest Baptist, he recruited Miller to join him.
Like his mentor did for him, in his role as chair, Miller continues the lessons he learned by providing plenty of one-on-one time advising faculty and residents on their career choices. He enjoys all aspects of his various leadership roles, adding "clinical care gives you a chance to connect with patients, then we can teach students how to provide outstanding care. Then we pivot again and do the research to improve future care."
Miller's research projects are changing the way we care for patients and improving the health of our community. He partnered with Simon Mahler, MD, to develop the HEART Pathway protocol that studies the best way to conduct imaging for patients with acute chest pain, vastly reducing the amount of time a patient spends in the emergency department. It is the epitome of an academic learning health system, where new information from research contributes to ongoing improvements in patient care. Now their results are being implemented in emergency departments across the U.S.
Miller also frequently collaborates with Clark Files, MD, his co-director of CIIRRC, which builds and implements multi-departmental and transdisciplinary science teams within and beyond the academic enterprise. They also lead the Southeastern Clinical Center for the NIH-funded PETAL Network, focused on the prevention and early treatment of lung injury. Over the last several years, they have conducted trials for patients with sepsis to reduce acute respiratory failure. For the last 18 months, their focus has transferred to analyzing patients with COVID-19.
Miller's need for speed in the emergency department also drives his desire to shorten the timeline from discovering best practices to disseminating them across the enterprise, and he is passionate about reducing health care disparities. He believes the strategic combination with Atrium Health is key to achieving these goals in a much larger way.
Although Miller originally came to North Carolina to work with his mentor, he stays because he loves the collaborative culture, community of remarkable people, and the opportunity to return the favor by mentoring future health care providers and researchers. "My passion is to leave things better than I found them for the greater good, so that runs through all aspects of my life," said Miller.