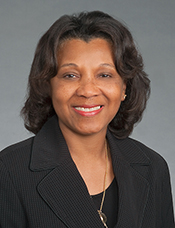 Congratulations to
Brenda Latham-Sadler, MD
, Senior Associate Dean for Justice, Equity, Diversity and Inclusion for the Academic Enterprise, and Clinical Associate Professor of Family and Community Medicine at the Wake Forest School of Medicine, for receiving the 2021 Winston-Salem Legacy Award for Medicine from the
Legacy Foundation for Women
. The award was announced at the 2021 Legacy Awards November 7, which was held virtually.
The Legacy Foundation for Women celebrates the achievements of outstanding women of color during its annual Legacy Awards. Each year the Foundation recognizes women of color that are leaving and leading a legacy for the next generation of girls of color. The Legacy Foundation for Women recognizes women of color in the areas of Medicine, Education, Business, Politics, Criminal Justice, Sports/Athletics, Journalism, Community/Religion and Arts. One recipient in each category is selected.
The mission of the Legacy Foundation for Women is to inspire and invest in the lives of women and girls of color through scholarships and education, awards recognition, mentor programs, health development, and humanitarian efforts.