The Department of Internal Medicine's Informatics and Analytics team aims to advance the Department's mission of leading Wake Forest Baptist Health's evolution as a preeminent learning health system. The team supports this mission by working with faculty to improve electronic health record (EHR) workflows by:
Mobilizing and visualizing EHR data in support of health care delivery research and initiatives to improve quality, safety and costs
Generating the data needed to advance evidence-based practices
Promoting interprofessional and cross-departmental collaborations
Meet Our People
Ajay Dharod, MD, FACP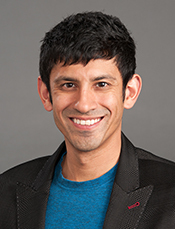 Ajay is currently assistant professor of general internal medicine and serves as the vice chair of Informatics and Analytics for the Department of Internal Medicine. His background has included developing EHR tools that facilitate research, enhanced workflow, population management, quality improvement, clinical decision support, principles of data safety, interoperability, and the challenges of conducting research from EHR-derived data. Highlights include:
Background in electrical and computer engineering
A track-record of research, innovation and teaching excellence awards
Creation, development and implementation of EHR-based applied informatics interventions and EHR-integrated digital health application through interprofessional and interdepartmental collaboration
Ajay plays a central role in several extramurally funded grants, as well as directing a resident-focused educational informatics mentorship program he created. He holds board certification in Internal Medicine and Clinical Informatics and maintains an active clinical practice in the inpatient, consultative perioperative and outpatient domains. Ajay's aims to improve the health of patients, families and communities through the development, implementation and effective evaluation of innovative applied clinical informatics interventions. He believe that the downstream return on investment for educating future generations of clinicians, scholars and informaticists will have the most profound impact on health care and our society.
In his spare time, Ajay enjoys remaining physically and cognitively active through biking on local trails, tennis, wakeboarding, yoga practice and playing chess.
Padageshwar Sunkara, MBBS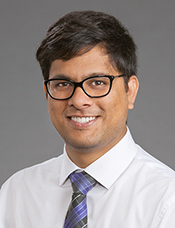 "SP" is a physician leader in Clinical Informatics and Data Analytics with a Master of Management degree in Clinical Informatics from Duke University. He is board certified in internal medicine and currently practices as assistant professor of general internal medicine under the Section of Hospital Medicine. SP serves as medical director for hospital medicine units and medical director of observation medicine. His areas of interest include operations and strategy, quality improvement and clinical decision support, and he holds multiple Epic certifications.
Over last few years, SP has supported projects that leverage technology to increase health care value, improve communication and enhance patient safety and has focused on patient informatics. He plans to apply his skill set gained in the areas of clinical care, informatics, operations and data analytics to augment learning health system research and to promote value-based care. SP's main focus is on inpatient informatics within the Department of Internal Medicine.
He spends most of his free time with his family, which includes a 170-lb. dog. At his core, SP is a simple human being who likes to help people be their best. He likes to travel every chance he gets, and his hobbies include landscaping and macro photography, track racing motorcycles and reading books.
Sean Hernandez, MD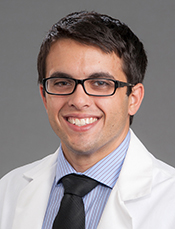 Sean is a board-certified internist with the Section of General Internal Medicine. He is currently practicing clinical informatics and plans to obtain board certification via the American Board of Preventive Medicine. His informatics interests include:
Applied cancer genomics
American Association of Medical Colleges's Project CORE
Internal medicine resident education
Richa Bundy, MPH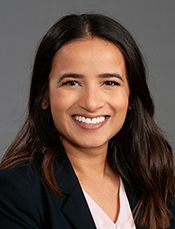 As a biostatistician, Richa plays a key role in the data extraction, visualization and analysis of both research and quality-improvement projects conducted by internal medicine residents and faculty. She has a Master's of Public Health degree in epidemiology and has worked in both academic and operational health care settings. Richa also has certifications and numerous years of experience extracting data from Epic EHR databases. She wishes to continue to leverage skill sets in data extraction as well as analytics to study health care populations and to improve health care delivery and patient outcomes.
Adam Moses, MHA, PMP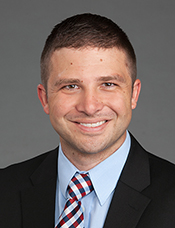 Adam is a senior application analyst in the Department of Internal Medicine. He holds a Master's degree in Healthcare Administration and nine Epic Certifications. His role includes:
Supporting physician builders
Mentoring the Clinical Scholars in Informatics participants
Supporting learning health system grants
Adam's expertise allows him to participate in several operational quality-improvement projects as well as research. He enjoys saving clinicians time by modifying or adding features to the EHR and measuring the impact on workflow.
In his spare time, Adam enjoys spending time with his wife and two children, watching Appalachian State Football, Disney movies and golfing.