William R. Hazzard, MD is an icon in American medicine who shaped the character of departments of internal medicine at three leading institutions: University of Washington Medicine, Johns Hopkins Medicine, and Wake Forest Baptist Medical Center.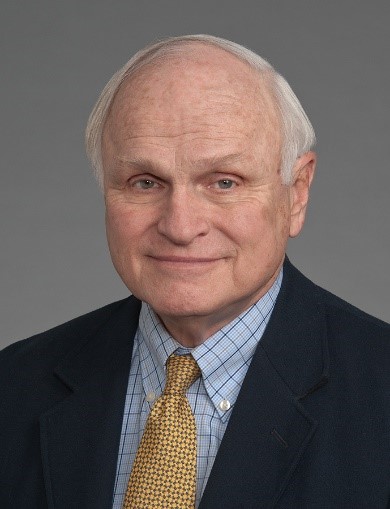 His colleagues at Wake Forest Baptist have proposed a powerful tribute that will carry forward the transformational vision he championed: The William R. Hazzard Scholars Program.
Hazzard's Academic Model of Integrated Research and Clinical Care
As Chair of the Department of Internal Medicine at Wake Forest from 1986 to 1998, Dr. Hazzard implemented a vision that emphasized education and training of medical students, residents, and fellows in an academic model that tightly integrated research and clinical care across the age continuum.
The prescient vision for the department that Dr. Hazzard articulated nearly three decades ago foreshadowed the Learning Health System model that was subsequently adopted by the National Academy of Medicine in 2006. The model has become a driving force in nearly all major health systems in the United States.
Central to both Dr. Hazzard's vision and to the Learning Health System is the preparation of a new generation of clinical scholars with the expertise and passion to conduct the research needed to shape the future of medicine.
Developing Clinician Scientists to Transform Health Care Delivery
The William R. Hazzard Scholars Program will foster the early career development of clinician scientists who have been inspired by their training in Internal Medicine and who are committed to generating the new knowledge needed to improve patient outcomes and transform healthcare delivery across the nation.
Building a Robust Pipeline of Clinician Scholars
The Hazzard Scholars Program will ensure that Wake Forest Baptist Medical Center sustains its dynamic role in the new healthcare landscape.
The explosion of information about the genome and the ability to link these data to longitudinal information from patients' electronic medical records offer new ways to study the causes of many devastating illnesses and to identify valuable treatments.
With the establishment of large integrated healthcare delivery systems, we can use our clinics and inpatient units as laboratories for innovation, to create Learning Health Systems in which new knowledge about effective treatments is woven into the tapestry of clinical practice, and to extend high quality life for patients of all ages.
Program Expectations
Hazzard Scholars will have completed clinical training in Internal Medicine and will be selected on the basis of their academic and clinical accomplishments and their ability to commit 80% of their effort to clinical research training over a two-year period.
Hazzard Scholars will engage in an individualized curriculum designed to build the knowledge needed for a sustained career as a clinician scientist and a mentored research experience directed by teams of expert and committed faculty.
Collectively, trainees and mentors will create a community of scholarship committed to conducting the research needed to transform clinical practice and health care delivery and to building a learning health system.
Current Scholars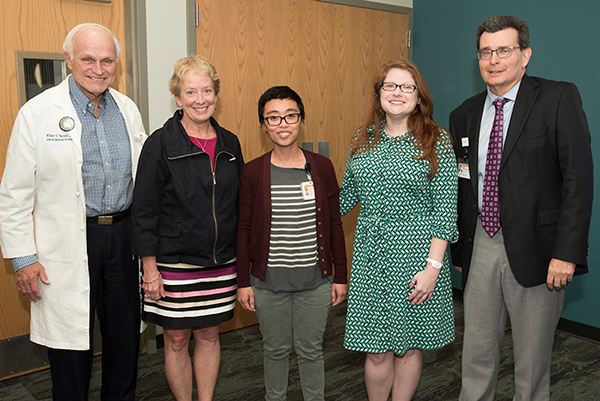 From left: Dr. William Hazzard, Dr. Julie Freischlag (CEO and Dean), inaugural William R. Hazzard scholar recipients Maria Theresa D. Opina, MD (Section of Pulmonary, Critical Care, Allergy, and Immunologic Medicine), and Erin W. Barnes, MD (Section of Infectious Diseases), and Dr. Gary Rosenthal (Chair of the Department)