It is an honor to welcome you to the Department of Internal Medicine at Wake Forest Baptist Medical Center. Our department enjoys a rich heritage. Our founding chair, Tinsley Harrison, MD, was an icon in American medicine. His prescient vision for excellence in the core missions of academic medicine – teaching, patient care, and research – is deeply woven into the fabric of all that we do and serves as an inspiration for our medical students, residents and fellows.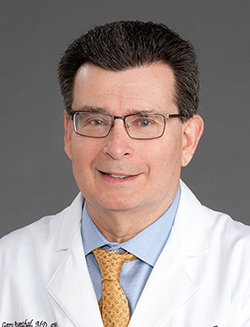 I am particularly proud of our residency program and clerkships, which emphasize core clinical problem solving skills and prepare learners for lifetime learning and professional growth. The cornerstone of our educational programs is a commitment to teaching excellence and innovation among our faculty, who consistently win institutional and national teaching awards. Our programs provide trainees with exposure to the entire spectrum of subspecialties, while becoming highly competent in the skills and judgment required of the general internist. In many ways, our educational programs are the glue that bind faculty and staff across their diverse professional interests and that creates a strong sense of family.
Our faculty also conduct groundbreaking research to elucidate the mechanisms of disease, to translate these findings to novel treatments and to develop innovative healthcare delivery models to improve patients' health and well-being. Over the past five years, our annual research funding has tripled – from $35 million in 2016 to $106 million in 2020. This growth attests to the upward trajectory we are on as a Department and to the caliber of our faculty, many of whom have led large national trials that have redefined the treatment of cardiovascular disease, diabetes and many types of cancer.
The fulfillment of our educational and research missions requires exemplary clinical services. Over the past two decades, our clinical programs have been recognized as being among the nation's best, including our programs in Cancer, Nephrology, Gastroenterology, Pulmonology, Cardiology, Geriatrics, and Diabetes and Endocrinology. All of our clinical programs are built around the framework of the Learning Health System, which seeks to seamlessly integrate knowledge generation into the fabric of routine patient care and continuously improve all that we do.
The Department of Internal Medicine at Wake Forest is firmly committed to preparing trainees to thrive in a changing health care landscape and to shaping that landscape in ways that promote patient-centered high value care. Perhaps most importantly, the Department is committed to fostering an academic environment that embraces diversity, eliminates healthcare disparities and treats patients with the utmost respect and dignity.
I encourage you to explore our website and to know our faculty, trainees and staff and the resources that are aligned to support each of our missions.
Gary Rosenthal, MD, FACP
Tinsley R. Harrison Professor and Chair
Department of Internal Medicine