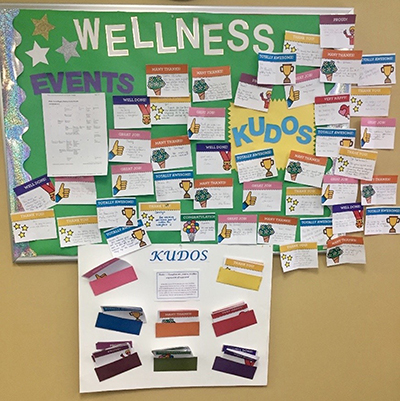 Over the past decade, the culture of health care has undergone tremendous transformation, including the recognition and acknowledgement of provider wellness as an integral part of improving health care delivery and patient safety. In May 2018, Wake Forest Baptist Health joined this movement by making provider wellness a top priority and part of its vision as an institution.
Our hospital medicine provider wellness group is led by Brianna (Pearson) Haller, PA-C, who organizes monthly wellness challenges and frequent events to address all aspects of our health with the hope of creating a good work-life balance.
"My hope is to improve morale, productivity and quality of life and to prevent burnout; and of course, to have some fun and evolve as a team who respects and cares for each other."
- Brianna (Pearson) Haller, PA-C
Wellness Committee Leader in the Section of Hospital Medicine
Activities
Some of our past and present initiatives include:
COVID-19 Coping

Takeout—We ordered takeout to support our local restaurants and businesses as well as our frontline providers.
Table tennis competitions—We purchased a table tennis set as a way to promote wellness, physical distancing and friendly competition among our providers.
Virtual workout sessions—We hosted weekly virtual "live" workout sessions for our providers. The workouts are recorded, so if our providers are unable to attend the "live" session, they can still view the session at their convenience.

Meditation and fitness classes—We have held both virtual and in-person classes for our providers.
Athletic challenges—These are team-based competitions that occur throughout the year (e.g. Step Challenge; Stair Challenge).
Baseball game outings—We host yearly baseball game outings at the Winston Salem Dash and High Point Rockers.
Annual End of the Year celebration—We gather together at the end of each calendar year to celebrate our achievements and of course to have fun!
Fundraisers for local charities and volunteer challenges—We have held several events for charities, including hurricane relief. We have also provided dinners for caregivers at our local SECU family house.
Environmental sustainability initiative—We try to keep our providers up-to-date on the best recycling practices and are composting with local Gallins Family Farms.
Food and nutrition challenges—This 30-day "quick & easy recipe" challenge is where providers sent in pictures of their culinary masterpieces created from individual recipes.
Healthy snacks and Coffee of the Month club—Each month we supply our providers with healthy snacks and coffee to enjoy.
Annual Super Bowl Chili Kickoff—We host a yearly chili competition in February. Providers create their own chili recipe and the best chili is voted on by the attendees. The best chili wins a prize!
Parent's Night Out—Parent's Night Out allows for our providers to enjoy a "night out" with their significant other, while we provide child care for them.
Reverse Trick-or-Treat—We host a yearly Reverse Trick-or-Treat in celebration of Halloween. Our providers and their children dress up in costume to hand out candy to staff throughout the hospital.
Office holiday decorating competition—We hold various holiday decorating contests throughout the year. Halloween is one of our favorites!
Schwartz Rounds—This monthly forum creates a supportive environment in which all of our staff (not just in hospital medicine) are invited to come discuss the emotional andn social experiences associated with their work.
...
Scholarship
Pearson B, Islam T, Everwine A. Assessing Burnout in Advanced Practice Providers. Poster presented at: 2019 Society of General Internal Medicine Meeting; 2019 May 8-11; Washington, D.C., USA.
Awards
Brianna (Pearson) Haller, PA-C, Chi Huang, MD, and the Wellness Committee won the 2019 Wake Forest Baptist Health Wellness Award for all of their tremendous wellness initiatives. This award was given by Wake Forest Baptist Health leadership.