Bedside ultrasound is emerging as a necessary skill in modern medicine. Our Internal Medicine residents receive ultrasound training to prepare them for success in their future careers. Point-of-care ultrasound (POCUS) is embedded within the educational curriculum throughout Internal Medicine residency training at Wake Forest. Our residents develop skills to perform and interpret bedside ultrasound exams and learn to incorporate POCUS findings into their clinical reasoning.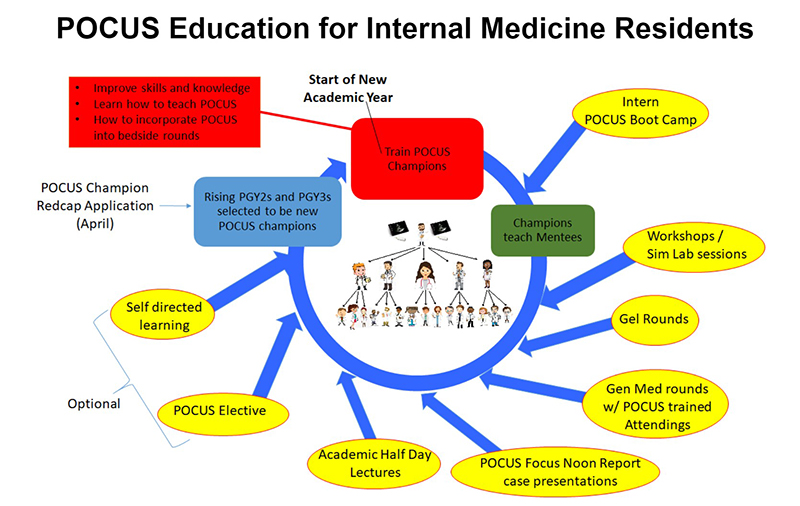 Residents receive ultrasound training through a multimodal educational approach involving hands-on workshops, lectures, POCUS Focus Noon Report case conferences, educational gel rounds on hospitalized patients, and encouraged use of POCUS in the clinical setting. New interns go through an Intern POCUS Boot Camp within the first two months of starting residency, where they learn fundamental ultrasound concepts and scanning technique. The supportive nature of the program fosters a mentorship-like mentality that enables residents to enhance their ultrasound skills while simultaneously taking excellent care of their patients. At the end of each academic year, interested residents can apply to the POCUS Champion Pathway. Our upper-level POCUS Champions undergo additional, more rigorous ultrasound training to become POCUS instructors for interns and medical students during workshops, on the wards and in clinic.
We have top-of-the-line ultrasound equipment located throughout our clinical workspaces, including both handheld and cart-based machines. Additionally, our residency program has a strong partnership with the Center for Experiential and Applied Learning (CEAL), which gives us access to a Vimedix ultrasound simulator on which residents can fine-tune their POCUS skills and learn to recognize pathology in a stress-free educational environment.
All Wake Forest Internal Medicine residents receive POCUS training through our innovative POCUS Curriculum. The POCUS Champion pathway is an additional training pathway within the residency program for upper-level Internal Medicine residents who want to develop their bedside ultrasound knowledge and skills beyond that of the average resident. Residents in this training pathway undergo more rigorous POCUS training to enhance their clinical reasoning and improve their diagnostic skills, medical management and procedural capabilities. In addition to developing their own skills with ultrasound, they learn to teach POCUS in the clinical setting, during workshops and in the classroom during POCUS Focus Noon Report case presentations and POCUS Champion Pathway conferences. Residents who are part of this pathway develop into POCUS mentors for their peers. They become leaders for the Wake Forest Internal Medicine resident POCUS curriculum and help contribute to the POCUS curriculum within the Wake Forest University School of Medicine. Furthermore, resident POCUS Champions are encouraged to get involved in POCUS-related research and scholarly activity.
Rising upper-level residents are eligible to apply for this pathway each spring. If accepted, they go through a 4-month training period May–August. During this training period, residents work closely with POCUS-trained faculty and complete training requirements designed with a multimodal approach to POCUS education, including online learning assignments (modules, videos, etc.), written assessments, supervised scanning of hospitalized patients and focused small-group teaching sessions on our Vimedix simulated ultrasound. After completing their POCUS Champion training, residents in the POCUS Champion pathway are encouraged to utilize POCUS within the clinical setting. They play a vital role in the POCUS education of interns and medical students on their inpatient teams and contribute to the further development of the POCUS curriculum.
Christopher T. Kelly, MD, is the director of the Wake Forest Internal Medicine POCUS Curriculum and the leader of the POCUS Champion Pathway. Dr. Kelly is an assistant professor of medicine within the department of General Internal Medicine and an Associate Program Director for the Wake Forest University School of Medicine Internal Medicine residency program. He completed an ultrasound fellowship through the Center for Experiential and Applied Learning at the Wake University Forest School of Medicine and Wake Forest Baptist Medical Center. Dr. Kelly was a former Wake Forest resident and chief resident, which provides him with a unique perspective on incorporating POCUS training into the resident's educational and clinical experience here at Wake.
All five chief residents play an important part in the POCUS curriculum. There is one chief resident each year with a designated POCUS role who helps lead the POCUS Curriculum and the Champion Pathway. Other faculty leaders for the POCUS curriculum and POCUS Champion pathway include William Lippert, MD, MPH, Kinchit Shah, MD and Dustin Norton, MD
The Wake Forest Internal Medicine POCUS Curriculum and POCUS Champion Pathway are also proudly supported by the Internal Medicine Informatics and Analytics (I&A) team.
Those interested in the POCUS Champion pathway can contact Christopher T. Kelly, MD or email IMPOCUS@wakehealth.edu.
Rising upper-level residents are eligible to apply for the POCUS Champion pathway beginning in March/April of their intern year. Residents selected for the pathway must complete all training requirements to be a resident POCUS Champion the ensuing academic year. POCUS Champion training takes place May through August each year and consists of the following:
Online Learning Assignments – Residents get access to the Wake Forest IM POCUS Canvas site where they complete an online curriculum consisting of modules, videos, podcasts and readings. The IM POCUS Canvas site also includes numerous additional POCUS learning resources, which encourages residents to expand their POCUS knowledge further through self-directed learning.
Written Assessment – Residents demonstrate mastery of important POCUS concepts and demonstrate their skill with image recognition by completing and passing a written assessment.
Vimedix Simulated Ultrasound Sessions – This is an important and unique part of POCUS Champion training. It involves small group hands-on teaching (two residents with one instructor) on our simulated ultrasound machine. During this session, residents improve their scanning skills, learn to recognize pathology and develop techniques for teaching POCUS to others.
"Gel Rounds" with a POCUS-Trained Supervisor – During "Gel Rounds," residents perform educational POCUS exams on real patients in the hospital alongside a POCUS-trained supervisor. Sessions typically consist of 2-3 residents and one faculty supervisor. The goal here is repetition in the clinical setting. Residents get comfortable performing exams on patients with varying body types and have the opportunity to discover real pathology.
POCUS Workshops – POCUS Champions also take part in an upper-level POCUS workshop. They watch prerecorded lectures prior to the workshop for a flipped classroom style of learning. During the workshop, they receive real time feedback as they practice POCUS scanning on standardized patients and ultrasound guided procedures on task trainer models.
Residents selected for the POCUS Champion pathway who complete their POCUS Champion training contribute to the POCUS education of other residents and medical students throughout the year. POCUS Champions develop into POCUS advocates, instructors, and leaders within the Internal Medicine POCUS curriculum. They contribute to the POCUS education of others in the following ways:
"POCUS Focus" Noon Reports – POCUS Champion residents present real patient cases that utilized POCUS as an extension to their physical exam and contributed to the case in a meaningful way. These noon conference presentations help demonstrate how to incorporate POCUS findings into your clinical reasoning and offer specific POCUS-related teaching points.
POCUS Champion Pathway Conference – Residents in the POCUS Champion Pathway attend special noon conferences approximately every 4-6 weeks. During these conferences, POCUS Champions take turns educating one another through short presentations on an advance ultrasound topic of their choice.
Teaching and Encouraged Use of POCUS in the Clinical Setting – Handheld ultrasounds are conveniently stored in resident workrooms in all clinical settings. This allows upper-level POCUS Champions the opportunity to teach interns and medical students on their inpatient teams while simultaneously taking care of their patients. POCUS Champions are encouraged to incorporate POCUS into bedside rounds and to utilize POCUS during the clinical assessment of patients throughout the day.
Workshop Teaching – POCUS Champions have the opportunity to help with hands-on scanning instruction during the Intern POCUS Boot Camps. They are also encouraged to help organize and provide instruction during various procedural workshops throughout the year.
Medical Student POCUS Elective Teaching –POCUS Champions play an important role within the POCUS elective rotation for fourth-year medical students at the Wake Forest School of Medicine. Resident POCUS Champions supervise gel rounds for medical students on their POCUS elective rotation.
POCUS Champion Journal Club – Periodic journal clubs provide POCUS Champion residents the opportunity to present interesting POCUS related papers and stimulate discussion on new and relevant topics related to POCUS within the field of Internal Medicine.