The Department of Internal Medicine founded the Tinsley R. Harrison Translational Research Training Pathway in 2006. It is designed to provide Internal Medicine residents the unique opportunity for structured research training and support to enhance research career development. The pathway provides an important mechanism for both basic scientists and physician-researchers to interface with Wake Forest Baptist Medical Center's numerous clinical trials and clinical research endeavors. This helps to overcome traditional barriers that hinder basic science application to clinically relevant questions. We believe that residents will become better clinicians by participating in research and scholarly activity. Through the Research Pathway, residents will learn how research is conducted, evaluated, explained to patients and applied to patient care.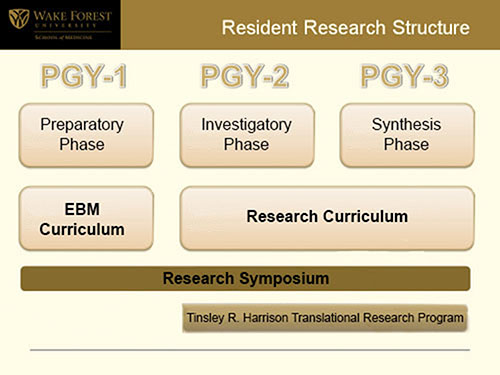 Trainees in this program receive instruction and practical experience in either basic or patient-centered investigation which is fostered by a resource-rich and mentored environment. They will develop their research abilities through various activities including Journal Club, Population Health didactics and Clinical Case Conference didactic sessions.
Program Overview
The Tinsley R. Harrison program offers an in-depth research experience for residents who are considering academic careers as clinical researchers or physician-scientists. Residents receive training in fundamental research techniques in a wide range of disciplines, reflecting the ever-increasing multi-disciplinary and cross-disciplinary nature of biomedical research. Residents selected for the program are provided with additional protected research time and didactic research training in a small group setting.
Residents who are interested in the Tinsley R. Harrison translational research training pathway are encouraged to apply during their intern year. However, second-year residents who are already involved in a research project and want the added support that the Tinsley R. Harrison research pathway provides can apply during their second year of residency.
Residents are encouraged to identify a research mentor early and to plan out a project timeline carefully. In order to ensure a solid mentoring relationship, faculty mentors will be assigned during the resident's intern year to assist and guide them in reaching their personal and professional goals. Throughout the training program, residents will continue to meet with the same faculty mentor, who will guide the resident through the program and assist with any academic activity needs. Tinsley Harrison scholars are given additional elective time for research during PGY-2 and PGY-3 years to complete their project and eventually publish a manuscript.
Our didactic curriculum will instruct residents on the fundamentals of research, including but not limited to epidemiology, research design, how to write a research proposal and statistical analysis through an introductory research lecture provided quarterly. Residents will have an opportunity to present their protocol and/or project.
Program Goals
Train the translational research faculty of the future from within our own ranks.
Provide residents the opportunity for a formalized and complete research experience.
Encourage publication and presentation of the residents' scholarly work.
Provide resident researchers with protected time to further develop their knowledge and skills in biomedical and clinical research, along with scheduled time to complete a research project in their area of interest.
While all types of scholarly activity will be encouraged, at a minimum, all residents must co-author an abstract/poster/podium presentation that is presented at a local or regional specialty society meeting or published in a peer-reviewed journal.