The Hospital Medicine Pathway (HMP) is designed to train outstanding resident clinicians with a passion for hospital medicine. In addition to the residency curriculum, our goal is to develop hospital system architects and leaders in quality improvement, patient safety, high–value care and the business of medicine.
The HMP provides an enhancement to the core Atrium Health Wake Forest Baptist Internal Medicine education. The HMP is available to all Wake Forest Baptist Internal Medicine residents entering their second or third year, regardless of their future career plans. You will be part of a select group of residents from across the U.S., as very few residency programs offer a Hospital Medicine training pathway.
Those residents accepted to the HMP will have a unique learning opportunity through inpatient rotations, monthly lectures, mentorship and social outings with hospital medicine faculty and leadership. At the completion of the program, the residents will be prepared to be excellent leaders and educators in hospital medicine or the subspecialty that they choose.
Training Structure
We currently have a one-year pathway with a longitudinal curriculum completed in the third year. Those residents who are interested are encouraged to apply at the end of their first year or the end of their second year. These two options provide flexibility and time to those residents who are unsure of their future career plans at the end of their first year.
Residents who join the pathway at the end of their first year will be paired with their Hospital Medicine mentor at that time. They are encouraged to use the additional time during their second year for mentorship and scholarly activity.
The core faculty of the HMP include many of our Atrium Health Wake Forest Baptist teaching Hospitalists, each one able to provide a unique perspective of Hospital Medicine.

Those interested should contact the director of the Hospital Medicine Training Pathway, Jacqueline Lippert, MD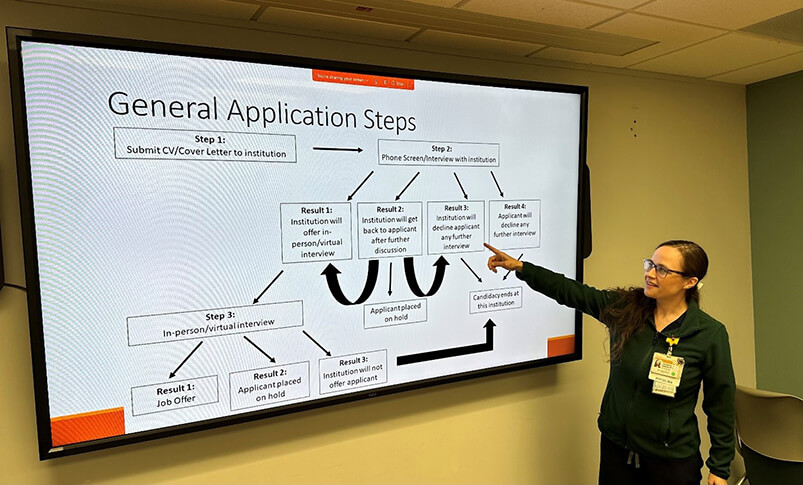 Pathway Curriculum
The core curriculum of this pathway will be presented in a monthly lecture series. Some of the topics for these lectures include:
Professional development

CV workshop, contract negotiations, mock interviews, etc.

Practice of hospital medicine

Optional Hospital Medicine – Advanced Practice Provider elective to work one-on-one in an MD/APP dyad on the hospital medicine rounder service

Healthcare Economics

Coding and inpatient billing
High-value care

QI and Process Improvement

Explore the process of QI in the inpatient setting
As a team, develop and implement a longitudinal QI project
In addition to the core lecture series, each resident will be paired with a hospital medicine faculty mentor. These partnerships will help guide the mentee through the pathway and provide valuable insight into the inner workings of hospital medicine.
Lastly, the pathway holds various social events to allow for residents and faculty to meet in a casual setting and promote wellness.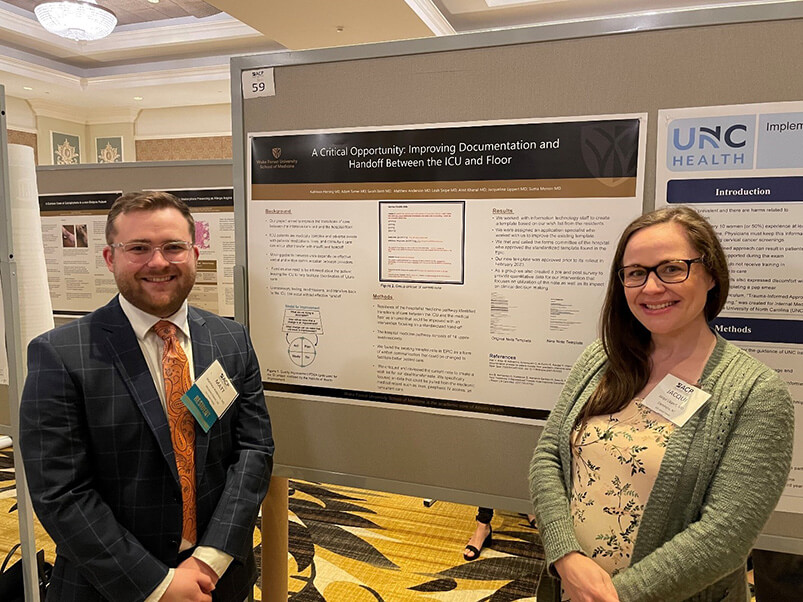 Residents who participate in the HMP will have the option of completing any of the following Hospital Medicine electives.
Hospitalist Elective Rotation – This rotation will give residents the opportunity to work with Advanced Practice Providers, using a collaborative approach to patient care on an inpatient hospital medicine service.


Quality Improvement (QI) rotation – This rotation will involve basic education in QI methodology and an opportunity to work directly with QI teams at Atrium Health Wake Forest Baptist.


Business of Medicine rotation – This rotation will offer an opportunity to shadow business leaders in various locations at Wake Forest Baptist Medical Center to have a better understanding of the drivers of hospital medicine.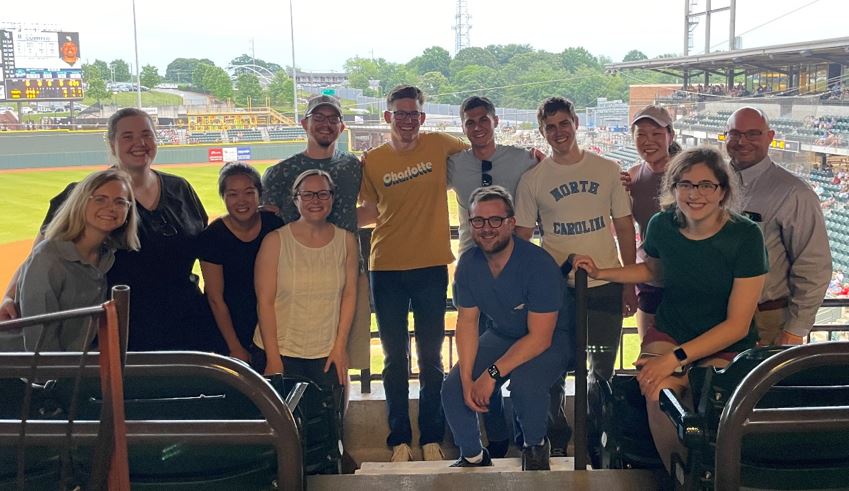 2023
Allergy/immunology Fellowship – NYU – New York, NY
Atrium Health Wake Forest Baptist Internal Medicine Chief Resident – Winston-Salem, NC
Atrium Health Wake Forest Baptist Medical Center – Winston-Salem, NC
Cardiology Fellowship – Carilion Clinic – Roanoke, VA
Carolinas Hospitalist Group – Atrium Health Cleveland – Shelby, NC
Epidemic Intelligence Service Fellowship – CDC – Atlanta, GA
Novant Medical Center – Winston-Salem, NC
Oregon Health Services – Portland, OR
Pulmonology/Critical Care Fellowship – Wake Forest – Winston-Salem, NC
2022
Wake Forest Baptist Internal Medicine Chief Resident
Endocrine Fellowship – University of Virginia – Charlottesville, VA
2021
UNC Rex Hospital – Raleigh, NC
Wake Forest Baptist Medical Center – Winston-Salem, NC
Carilion Roanoke Memorial Hospital – Roanoke, VA
Novant Medical Center – Winston–Salem, NC
Ascension St Thomas West Hospital – Nashville, TN
Tufts Medical Center – Boston, MA
Wake Forest Baptist Internal Medicine Chief Resident
2020
Boone Medical Center – Colombia, MO
Novant Medical Center – Winston-Salem, NC