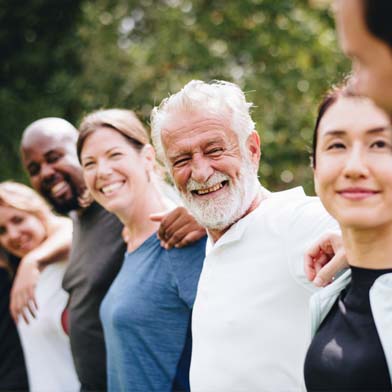 The Wake Forest Comprehensive Cancer Center continues to conduct research that will provide our patients with novel approaches to treating cancer, as well as address the needs of our survivors and the community. OCHE strives to support this research through various projects and initiatives within and throughout the catchment area.
Rural Survivorship naVigation Program (RSVP)
The purpose of the RSVP is a mixed methods study with community providers and survivors to gain insight into cancer care delivery for survivors living in Alleghany, Ashe, Avery, Mitchell, Watauga, and Wilkes counties through expanded research and engagement. The Comprehensive Cancer Center will leverage its scientific expertise in cancer control, survivorship care, rural populations and cancer disparities to expand community capacity building in cancer control. This ultimately allows us to address these gaps by identifying areas of support that can be bolstered by a population health navigator focused on rural populations. RSVP allows the Comprehensive Cancer Center to build community capacity for cancer control by developing collaborations with community stakeholders and regional medical providers.
A Continuing Medical Education (CME) series was initiated in 2019 for primary care teams with a focus in rural areas. Topics include late and long-term side effects, surveillance, management of co-morbidities, and regional resources to enhance care coordination between oncologists and primary care providers.
If interested in participating in a CME series, please reach out to cancerequity@wakehealth.edu for more information.
---
Advocates For Research In Medicine (ARM)
The Advocates in Research and Medicine (ARM) Program was designed to ensure ongoing patient-focused research at the Comprehensive Cancer Center and is the first formal research advocate program at Atrium Health Wake Forest Baptist. Advocates are volunteers who have a personal experience with cancer, as a survivor, caregiver, or high-risk individual. Volunteers are trained to work with researchers to advise, review, and implement cancer research projects and disseminate information about these research efforts. Multidisciplinary training topics include: Cancer 101, Research 101, The Role of the Advocate, Clinical Trials, Health Equity, among others. The ARM Program not only promotes the improvement of research to meet the needs and demands of those living with cancer, but also enhances community trust in the ethics and efficacy of the Comprehensive Cancer Center research programs.

If you or someone you know are interested in learning more about ARM, please email cancerequity@wakehealth.edu
---
Bidirectional Research: Involving Diverse Groups through Engagement (BRIDGE)
NCI Designated Comprehensive Cancer Center
The Office of Cancer Health Equity (OCHE) was awarded a one-year Administrative Supplement to the NCI Cancer Center Support Grant entitled Bidirectional Research: Involving Diverse Groups through Engagement (BRIDGE). BRIDGE partnered with the Cancer Genetics and Metabolism scientific program to implement a bidirectional communication strategy with underserved communities in the catchment area. This included the development of an annual three-part symposium designed to improve community capacity to engage with basic scientists via tailored educational programming.
We are treating patients based on data derived from patients that are not like them
Diversity gap in clinical trials leads to sub-optimal development of new medicines
Gap further exacerbates health disparities in outcomes among racial and cultural groups
Only 2% of cancer studies have sufficient minorities to provide useful information in these populations
---
mPATH-CRC
mPATH-CRC is an innovative iPad app that patients use before a primary care medical visit to help them receive colorectal cancer screening, a widely recommended test that decreases mortality. mPath and other technology-based programs in community-based primary care practices are being developed to increase the use of life- saving screening tests and improve the delivery of medical care.