Ebony Boulware, MD, MPH, is Dean of Wake Forest University School of Medicine, Chief Science Officer of Atrium Health and Vice Chief Academic Officer of Advocate Heath, and is at the forefront of integrating the School of Medicine's second campus in Charlotte. Boulware will work toward curating the educational and research collaborations across the Winston-Salem and Charlotte campuses; which will create a unique ecosystem as the academic core of one of the largest academic learning health systems in the country.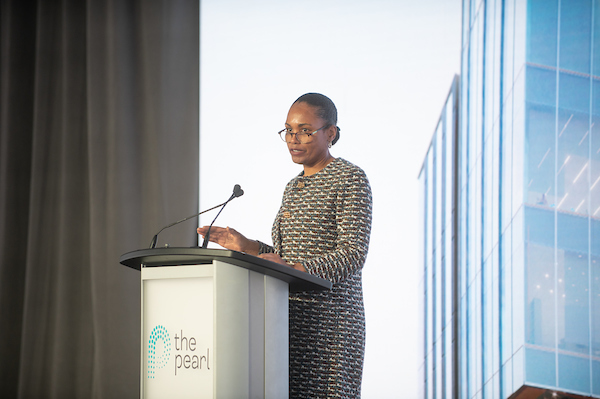 Boulware – whose parents were both physicians – grew up discussing the importance of social justice and health equity around the dinner table. Her parents cared for patients from diverse and historically underserved backgrounds which offered Boulware the opportunity to witness firsthand the significance of cultivating and maintaining excellence for all individuals.

With this awareness and passion instilled in her, she pursued a career heavily focused in clinical and epidemiological research, a pathway which allowed her to merge her desire to address racial, ethnic, and socioeconomic inequities in health. Boulware's research – which has been continuously funded by the National Institutes of Health, the Patient Centered Outcomes Research Institute and other organizations – has focused on uncovering how patients, health care providers, health care systems, and community contexts impact the quality of how health care patients receive their care.

Boulware has published more than 200 manuscripts, book chapters and editorials and has mentored numerous students, residents, fellows and faculty members. She is an elected member of the American Society for Clinical Investigation, the National Academy of Medicine and the American Academy of Arts and Sciences. She is also a mother who enjoys reading, exercising and meditating.
Get to know her in her own words.
What's a fact about yourself that most people are surprised to learn?
I am an introvert! While I love meeting, learning, and collaborating with others, I also enjoy quiet moments to recharge my batteries. I have learned that self-care and getting the right amount of 'down time' really helps me feel resilient and excited about the many exciting opportunities ahead of us.
What would you go back and tell yourself as a medical student?
I would tell myself to consider how I might change the world through my actions. As medical professionals, we have the power to leave an indelible impact on individuals and the organizations and communities in which we care for and work. This impact can happen by the interactions we have with patients and their families, the research we do to improve health, and the messages we impart to our peers and individuals who are learning from us.
One of the most special aspects of practicing medicine is the potential to have an imprint in all of these arenas, which makes our roles in society very special.
Tell us about your background. What's your experience and how did you get into the field?
I grew up in Cleveland, Ohio, and I am the daughter of two physicians – a general internist (my father) and a child and family psychiatrist (my mother). So I think it felt fairly natural for me to pursue a career in medicine. While I was growing up, both of my parents cared for patients from diverse and historically underserved backgrounds. My parents were superb physician role models. I witnessed firsthand how they cultivated and maintained excellence as they cared for individuals from all walks of life through extreme dedication and compassion. They were pillars within our community throughout my time growing up, and I derived significant pride from witnessing their impact on many individuals and families.
My parents have always been committed to social justice and equity as core values, and these topics were often a common source of conversation around our dinner table growing up. Thus, in many ways, my path was heavily influenced by my upbringing. My pathway diverged from my parents when I pursued a career heavily grounded in clinical and epidemiological research – a direction which allowed me to merge my desire to address racial, ethnic, and socioeconomic inequities in health with my passion for inquiry and learning.
I have spent the majority of my research career studying how to improve health equity by understanding how inequities arise at the levels of patients, health care providers, health care systems, and within communities. I have been gratified to draw insights from patients, health care providers, and diverse community stakeholders to develop and study new interventions to improve health and health equity.
We'll have two campuses in the next few years, what excites you most about that?
Our expansion to Charlotte will train a new generation of talented medical professionals who will extend our goals to improve health for all throughout a much broader region of North Carolina, the southeastern U.S. and beyond.
As we support and build on the success of our outstanding programs in Winston-Salem, I am thrilled to break ground on our new educational center in Charlotte, which will feature innovative classrooms and technology to support problem-based learning curriculum. I am also excited to expand learning opportunities across two outstanding academic teaching clinical centers, which will provide our students with unparalleled opportunities to learn clinical medicine from educators practicing medicine in a broad range of disciplines and settings.
Our two campuses will be linked to both Winston-Salem's Innovation Quarter and Charlotte's innovation district called The Pearl, which will cultivate a 'corridor' of innovation that will fuel the vitality of our entire region. The educational and research synergies we build across two campuses will form a powerful engine to fuel our excellence as the academic core of one of the largest academic learning health systems in the nation.
How would you like to advance your work in health equity while at the School of Medicine?
I'd like to ensure concepts of health and health equity form a cornerstone for everything we do. Health is a holistic concept describing state of complete physical, mental and social well-being. Health equity is achieved when everyone can attain their full potential for health and well-being. Traditionally, medicine has been almost exclusively focused on how we treat illnesses, often with an eye focused on targeting specific mechanisms that do not account for individuals' personal contexts (i.e., how they work, play, and live).
Of course, it is critically important that we help people when they need us to treat problems. Medicine has evolved to provide a remarkable number of lifesaving treatments. Yet, these advances have often not reached all members of our society equitably, often because they do not take individuals' personal or community contexts into account. This slows progress for our society as a whole. We are now entering a new era of medicine in which the principles of health and health equity are widely viewed as fundamental goals.
Our school will reach new heights of achievement and impact as we infuse these principles throughout our education, research, and care as we seek to improve health for all.
How do you hope to advance translational science at the School of Medicine?
One of our most important missions as a school of medicine is to advance health and health equity through discovery. The process of 'translation' refers to how we convert the knowledge we learn from scientific discoveries into tangible vehicles that improve the health of individuals and our communities in the real world. Across the U.S. and globally, it can take over 15 to 20 years for many of our proven discoveries to fully benefit the public. Even when discoveries do reach the public, they are often not delivered equitably among individuals or across diverse communities.
Wake Forest University School of Medicine is home to numerous outstanding scientific research programs which continually generate groundbreaking discoveries relevant to all aspects of health. We are also the academic core of one of the largest, multi-regional health care systems in the nation which is dedicated to improving health for everyone. As Dean, I aim to cultivate our scientific strengths to address the most pressing health needs of our region and our nation. I also hope to promote collaborative multi-disciplinary programs and build scientific capabilities that will create pathways through which our discoveries can be rapidly translated to improve the health of individuals and our communities.
What would you most like to accomplish in your role across the larger system?
I believe our growing system will serve as a national model demonstrating how health and health equity can be achieved at scale through an academic learning health system that embraces exemplary education, innovative research, and outstanding care for all individuals.
As Dean and Chief Science Officer, I will work with colleagues across our system to make this vision a reality by building on our school's strengths through pioneering programs that integrate our multi-campus education and research platforms with our large clinical delivery system and regional innovation engines, while reinforcing principles of equity throughout everything that we do.
Why is mentorship important to you and how can a student, or someone early in their career, connect with a potential mentor?
Over the years, I have been fortunate to have a number of dedicated mentors who have helped me build my expertise, guided me through critical career transitions, and supported me through career-defining decisions. These mentors have been pivotal to my success – especially early in my career.
I have tried to 'pay this forward' by mentoring others. Supporting others as they develop their own careers has brought me tremendous joy and pride. Providing excellent mentorship is a core value in academic medicine. I would recommend that students, or others early in their careers, actively seek out mentors who may have the type of career they aspire to, or who they admire.
Reaching out can mean emailing or calling someone, meeting with them, and expressing an interest in being mentored. In most cases, potential mentors are excited to work with avid potential mentees or to connect them to others with similar interests. Establishing a great team of mentors, who can provide different types of advice, can be particularly effective. For instance, one mentor might help someone cultivate their research skills while another might help that same person navigate new career opportunities.
How does your research improve clinical care?
My research has focused on uncovering how patients, health care providers, health care systems, and community contexts impact the quality of how health care patients receive their health care. Much of my research has been devoted to addressing gaps in clinical care that contribute to racial and socioeconomic inequity in clinical care and health outcomes. In many studies, I have used the perspectives of patients and health care providers on these gaps in care to develop interventions designed to improve health care quality and health equity.
What's the most exciting research you've worked on?
I'd say all of my research has been exciting; however, I think my most gratifying research has been comprised of studies in which I have directly engaged patients and community members in the design and conduct of research. In these studies, I have worked side-by-side with patients and community members to develop study questions, design interventions, write grant proposals, conduct trials and report findings.
I have found that involving patients and community members in my work to such a high degree has infused incredible inspiration into my research, because people who experience the conditions I am trying to improve are directly involved in developing and testing the solutions. I am quite frequently overwhelmed with gratitude when I work with these dedicated individuals who remind me why it is so important to strive to improve health and health care for all people.
What are some of your hobbies or interests outside of work?
I focus most of my time outside of work with family and supporting my teenage kids. When I do get some 'down time', I find myself exercising, meditating, and reading – things that recharge my batteries.