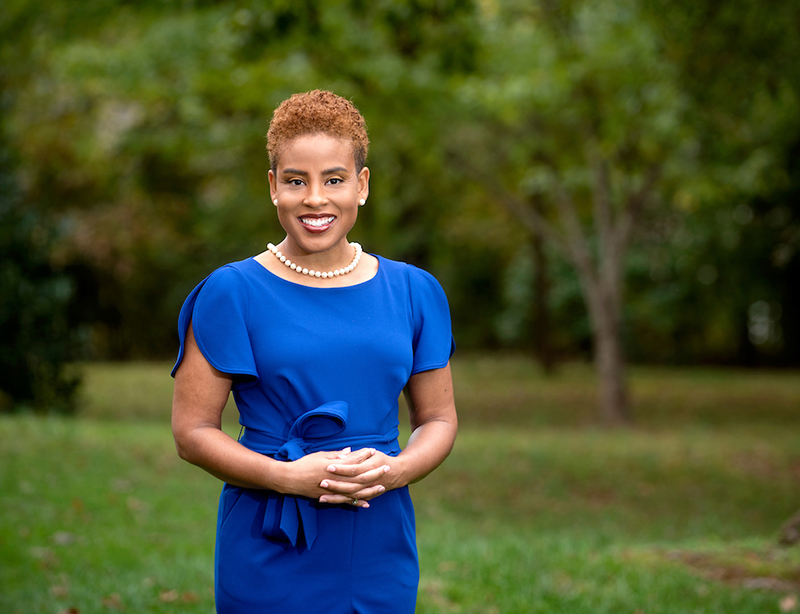 A self-proclaimed foodie and distance cyclist who traded her roots in the Windy City for the charms of Winston-Salem, Amber K. Brooks, MD, is driven by her desire to give equal access to health care and education. She spends her time working on all fronts to improve health outcomes for racial and ethnic minorities and underserved populations.
Brooks, associate professor in Anesthesiology at Wake Forest School of Medicine, spent the early years of her career focusing on Anesthesiology, but wanted more continuity of care with her patients.
"Many with chronic pain are also, unfortunately affected, by mental health illness and substance abuse disorders, irrespective of socioeconomic and demographic background," Brooks says. "My goal is to remove the shame and treat them holistically."
Brooks wears many hats between her clinical role at Wake Forest Baptist Health and her faculty role at the School of Medicine. On Mondays and Tuesdays, she works in the pain management clinic providing patients with medical care and education about healthy pain medicine alternatives, particularly older adults with chronic pain. On Wednesdays she provides educational guidance at the School of Medicine as the newly minted justice thread director, which allows her to work with medical school leaders and students to enhance the curriculum and highlight issues around health equity. On Thursdays and Fridays, she immerses herself in clinical research around pain measurement, geriatrics, health disparities and chronic pain.
Her new role inspires her with hope for the future, thanks to the amazing students helping lead diverse curriculum discussions. She is also a mentor with the Kennedy-Hopkins Scholars mentor program and the Twin City Medical Society, which is a local chapter of the National Medical Association. Both organizations focus on providing mentorship, education and health equity for African Americans and other underrepresented minority groups.
Brooks regularly engages in community awareness about equity in pain treatment and access to health care. In her free time, she and three African American female physician colleagues formed the C4PE MD, which leverages social media to meet people where they are and provide tools for a healthier life.
"Our mission is to reduce health care disparities in women and communities of color and deliver pertinent health information in a transparent format that helps women in their wellness journey, empowering them to take action," Brooks says.
Brooks was also integral in arranging for U.S. Surgeon General Vice Admiral (VADM) Jerome M. Adams, MD, MPH, a fellow anesthesiologist, to speak at Wake Forest Baptist about the impact of the opioid epidemic and the need for healthy pain management treatments for everyone.
It's these opportunities for impactful community engagement that brought her to the School of Medicine. Brooks and her husband are avid cyclists, a pastime that exposes her to the beautiful rural communities across North Carolina that, in part, inspire her work to provide equal access to care. Originally from Chicago, she loves living in Winston-Salem so she can enjoy all four distinct seasons with access to the coast and mountains. The size of the city means no long commutes, which allows her to spend more time with her two young daughters.