ACS Honors: Freischlag Succeeds Meredith as President, Both Join Academy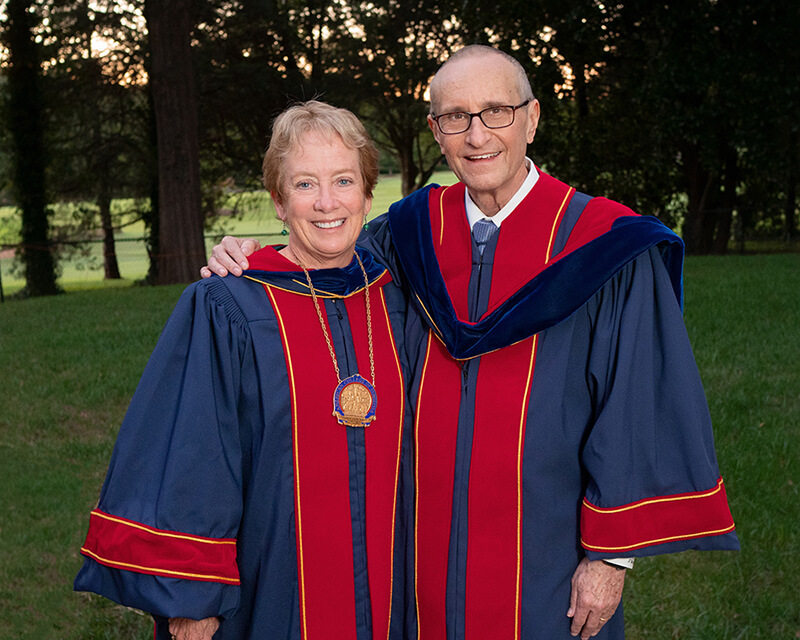 Julie Ann Freischlag, MD, FACS, FRCSEd(Hon), DFSVS, dean of Wake Forest University School of Medicine, chief executive officer of Atrium Health Wake Forest Baptist and chief academic officer of Atrium Health Enterprise, has begun her one- year term as the 102nd president of the American College of Surgeons (ACS).
Freischlag assumed office in October 2021 during a virtual convocation ceremony. She succeeds J. Wayne Meredith, MD '78, FACS, MCCM, the Richard T. Myers Professor and chair of general surgery, as ACS president. Her installation is the first time in ACS' 108-year history that two surgeons from the same institution have served back-to-back as president.
Also in October, both Freischlag and Meredith were admitted as members of the ACS Academy of Master Surgeon Educators. Joining them was Gabriela A. Velazquez, MD, associate professor of vascular and endovascular surgery with the School of Medicine. They were among 84 esteemed surgeon educators (34 members, 44 associate members and six affiliate members) who joined during the fourth induction ceremony, which brought the academy's total membership to 302.
Developed by the ACS Division of Education, the academy recognizes surgeon educators who have devoted their careers to surgical education. Individuals are selected as members, associate members or affiliate members following stringent peer review. Academy membership comes with a commitment to identify, recognize and recruit innovators and thought leaders committed to advancing lifelong surgical education; translate innovation into actions; offer mentorship to surgeon educators; foster exchange of creative ideas; disseminate advances in surgical education; and positively impact the quality of surgical care and patient safety.