Charles L. Kennedy, MD, House Staff '67
Charlie Kennedy, MD, House Staff '67, the first African American to complete his medical residency at what was then known as North Carolina Baptist Hospital and the first Black pediatrician in Winston-Salem, serving East Winston, died Aug. 29, 2021, at Atrium Health Wake Forest Baptist. He was 88.
Kennedy's legacy includes his service as a mentor to others, including Larry Hopkins, MD '77, who passed away in 2020. The Kennedy-Hopkins Scholars Mentor Program was named in their honor. The program is dedicated to improving the experience of underrepresented minority residents and fellows of the School of Medicine through mentoring relationships.
A native of Charlotte and a veteran of the U.S. Air Force, Kennedy graduated from Johnson C. Smith University and earned his medical degree from Meharry Medical College in Nashville, Tenn. He completed his internship at Kate Bitting Reynolds Memorial Hospital and his pediatric residency at North Carolina Baptist Hospital.
In 1967, he opened a pediatrics practice in east Winston- Salem, and for 20 of his 40 years practicing medicine, he was the city's only Black pediatrician. He was also the first African American chief of pediatrics at Forsyth Medical Center. He later sold his practice to Wake Forest Baptist and retired in 2009.
Kennedy received numerous local, state and national awards. He was a member of the Omega Psi Phi Fraternity, Sigma Pi Phi (The Boule) and the Bachelor Benedict Club. He and his wife, Willie, were also credited with helping to raise more than $2 million for the United Negro College Fund by hosting fundraisers at their home.
Survivors include his wife of 58 years, Willie Mae Kennedy, RN, MS, JD; a daughter, a son and a host of extended family members.
Memorial gifts to support the Kennedy-Hopkins Scholars Mentor program may be made online to the Charlie L. Kennedy, MD-Lawrence D. Hopkins, MD Endowed Fund for Graduate Medical Education at School.WakeHealth.edu/Giving or by mailing a check payable to Wake Forest University School of Medicine to the Office of Philanthropy and Alumni Relations, PO Box 571021, Winston-Salem, NC 27157-1021.
---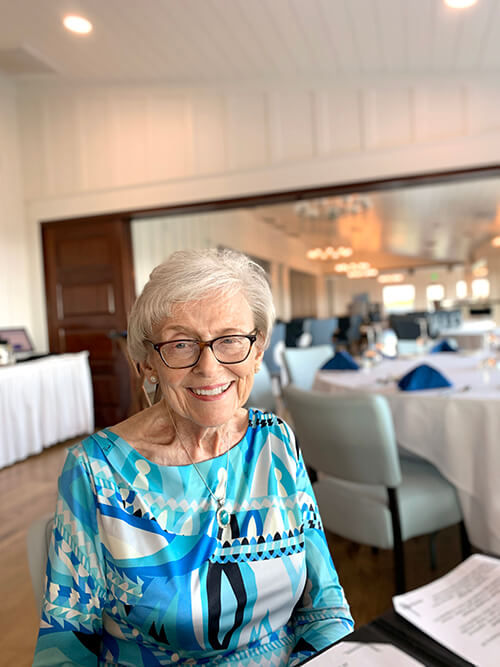 Gloria F. Graham, MD '61
Gloria Graham, MD '61, a global pioneer in cryosurgery who was honored as the 2015 North Carolina Doctor of the Year, died Sept. 30, 2021, at her home in Pine Knoll Shores, N.C., at age 86.
A native of Pilot Mountain, N.C., Graham followed her father, grandfather and half-brother, who were all physicians, and her mother, who was a nurse, into medicine. She graduated magna cum laude from Wake Forest College in 1957 and earned her MD from Bowman Gray as one of only six women in the MD Class of 1961. She completed an internship at Vanderbilt University, where she was the only female intern in the hospital, and a residency at the University of Virginia.
She and her first husband, Douglas Graham, started the Wilson Dermatology Clinic in 1966, and in 1967, she co-founded the Country Doctor Museum in Bailey, N.C., dedicated to the history of America's rural health care workers, like her grandfather and father, that is considered the oldest of its kind in the country.
Early in her career, she took a special interest in cryosurgery, becoming one of the field's pioneers. She lectured on the subject around the world, was one of the founders of the American College of Cryosurgery and served as vice president of the International Society of Cryosurgery. She wrote more than 100 publications and two books on cryosurgery.
In addition to serving on the attending faculty at Wake Forest Baptist Medical Center, she also served on the faculty of the University of North Carolina at Chapel Hill and Duke University. She held more than 100 professional appointments and in 1973 was one of a group of women who established the Women's Dermatologic Society. She served Wake Forest University as a member of its Board of Trustees and Board of Visitors and was a member of the Wake Forest Baptist Medical Center Board.
She married a second time in 1989 to James Graham, MD, a dermatopathologist. They moved to Pine Knoll Shores in the mid 1990s and practiced medicine together until he passed away in 2012.
In addition to her N.C. Doctor of the Year Award, other honors included the Rose Hirschler Award from the Women's Dermatologic Society in 2001, the Everett C. Fox, MD, Memorial Lectureship Award from the American Academy of Dermatology in 2003 and the Wake Forest Medical Alumni Association's Distinguished Achievement Award, which she shared with her husband, Dr. James Graham, in 2007.
Survivors include one son, three stepchildren, two grandchildren, and numerous step-grandchildren and step-great grandchildren.
---
James F. Toole, MD
James Toole, MD, professor emeritus who served as chair of neurology from 1962 to 1983, died peacefully at home on Sept. 12, 2021, surrounded by his wife of 69 years, Patricia, and his four children. He was 96.
His family described Toole as possessing a mischievous wit with a dedication to professional care that touched tens of thousands. He taught students from around the globe, and he treated North Carolina citizens, celebrities, titans of industry and royalty with equal insight and little fanfare.
Toole enlisted in the Navy during World War II and was educated at Princeton University and Cornell Medical College. He later studied tropical medicine in Cuba, earned a master's in law from LaSalle University, and served as both a flight surgeon on an aircraft carrier and as a forward MASH officer during the Korean War in 1951. In Korea, he earned the Bronze Star with a V for valor, helping lead his surrounded battalion through enemy lines under heavy fire.
He joined the School of Medicine faculty in 1962 and soon after was named the Walter C. Teagle Endowed Chair in Neurology, a title he retained for the rest of his career. Under Toole's leadership as chair, the Department of Neurology developed an international reputation for exceptional medical care. In 1967, he wrote and published what has become known as Toole's Cerebrovascular Disorders, the first and still primary textbook on the subject throughout the world, and he was the founding director of one of the first stroke centers in the country.
Toole led the first ethics committee of the American Heart Association, and he initiated groundbreaking work to determine when death occurs and how to assure informed consent during randomized trials. That work resulted in laws concluding death occurs when the brain ceases to function even when the heart continues to beat, as well as rules that continue to guide the study of new treatments and COVID-19 vaccines. His professional activities also included serving as president of the World Federation of Neurology, the International Stroke Society, the Academy of Neurology and the American Neurological Association.
Additionally, Toole worked to develop protocols to identify presidential impairment while balancing public disclosure with patient confidentiality, resulting in guidelines adopted by the Clinton administration.
Survivors include his wife, a brother, four children, 10 grandchildren and four great-grandchildren.
Donations in Toole's honor may be made to the James F. and Patricia W. Toole Stroke Research Fund. Gifts can be made online at School.WakeHealth.edu/Giving or by mailing a check payable to Atrium Health Wake Forest Baptist to the Office of Philanthropy and Alumni Relations, PO Box 571021, Winston-Salem, NC 27157-1021.