Alumni, Family and Friends Fulfill Vision for Raben Professorship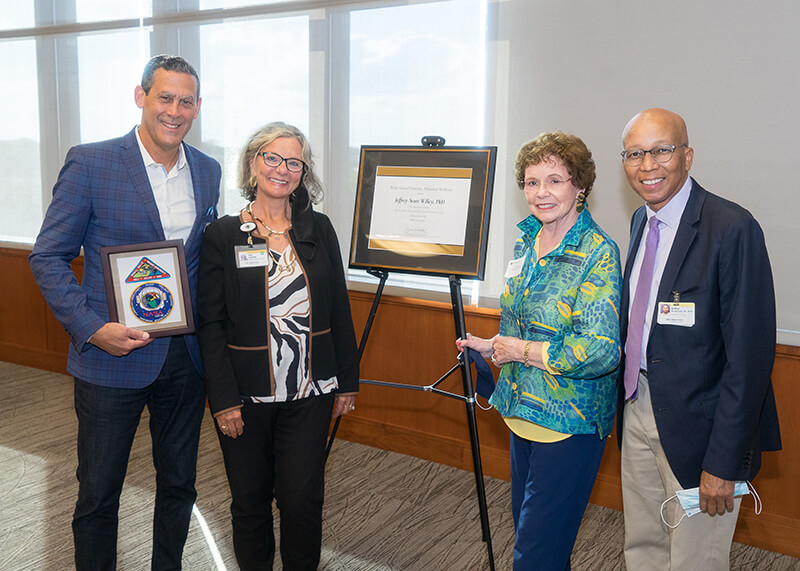 With the support of residents, faculty, family and friends, the Milton Raben Professorship in Radiation Oncology is now endowed.
Twenty-seven former residents of Milton Raben, MD, came together to honor their mentor, who died in August 2021. The group included Carolyn R. Ferree, MD '70, House Staff '74, professor emeritus of radiation oncology, who was the first resident to train under Raben.
Raben's son, David Raben, MD '89, was among those who spoke at an investiture ceremony in May, when Jeffrey Willey, PhD, was named the inaugural Milton Raben, MD, Professor in Radiation Oncology.
Willey joined the school's faculty in 2012 after completing a translational radiation oncology fellowship with funding from the National Cancer Institute, and in 2021, he was promoted to section head of radiation biology. His research program has received funding from NASA and the National Institutes of Health and is focused on preventing musculoskeletal toxicity from radiation therapy. He is dedicated to radiation biology research and to educational training for medical and graduate students, residents and radiation oncologists.
Milton Raben was professor emeritus of radiologic sciences-radiation oncology who served as the first head of the section on radiation therapy and later the first chair of the Department of Radiation Oncology at Wake Forest University School of Medicine. He served on the faculty from 1970 to 1996 and was known for placing people and the quality of their care first.