Wake Forest University School of Medicine is a robust research engine, ranked in the top 50 in the United States in U.S. News & World Report, with over $300 million in annual research funding. The school's faculty are among the most productive researchers in the country.
According to Kristie Long Foley, PhD, MS, senior associate dean for research (interim) with the School of Medicine, "Our school is home to extraordinary faculty who lead research, nationally and internationally, in areas such as aging, Alzheimer's disease, cardiovascular disease, diabetes, cancer, neurosciences and regenerative medicine. Our Research Plan for Excellence allows us to build on our great foundation and grow."
As Foley explains, it's not the quality of research but the quantity that's the concern.
"The challenge we face right now is that we simply don't have enough research-intensive faculty. Our goal is to significantly increase our research base in key areas," said Foley, who is also professor and chair of the Department of Implementation Science with the school.
Growing the faculty footprint is one of the top priorities of the Research Plan for Excellence. The plan was created with input from more than 115 faculty at the medical school through a steering committee led by Gregory Burke, MD, MSc, former senior associate dean for research and longtime professor of Public Health Sciences within the School of Medicine.
The plan identifies seven main research focus areas where expansion will occur, with the overarching goal to ensure that research covers the entire lifespan – from pediatrics to older adults – and focuses on health equity, addressing health disparities and social determinants of health in our communities.
These areas build on existing strengths of researchers based in Winston-Salem and new teammates from Atrium Health, an enterprise with headquarters in Charlotte, where a second School of Medicine campus is being built.
Working together, the medical school and Atrium Health are creating a single research infrastructure to expand biomedical research activities across the enterprise. It means creation of a single Institutional Review Board for research projects, a single system for handling research finances and a consolidated approach to support research faculty.
The plan will allow the school to achieve its overarching goal of improving the health of patients and communities while continuing to increase national recognition, and serving as a pre-eminent academic learning health system. The school's commitment to discovery and innovation that translates into improvements in clinical care and population health is central to the mission and implementation of the Research Plan for Excellence.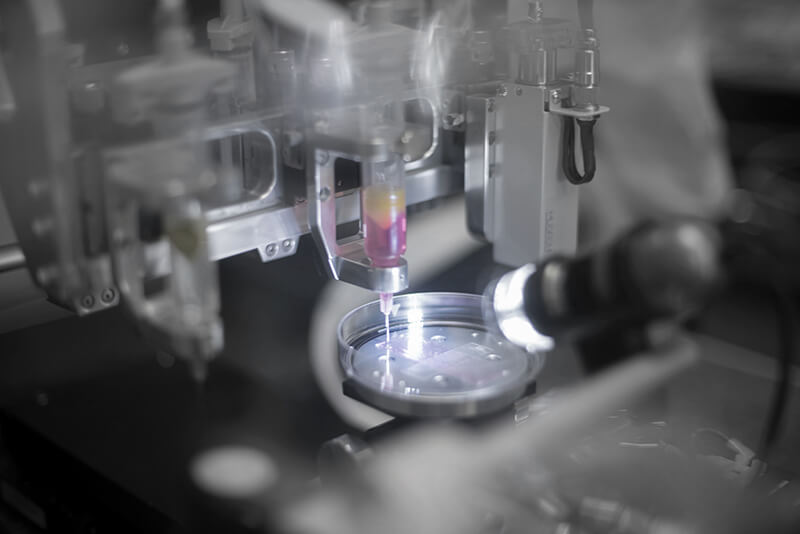 To fully realize this vision, investments are needed. Foley said approximately $70 million in institutional investments have been made by the school and Atrium Health. This initial robust investment will support hiring approximately 40 new faculty in the focus areas, along with expansion of other research domains. However, this initial funding alone will not be enough to reach planned goals.
"We will need to more than double the investment that we have right now," Foley said. "We simply need more faculty engaged in translational research to realize our commitment as a premier, nationally prominent academic learning health system. Our research is heavily integrated and connected to our health system and the care we provide. They are integrally connected and additional investment will drive improvements in health and health care delivery."
Lisa Marshall, chief philanthropy officer for Wake Forest University School of Medicine and Atrium Health Wake Forest Baptist, shared the importance and impact of philanthropic gifts to research.
"As part of our Research Plan for Excellence, we want to lead research that is relevant and important to the needs of our patients, families and communities," Marshall said. "Many donors feel a passion to make a difference in health care of the future, and our research programs, coupled with our focus on implementation science, do just that. The research we are advancing has national and international impact, and the support of donors across the country is instrumental in making it happen."
Aging and Alzheimer's Research: A Model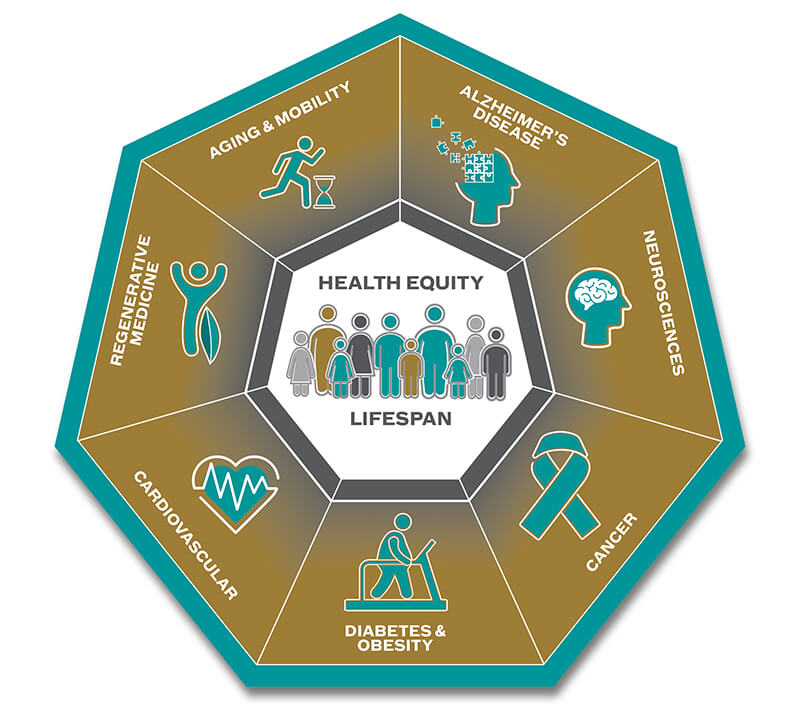 Medical school leaders have examples of success to follow, such as the school's work in aging and Alzheimer's disease.
The school ranks among the top 15 national centers in aging research funding from the NIH. With one of the largest geriatrics and gerontology faculties in the country, the school serves as the coordinating center for many nationally prominent aging research trials and NIH research centers focused on improving health in older adults. The school's designation as an NIH-funded Claude Pepper Older Americans Independence Center has been in place since 1990 – among the longest-held such designations in the country.
The School of Medicine also is one of the few in the country that has an NIH Alzheimer's Disease Research Center that's co-located with a Pepper Center, with both housed within the Department of Internal Medicine.
"Aging can be considered a highly successful model," Foley said. "One of the unique features of our work in aging has been some key, senior-level faculty recruits that gave us a complete package of investigator strength and strong strategic alignment. Faculty who were already leaders in their field came in to round out a portfolio of research and contribute to an overarching vision for transforming care of older adults. That type of recruitment then led to the subsequent centers that have become not only nationally but internationally known. This is also true of our Institute for Regenerative Medicine."
Foley said neurosciences and implementation science are examples of areas that could follow that model.
"We are the first institution in the country to create a Department of Implementation Science," said Foley, who is also professor and chair of that department. "Implementation science is important in an academic learning health system because it provides the methodological and theoretical skill set to inform how you translate research evidence into practice in large and often complex health care settings. Growth in that area is well aligned."
What's needed for other research areas to follow the successes in aging, Alzheimer's disease and regenerative medicine are continued philanthropic investments. Additional investments are needed to recruit internationally recognized scientists, for seed funding of early- stage research, scholarships that allow students to engage in research projects, hiring of staff who support researchers and the research mission, and other infrastructure.
"For example, we're going to need funding to create a centralized clinical research unit in Charlotte that doesn't currently exist," Foley said. The school's research leaders operate a clinical research unit in the Sticht Center for Healthy Aging in Winston-Salem that provides valuable space, tools and staffing to support clinical trials. Expanding this type of resource to the Charlotte region is critical infrastructure needed to support a growing research portfolio.
Providing research opportunities for learners at all levels is also vitally important to an academic learning health system.
"That includes pipeline programs for high school students and undergraduates, as well as our medical students, graduate students, residents and fellows," Foley said. "Having a robust faculty leading extramural research provides great opportunities for our students to serve as members of research teams."