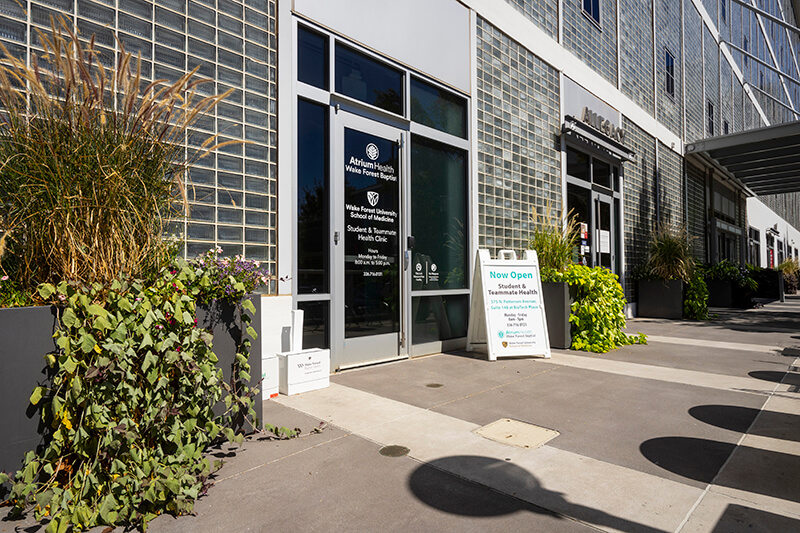 Medical school can be stressful, affecting both physical and mental health. Wake Forest University School of Medicine is addressing these concerns through two new initiatives.
Partnering with employee health services, the school now offers a Student and Teammate Health Clinic near the medical school campus in downtown Winston-Salem's Innovation Quarter. The school also has launched a new Center for Personal and Professional Development to help guide and support students, residents and medical professionals in developing virtues to shape their lives and work.
Student and Teammate Health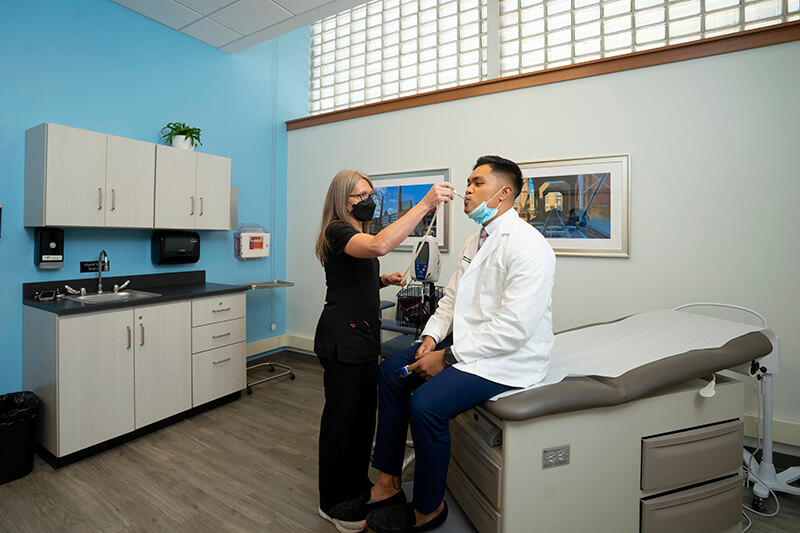 The Student and Teammate Health Clinic, located in Wake Forest Biotech Place, is not a substitute for primary care, but offers medical evaluation and treatment for common acute conditions and referrals for ongoing medical needs.
Services include:
Screening and preventive care
Management of student immunization and health requirements
Mental health care evaluation, triage and navigation to appropriate care
Collaboration with Counseling and Well-being Services and other support teams to educate students about well-being
Virtual health is offered weekdays 8 a.m. to 5 p.m. There are no co-pays. Appointments are not required, and walk-ins are welcome.
Marcia Wofford, MD, House Staff '88, associate dean for student affairs, said the goal is to provide an easy-to-use resource for students who may wake up one morning, not feel well and not know where to turn. "Students will have somebody to call who can respond quickly and give advice about whether to come to the clinic, go to urgent care or go to the emergency room," Wofford said. "The service is in collaboration with employee health through the medical center, with a dedicated branch clinic in Biotech Place."
The school also has a nurse case manager to help students navigate their care needs.
"A lot of our students haven't used their health insurance before," Wofford said. "We want to help them find the resources to support their health care needs."
The emphasis on well-being is where the new approach to student health intersects with the new Center for Personal and Professional Development.
"We'll engage the student health team and the counseling and well-being team to provide anticipatory guidance as students prepare for those significant, anxiety-provoking big tests that could impact their career," Wofford said.
Center for Personal and Professional Development
The new center acts as a hub for student support services and aims to produce more holistic medical professionals who will impact future systems of health care and improve patient outcomes. Beginning with the MD Class of 2026, the center will provide individual and small-group coaching focused on nurturing the growth and development of students.
The Kern Family Foundation awarded Wake Forest University an $8.6 million grant to develop programs that put character at the center of preparing students for work in the professions. The grant will expand the work of the university's Program for Leadership and Character to equip future leaders in medicine, law, engineering and other professions to think in holistic ways about their values and work.
For the medical school, the grant is creating the Center for Personal and Professional Development. In guiding students, the center embraces five character strengths: compassion, curiosity, intellectual humility, respect for diversity, and collaboration; and four pillars: academic success, well-being, career exploration, and culture and community.
"This opportunity to transform medical education and shape our curriculum at our existing medical education programs in Winston-Salem could not come at a more perfect time as we look to extend our School of Medicine to Charlotte," said Julie Ann Freischlag, MD, FACS, FRCSEd(Hon), DFSVS, dean of the medical school, chief executive officer of Atrium Health Wake Forest Baptist and chief academic officer of Atrium Health. "Intentionally combining compassion, empathy and resilience, and a love of science and discovery, into the learning experience will benefit our students and the future health of our communities."
The grant will provide resources for the medical school to:
Create a comprehensive program to coach and mentor medical students
Provide new character-oriented professional development opportunities for physicians and other medical professionals in Winston-Salem and Charlotte
Better integrate leadership and character into the medical school curriculum
Center leaders plan to gradually expand services to include students across all of the school's educational programs in addition to the planned Charlotte campus.
"We have had an emphasis on recruiting a more diverse student body," Wofford said, "and with that comes a need for a more diverse support system."
The current grant will cover about half of the center's total cost, but philanthropic gifts could help create a sustainable model, according to Terri Yates, PhD, vice president and associate dean for healthcare education.
The goal is to graduate healthier students to care for patients in the future, or as Yates said, "A healthy, well-balanced student today translates into a healthy, well-balanced physician in the future."