Medical Alumni Association
2022 Distinguished Achievement Award
This award is presented to alumni who have distinguished themselves in the medical profession through patient care, research and leadership.
John R. Nelson III, MD '85, MHM
Nelson is one of the principal founders and architects of the specialty of hospital medicine (hospitalists) and remains a national leader in the field.
Upon completing internal medicine residency training in 1988, he became one of the nation's very early hospitalists and practiced full-time patient care in Gainesville, Fla., before relocating to Bellevue, Wash., in 2000.
In 1997, he partnered with another hospitalist to establish the Society of Hospital Medicine (formerly the National Association of Inpatient Physicians). Nelson and his co-founder originally managed the society from their homes, including organizing its first in-person conference and creating its publication, The Hospitalist. He served terms as founding co-president and board member and has maintained leadership roles in SHM, which has grown to annual meetings of nearly 5,000 attendees and publication circulation of more than 30,000. In 2010, he was one of the first three hospitalists to be honored with the distinction of Master in Hospital Medicine, SHM's highest honor.
In promoting the field of hospital medicine, Nelson has worked on-site as a consultant at more than 300 institutions nationwide to help start new hospitalist programs or improve existing ones. He has consulted in everything from critical-access hospitals to large organizations such as Cedars Sinai, University of California San Diego, Ohio State University and others.
Nelson also has been invited to present grand rounds and to serve as invited conference faculty at many conferences and medical centers nationally and internationally. He has authored or co-authored numerous publications, including books on hospitalist program management, chapters in hospital medicine textbooks and peer-reviewed journals such as JAMA, and he has been quoted numerous times by national media outlets such as The New York Times and The Wall Street Journal as well as many local newspapers.
At Overlake Medical Center in Bellevue, Wash., Nelson has served terms as chief of medicine and chief of staff, worked as hospitalist group leader for 16 years and started the hospital's palliative care service and other programs. He currently chairs the hospital committee dedicated to provider well-being and burnout prevention.
Nelson's late father, John R. Nelson Jr., MD '55, completed his residency at Wake Forest Baptist in 1962. Nelson and his wife, Nancy, have two children.
---
Medical Alumni Association
2022 Distinguished Faculty Award
This award honors outstanding contributions to the school through teaching and research and is presented to a faculty member who demonstrates the highest principles of academic medicine.
Edward G. Shaw, MD, MA
Shaw, a native of Chicago, graduated from the University of Iowa in 1979 and Rush Medical College in 1983. He followed with an internship and residency at Mayo Clinic, completed in 1987. After eight years on faculty at Mayo, he was recruited by C. Douglas Maynard, MD '59, to Wake Forest University School of Medicine in 1995 as professor and chair of radiation oncology and the director of clinical research for the Atrium Health Wake Forest Baptist Comprehensive Cancer Center.
In conjunction with others, Shaw helped establish the Brain Tumor Center and the Gamma Knife stereotactic radiosurgery program. Recognized as a world authority in the radiotherapeutic management of adult brain tumors and cognitive function in cancer survivors, Shaw received numerous clinical research awards from organizations including the American Brain Tumor Association, National Brain Tumor Society and World Federation of Neuro-Oncology, as well as the Team Science Award from Wake Forest University School of Medicine.
Shaw served as principal investigator (PI) or co-PI of 45 clinical trials, including a practice-changing study demonstrating the benefit of chemotherapy in addition to radiation therapy for adult low-grade glioma, published in the New England Journal of Medicine in 2016. He also wrote 197 peer-reviewed journal articles, 24 book chapters and five books.
Shaw held numerous National Cancer Institute grants, and as PI of Atrium Health Wake Forest Baptist's Community Clinical Oncology Program, Shaw received more than $19 million for research focusing on cancer survivorship.
In 2008, Shaw's late wife, Rebecca, was diagnosed with early-onset Alzheimer's disease, and he stepped away from his many clinical and administrative roles to be her primary caregiver and pursued a master's degree in counseling. He then established and led the Section on Gerontology and Geriatric Medicine's Memory Counseling Program, a mental health resource for people living with dementia and their care partners. Through an endowment provided by Elizabeth and Robert Strickland, he became the first Rebecca E. Shaw Professor of Geriatrics.
Shaw also spearheaded a fundraising effort to support a cancer center at Bangalore Baptist Hospital in southern India, and the Edward G. Shaw Radiotherapy Centre opened in 2010 with a mission to treat cancer patients regardless of race, religion or social caste.
Shaw retired after a 34-year career in medicine and mental health. Today, Shaw leads a dementia caregiver support group with his wife, Claire, and continues to write, speak and teach to audiences of medical and mental health professionals as well as family caregivers. Shaw has three daughters and two grandsons.
---
Medical Alumni Association
2022 Distinguished Service Award
This award is presented to alumni or individuals who have distinguished themselves through exemplary service to the Wake Forest University School of Medicine, to Atrium Health Wake Forest Baptist and to the community and/or practice of medicine.
Richard A. Brenner
Brenner is the co-founder of ABC of NC and the CEO of Vivid Metal Prints. Born and raised in Winston-Salem, N.C., he has spent much of his adult life giving back to his hometown. After graduating from the University of Georgia in 1985, the proud Bulldog took a job as a manager trainee with his family's garage door business, Amarr. He spent several years working in the field before returning to Winston-Salem in 1989 and starting Amarr's marketing department.
In the years since his return, Brenner has been an active citizen of the community and served on numerous boards, including Primo Water Corp., Door and Access Systems Association International, Southern Community Bank and Trust, Blue Rhino Corp., Temple Emanuel of Winston-Salem, the Better Business Bureau of Forsyth County and the Winston- Salem Jewish Community Council.
Notably, he has served on the Wake Forest Health Sciences Board of Directors, Medical Center Board of Directors and Medical Center Board of Visitors off and on from 2002 to 2021. During that period, the School of Medicine was intimately involved in plans for a downtown-based research park that would promote academic, industry and government collaboration in biotech, pharmaceutical, medical devices and information technology – today's Innovation Quarter. Brenner also served on Innovation Quarter's board, helping it become one of the most distinctive innovation districts in the country.
In addition to the medical school and Innovation Quarter, Brenner has philanthropically supported Atrium Health Wake Forest Baptist in several areas, including Brenner Children's, Amos Cottage, the Cancer Patient Support Program and the campaign to build a new neonatal intensive care unit.
At the same time, Brenner helped grow Amarr into the third-largest manufacturer of garage doors in the U.S. and advanced to several leadership roles, becoming CEO in 2002. The business was sold to ASSA ABLOY of Sweden in 2013, and Brenner served for 3½ years as Amarr's vice-chairman before exiting the company in 2017.
Vowing to never retire, Richard purchased Vivid Metal Prints (formerly Image Wizards), which prints photography and digital images on aluminum using dye-sublimation technology, and he continues to give back to his hometown by serving on the boards of such organizations as ABC of NC, Samet Corp., Fuel-Rod and the Winston-Salem Chamber of Commerce. Brenner and his wife, Felice, have two children.
---
Medical Alumni Association
2022 Student Excellence Award
This award recognizes a graduating student whose peers believe best demonstrates the qualities needed to become the model of a complete physician — knowledge, compassion and dedication.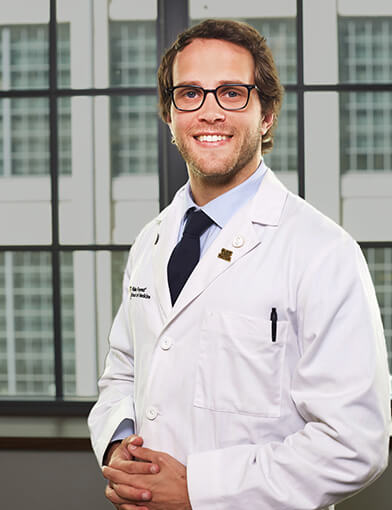 Karl Wold, MD '22
A native of Hickory, N.C., Wold graduated from Wake Forest University School of Medicine in May. He received a degree in chemistry from Davidson College and was a member of Phi Beta Kappa and Omicron Delta Kappa honor societies. He went on to spend more than two years in the African countries of Malawi and Sierra Leone starting and maintaining malnutrition clinics (24 in Malawi, 28 in Sierra Leone) and research sites while simultaneously working on multiple research projects.
As a medical student, Wold was elected to the Honor Council, which he chaired, and was named a member of the Alpha Omega Alpha and Gold Humanism honor societies. He also participated in neurology research and served on the Course Redesign Team to enhance and update the biochemistry curriculum. In the spring of 2020, Wold was one of a few students selected to liaise between faculty and classmates regarding the many abrupt changes to their clinical rotations caused by the pandemic. Additionally, Wold is a recipient of the 2021 Peacock- Plonk Award for Outstanding Student Clinician.
To help in his community during time at medical school, Wold volunteered with fellow students at City with Dwellings, a local shelter organization, and led a project to help relocate homeless people, who were deemed "high risk" for COVID-19 complications, to a local hotel. Students then helped residents schedule medical appointments, pick up prescriptions and, when needed, connect them with primary care physicians for the treatment of chronic health conditions.
Wold is continuing his medical training in Boston, Mass., with a preliminary year in internal medicine at St. Elizabeth's Medical Center and a residency in neurology at Brigham & Women's Hospital.